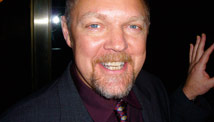 STORY HIGHLIGHTS
John Anderson: Despite some faux pas and "the dresses," all was predictable at Oscars
Anne Hathaway "charmingly inept," James Franco seemed absent, Anderson says
Usually, somebody mentions the real world, but Hollywood stayed in its bubble, he says
Not a word about the world outside Hollywood: Egypt, Libya or Wisconsin, he writes
Editor's note: John Anderson is a film critic for Variety and The Washington Post, and a contributor to The New York Times. He is the author of "Sundancing" (2000) and "I Wake Up Screening" (2006).
(CNN) -- We're born alone, we die alone, and we live through Oscar night alone -- because, let's face it, none of us can stay glued to the screen for all 18 hours, or however long it was, without missing something.
There were sandwiches to make, beer, cake, the bathroom, beer, the bathroom; you had to let the cat out, answer the phone, send your friend a text about Melissa Leo's unbearable acceptance speech and -- oops! What was that? Javier Bardem, or the ice-cream man? Did best director Tom Hooper just say something about a "triangle of man love"? Did Christian Bale forget his wife's name? Holy God in heaven, I hope Kathryn Bigelow didn't pay for that dress.
This is all probably making the evening sound much more exciting than it was. And that wouldn't take much: On an Oscar night that arrived ripe with foregone conclusions, the membership of the esteemed Academy of Motion Picture Arts and Sciences really came through, in characteristic fashion. There wasn't one surprise in the whole package, and it made for a deeply disappointing box of Cracker Jacks.
"The King's Speech" was expected to win best picture and did; its star, Colin Firth, was expected to win and did. Natalie Portman was expected to win and did (best actress for "Black Swan"). Also victorious, and to no one's surprise, were best supporting actor nominees Christian Bale and his "Fighter" co-star and fellow favorite, Leo who, true to form and expectations (based on her previous speeches this season), delivered enough cringe-worthy moments for eight Oscar shows.

Big wins at the Oscars

Bringing home the Academy Award

Melissa Leo apologizes for F-bomb

A night for Oscar
Not surprising either, nor revelatory, nor even saucily amusing, were the performances by co-hosts Anne Hathaway and James Franco, who both had their likable moments, but didn't make anyone forget Billy Crystal who -- in one of the show's several acts of sadistic cruelty -- showed up and talked about Bob Hope for what seemed like a week and a half. Why? Apparently to remind those academy members still in possession of their faculties about the days when they had real hosts at the Oscars.
Instead, we had Hathaway and Franco, who exhibited very particular approaches to their hosting duties while never seeming to get into gear. Hathaway was charming, in a "charmingly inept" fashion and tried to kick some life into the inert copy she was given to read. Franco wore a Cheshire cat smile and gazed into space. It was as if the cheerleader were dating the school stoner.
And when the most volatile presence on stage is a 94-year-old stroke victim (Kirk Douglas), you have problems. (One of the problems was using Douglas at all, another of the producers' cruel and unusual acts.)
There was one surprise Sunday night. It was how deliberately, and cravenly, Hollywood stayed in its bubble. With the exception of a very pointed statement by documentary winner Charles Ferguson (about all the unindicted co-conspirators in the financial crisis), and one by an Oscar winner in a technical category, who stressed that his colleagues were -- gasp -- union members, there wasn't a single acknowledgment that a world existed outside the confines of the Kodak Theatre.
There wasn't a peep about Egypt, or Libya, or Wisconsin, or the noxious political conversation in greater America -- you know, the place that starts somewhere east of the In-and-Out Burger on Sunset Boulevard, home to people who might buy more movie tickets, if their livelihood and way of life weren't under assault by corporatist forces that generally have little interest in free expression, because ideas that are freely expressed are generally against their interests.
It doesn't take much to cow Hollywood: Historically, any threat to the bottom line has been enough to send the industry into the figurative bunker. But one of the virtues of Oscar night has been the show's sometimes awkward, sometimes inappropriate, often spontaneous connection to the real world.
There was none of that Sunday night. For all the loose goofiness of the production, there seemed to be a gag order firmly in place. Either that or the celebrated dream factory had sunk into a coma.
The opinions expressed in this commentary are solely those of John Anderson.
FOLLOW THIS TOPIC