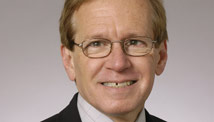 STORY HIGHLIGHTS
Andrew Reschovsky: Bill would strip Wisconsin public unions' bargaining rights
Public workers not overcompensated; earn less than private sector, he writes
Eliminating bargaining rights contributes nothing to closing budget gap, he says
Reschovsky: Best teachers, best managers and university profs will be first to leave
Editor's note: Andrew Reschovsky is a professor of public affairs and applied economics at the University of Wisconsin-Madison and a visiting fellow at the Lincoln Institute of Land Policy in Cambridge, Massachusetts.
Madison, Wisconsin (CNN) -- For about a week, tens of thousands of men, women and children have been gathering at the State Capitol in Madison, Wisconsin, protesting Gov. Scott Walker's "budget repair" bill. Besides requiring sharp increases in employee contributions to pension and health insurance benefits, the bill strips most of the state's public sector unions of almost all their collective bargaining rights.
If Walker's bill passes, and salaries and benefits continue to be slashed by local governments with no negotiations necessary, it will be the most effective teachers, the best managers and the most successful university professors who will be the first to leave their jobs for the private sector.
The governor claims that his proposals are needed to deal with a "fiscal crisis" caused by a $137 million projected deficit in the budget year that ends on June 30. In fact, the budget gap is quite modest, equivalent to less than 1% of the state's $14.3 billion general fund budget.
The benefit reductions in the so-called budget repair bill save only $30 million, and stripping state and local government employees of their bargaining rights will contribute nothing to closing this year's budget gap.

Protesters crowd Wisconsin capital

Governor: 'We don't have any more money'

Wisconsin businessman avoids chaos
The state has a wide range of options available for closing this year's relatively small fiscal year 2011 budget gap. Additional revenue could be raised by eliminating any of a large number of exemptions, deductions or exclusions from the Wisconsin tax system. Fees, underused in Wisconsin, could be raised. Funds could be transferred into the general fund. Funds that have been appropriated, but not yet spent this fiscal year, could be recaptured.
The draconian restrictions on public sector unions included in the bill really address the state's budget situation over the next two years. Like most other states, Wisconsin faces big budget deficits over at least the next couple of years. The governor estimates that $3.6 billion more will be needed to finance existing state programs over the next two fiscal years than will be generated by the current tax system. My own analysis suggests a slightly smaller budget gap of $3.3 billion, an amount equal to about 12% of the general fund budget.
Although Wisconsin's budget woes are considerably less severe than those of many states -- such as New Jersey, Illinois, Texas and California -- dealing with a budget gap of this magnitude will not be easy.
Walker promises to close the entire budget hole by cutting spending. He has repeatedly said that his budget will include no new taxes, and that he will not propose one-time gimmicks that have been used in the past to balance the budget.
To make these big cuts in spending, one must go where the money is. In Wisconsin, about half the budget is spent on state aid, primarily to local school districts, but also to municipal and county governments.
It has been widely reported that Walker's budget proposal for the next two fiscal years includes cuts in education aid of nearly 10%. These will be combined with more stringent limits on the property tax in order to prevent school districts from raising property taxes to replace lost state aid.
By stripping public employee unions of almost all their collective bargaining rights, the bill will enable school districts and local governments to balance their budgets by slashing public employee wages and benefits at will. Although representatives of all the major public sector unions agreed to accept the benefit reductions written into the budget repair bill, Walker responded that he was unwilling to compromise because ending collective bargaining was essential to allow local governments full control over their budgets.
Balancing the state budget by reducing public employee compensation might be justified if the compensation of public employees in Wisconsin were substantially above the national average. However, a recent study by Rutgers University professor Jeffrey Keefe for the Economic Policy Institute found that once adjustments were made for the differences between the public and private sector jobs, the compensation of Wisconsin's public employees, including wages and benefits, was about 5% below the compensation of Wisconsin's private sector employees. Wisconsin's fiscal problems cannot be attributed to excessive employee compensation.
Although forcing government employees to bear most of the burden of balancing the state's budget might prevent some cuts in public services over the next two years, it will come at the cost of endangering the long-term economic prosperity of the state. Labor markets are competitive, and once the economy improves, many public sector workers will look for other employment opportunities.
As the best public sector workers leave, the result will be lower-quality public services. In the long run, unless Wisconsin can retain a high-quality public sector labor force, the state's ability to compete in the global economy will be jeopardized.
The opinions expressed in this commentary are solely those of Andrew Reschovsky.
FOLLOW THIS TOPIC