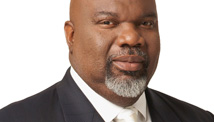 STORY HIGHLIGHTS
T.D. Jakes says Americans must not be afraid to talk about slavery
Jakes: U.S. has made mistakes, but is always evolving toward "more perfect union"
Americans should talk to one another like a family in therapy, Jakes says, with understanding
Just like black history is American history, it is also African history, he writes
Editor's note: T.D. Jakes is a best-selling author and senior pastor of a 30,000-member church, The Potter's House, in Dallas, Texas.
(CNN) -- It's February and the chocolate factories went into overdrive. It was a bad month to be a rose, too. This month, millions of dollars were spent to express love and friendship.
But February is also Black History Month, the month designated to acknowledge blacks for their contribution to American history. I have no doubt that the intentions are well-meaning -- it represents our country's noble but futile effort to "get beyond" an embarrassing moment in our history.
But it was not just a moment. It was several centuries, and many people are still rebounding from it. But as bleak as the centuries of slavery were, the greater injury is that all people don't recognize that black history is really American history.
It is part of the American story. I think more and more people of all colors understand that for what it is. We mustn't be afraid to speak about slavery, because those things we cover up cannot heal. Nor can we be held hostage, as if history incarcerates our destiny.
Like a molested child doesn't find it healthy to be defined by the darkness of his or her past, African Americans can't allow ourselves to be defined by that reprehensible period no matter how horrendous it may have been. All Americans must learn that honesty does not equate to disloyalty or make us unpatriotic.
American history isn't merely a collection of accomplishments without contradictions, no more than any one person is a collection of rights without wrongs. America is a resilient nation with a mandate to move forward, evolve, and refuse to go back to old, discredited landmarks.
I am proud to be an American and I embrace its highest and most pristine ideals. But we must face both the strengths and weaknesses in our history; that is the only way to remain truly great. Like a family in therapy, let's continue to speak about what we think and feel until we reach "a more perfect union."
And let's also be careful not to totally Americanize our history. When we speak of black history we cannot begin the dialogue at the docks where the slave ships landed. If so, we become a people who remind me of an artificial Christmas tree, all lit up and shiny, filled with interesting branches, but displaying no roots.
Without roots, it's difficult to answer or understand the questions: Who am I? Where do I belong?
Just like black history is American history, it is also African history. A recent New York Times article reported that more Africans have migrated into this country since 1990 than all the years of slavery combined.
I challenge African Americans to get to know and appreciate African people. We might share similar amounts of melanin in our skin, but we are not, nor do we need to be, monolithic. Africans hold a unique place in our history and without them, that history is incomplete.
One day, we will fully realize what my theology informs me, "by one blood God made all men" -- the concept that you and I are inextricably interconnected and therefore cannot survive independently of each other.
I have a favorite picture hanging in my home. It is an extremely rare photograph of Dr. Martin Luther King Jr. He is marching down the streets with blacks, whites and Jews. There is a sign above them and the epitaph reads, "Men are not our enemy, if we kill them with whom shall we live?"
Let's work harder to live together not with false political correctness or uncivil acrimonious discourse but with the commitment of a family working through its issues, held together by the precious bonds of unfailing love, though we will forever be flawed and faulty men.
FOLLOW THIS TOPIC