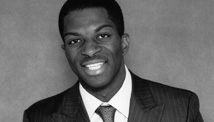 STORY HIGHLIGHTS
Anthony Coley says Obama's budget is a good start on cutting spending
He says Obama inherited a trillion-dollar deficit and then had to spend to save economy
Deficit commission said Washington must tackle entitlement cost explosion
Coley: Policymakers of both parties must tackle entitlement spending
Editor's note: Anthony Coley is the former communications director and chief spokesman for the late Sen. Edward Kennedy and former New Jersey Gov. Jon Corzine. He works as a director at the Brunswick Group, a communications consulting firm. Follow him at twitter.com/AnthonyColey.
Washington (CNN) -- President Obama's 2012 proposed budget is out, and the verdicts are coming fast and furious.
Most Republicans think the plan does not do enough to reduce runaway spending at a time when government coffers are depleted. How can the president be serious about reduced spending, they argue, when he proposes a $3.7 trillion budget -- the largest since World War II?
On the other hand, some Democrats believe that proposed cuts to or elimination of more than 200 federal programs are too draconian and would adversely impact the most vulnerable among us. Adding insult to injury, they contend, is that these cuts and terminations come at a time when there is increased need as a result of the recent economic downturn.
And, as a savvy reader might expect, there is no right answer.
Republicans are correct in their view that the budget deficit is astronomically high and that the current path is not sustainable. Absent from their argument, however, is important historical perspective.
Here is an important fact: Trillion dollar deficits began during President George W. Bush's administration.
In 1992, when President Bill Clinton was elected, the budget deficit was $290 billion, according to the Congressional Budget Office. When he left office eight years later, the federal government had begun paying down long-term debt and had transformed the annual budget deficit to a surplus of $230 billion.
Americans across the country are finally acknowledging a simple and sad fact -- the United States is broke.
--Anthony Coley

GOP swings ax at 2011 budget

Geithner defends Obama's budget

Obama: 'My goal is to solve the problem'
At the end of Bush's presidency -- due to tax cuts and wars in Iraq and Afghanistan, among other policy decisions -- that surplus evaporated and turned into a deficit that exceeded $1.2 trillion, a sum verified by the Pulitzer Prize winning web site Politifact.com. And then the economy tanked, forcing Washington to make unprecedented moves (the economic stimulus package, loans to the automobile industry, extended unemployment benefits, etc.) to stave off a second Great Depression.
It worked. Economic catastrophe was averted, and the country has begun its long climb back to pre-recession productivity. Last month, the Labor Department reported the 13th straight month of private sector job growth. Still, important work remains -- unemployment is unacceptably high and the economic recovery is slower than anyone would like to see.
And that is the problem for President Obama: How does he enhance the economic recovery (or at least not hurt it), invest in America's future and reduce a bloated bureaucracy that spends significantly more than it takes in?
Step one is to present a proposed budget very close to what he did earlier this week. It freezes domestic spending for five years and slashes budgets for more than half of federal agencies. The cuts are wide and deep and include reductions to home heating assistance for poor families and community development block grants for cities, among others, that Obama himself likes.
"If we're going to walk the walk when it comes to fiscal discipline," he told an audience in Baltimore on Monday, "these kinds of cuts will be necessary."
But "cut, cut, cut" has its limits. The only way to compete and win against the Chinas of tomorrow is to invest in education, infrastructure projects and programs that spur innovation today. Obama strikes the right balance between necessary cuts and critical investments.
And now comes the hard part.
As contentious as the current debate is and will become, step two requires leadership like this country has never seen.
The real threat to our country's fiscal future is the rising demand and increased costs of entitlement programs like Medicare, Medicaid and Social Security. Collectively these programs account for more than 40% of the federal budget, according to the Center for Budget and Policy Priorities.
This week's debate, unfortunately centers on nonsecurity discretionary spending, which accounts for only 13 percent of the budget.
"Our morbidly obese federal government needs not just behavior modification but bariatric surgery," Indiana Gov. Mitch Daniels said regarding entitlement spending, earmarks and other federal commitments last week. The former George W. Bush budget chief is among the latest officials sounding the alarm, and he is right.
To his credit, President Obama smartly assembled a stellar, bipartisan commission -- led by former Sen. Alan Simpson, R-Wyoming, and Erksine Bowles, a chief of staff in the Clinton White House -- to tackle the pressing issue. The president gave the panel a two-fold goal: Bring the budget into balance by 2015 and meaningfully improve the nation's long-term fiscal outlook.
The result was a take-no-prisoners report that spared no special-interest or cause. And true to Washington form, it fell short of the votes needed to even send the proposal to Congress.
But all is not lost. As Bowles noted, the commission's work started a national conversation. "The era of deficit denial is over," he said in late November. And he is right. Policymakers and Americans across the country are finally acknowledging a simple and sad fact -- the United States is broke.
We can no longer afford to borrow money we do not have to finance programs and projects that are not essential. Now that Obama has proposed his 2012 budget, it is time for policymakers of both parties to face the music and finally reform our entitlement system.
Further delay is no longer an option.
The opinions expressed in this commentary are solely those of Anthony Coley.
FOLLOW THIS TOPIC