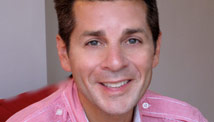 STORY HIGHLIGHTS
Dean Obeidallah said he posted "Yes, Arabs Can!" online when Mubarak resigned
He says he was flooded with joyful responses from Arab friends who found it meaningful
He says revolution empowered dismayed Arabs used to being resistant to trying new things
Obeidallah: It's Arabs' Dr. Phil moment: They must believe in themselves to realize dreams
Editor's note: Dean Obeidallah is an award-winning Arab-American comedian who has appeared on various TV shows including Comedy Central's "Axis of Evil" special, ABC's "The View," CNN's "What the Week" and "The Joy Behar Show." He serves as the executive producer of the annual New York Arab-American Comedy Festival and The Amman Stand Up Comedy Festival.
(CNN) -- "Yes, Arabs Can!"
That is the simple line I posted on my Facebook status and on Twitter in the moments after Egyptian President Hosni Mubarak announced his resignation Friday.
I know it's not the most original expression -- clearly, it's derivative of President Obama's campaign's slogan. But to me, it symbolized something more, and as I noticed from the immediate onslaught of responses by young Arabs who are my friends on these social media websites, it meant something more to them as well.
The Egyptian revolution, which kicked off on January 25 and culminated in less than three weeks with Mubarak's departure, is a groundbreaking moment for the country: An end to a 30-year repressive regime, a demand by Egyptians for democracy and freedoms, etc.
But to me, as an Arab-American, and to many, many young Arabs across the region, it's bigger than Egypt. It's about Arab self-empowerment. It's about believing that you can control your own destiny. It's about allowing yourself to dream of a better life and actually believing that it could happen.

Ghonim: Facebook to thank for freedom

Tweeting a revolution?

Thousands rejoice in Egypt

Elbaradei: Egypt's army to share power
The can-do attitude that we, as Americans, are instilled with from birth has often been hard to find in the Arab world. For years, I have joked that the Arab world needs to go on a show like "Dr. Phil" and receive a pep talk. I can see Dr. Phil addressing the region: "Attention Arabs: You need to believe in yourselves if you are ever going to achieve your dreams, take it from me, because this ain't my first rodeo!"
Over the last few years, I have been invited to perform stand-up comedy across the Middle East, from Egypt to Oman. In fact, I just returned to the United States two days ago after shows in Dubai, Qatar and Saudi Arabia. Too often, in speaking to people there, I would hear young Arabs complain that their ideas for new projects would be met by instant criticism from peers as well as the older generation.
It's almost a cliche to say that when you tell other people in the Arab world about an idea, they will give you many reasons why it can never succeed.
While I have met some amazingly ambitious and successful Arabs in the Middle East, unfortunately, they have been outnumbered by those who simply refuse to dream.
That is why the Egyptian revolution is more than just a victory for the people of Egypt. It is a watershed moment for all Arabs. It's that "Dr. Phil" moment that has been so desperately needed.
I can already see the impact on the psyche of many of my young Arab friends with their postings on Facebook and Twitter in response to my comment "Yes Arabs Can!" Below is a sample of these responses, which came from friends living from Egypt to Saudi Arabia.
-- WE DID IT!!!!!!!!!
- I can't stop crying, & I'm not even Egyptian! I'm proud of u my Arab nation!
-- Maburk ya 'Arab! (Translation: Congratulations, all Arabs!)
-- On 11/2/11 6 PM, 80 MILLION EGYPTIANS ARE FREE AND PROUD AND HAPPY AT THE EXACT SAME MOMENT. HISTORY IS MADE.
-- Yes, we did it! Thanks GOD ... :)
-- Egyptians now offer their services to all nations: Your dictator down in 3 weeks or your money back! ;-)
-- What a beautiful moment in time.
-- Now they can rightfully hold their heads high and walk like an Egyptian! There is nothing better than to see a nation come together as one!
-- Sooo proud!!!!!!!!
-- This is the second most beautiful day this year. Tunisia, Egypt. You make us so proud!
-- As my friends from Texas would say: HELL YEAH!!!
-- It's amazing what the people's free will can do ... this is a glorious day
-- I wonder who's next??! Yemen, Algeria?
I'm not sure what the future holds for the Arab world -- I don't think anyone can know. But I hope that one of the positive changes that the Egyptian revolution ushers in is that young and old Arabs will believe deep down that they can finally dare to dream because they now know that "Yes, Arabs Can!"
The opinions expressed in this commentary are solely those of Dean Obeidallah.
FOLLOW THIS TOPIC