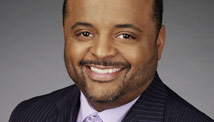 STORY HIGHLIGHTS
Roland Martin says he loves sports, but it doesn't let him make demands of injured players
He says it's shameful that fans, commentators callously want athletes to play through injuries
When cameras are gone, fans don't see hardships injured players endure off field, he says
Martin: When watching Super Bowl, remember you're watching someone's loved one
Editor's note: Roland S. Martin is a syndicated columnist and author of "The First: President Barack Obama's Road to the White House." He is a commentator for TV One Cable network and host/managing editor of its Sunday morning news show, "Washington Watch With Roland Martin."
(CNN) -- If Chicago Bears quarterback Jay Cutler isn't as accommodating the next time a fan walks up to him for an autograph, don't blame him. When you suffer a knee injury in the NFC championship game and you're treated like you cheated on your wife or turned over top-secret military documents to Osama bin Laden, then you might be a bit hesitant as well.
Like many Americans, sports are a part of my life. I follow football (Houston Texans), basketball (Houston Rockets), baseball (Houston Astros), high school (Jack Yates in Houston) and college sports (Texas A&M) with a passion like any other. In one closet at home, there's nothing but athletic gear of my favorite teams.
If I had a choice between all the premium movie channels on DirecTV and catching all the NFL and NBA games, sorry, the movies lose out. That's just the way it was growing up in my family. It wasn't about playing sports, although I did spend two years on the baseball diamond in high school and the basketball court in junior high. Athletics provides a common bond between folks who otherwise have none.
Yet not once have I ever felt my passion for sports gave me the right to demand that an athlete go out on the field and perform, no matter the cost to his health and livelihood.
It's shocking and sad when people -- whether sports fans or former athletes -- hold forth on sports talk radio, blogs or on TV and act like nothing matters more on Earth than seeing a player risk it all for a game.
The stories of athletes fighting through pain are legendary.
Willis Reed of the New York Knicks is still brought up as a warrior willing to give it all as he essentially played on one leg in game seven of the 1970 NBA Finals, inspiring his team to victory and the title over the Los Angeles Lakers.
Kirk Gibson's body was wracked with pain in the first game of the 1988 World Series as his Los Angeles Dodgers faced off with the Oakland A's. The gritty player could barely walk. But when manager Tommy Lasorda put his beaten-down slugger in as a pinch hitter, Gibson slammed a walk-off home run. The Dodgers eventually won in five games.
The stories can go on and on, and these remarkable athletes showed tremendous courage.
But when the cameras disappear and there are no more plays of the day or ESPN's SportsCenter highlights, the fans aren't privy to our conquering heroes' difficulties: Many are unable to get out of bed, pick up their children, cuddle with their wives or even remember basic facts about their lives. Some studies suggest the life span of football players is considerably shortened due to the frequent hits they endure.
Sports fan today have become like the Romans at the Colosseum, cheering and cheering our gladiators to where only the strongest remains standing after vanquishing and killing the opposition.
Their lives are unimportant to us. All that matters is seeing them bring us the gratification of winning so we can talk trash to our family and friends, collect on the bets we placed (or likely pay up big when we lost) and buy more and more gear to say "we" won.
Like any other fan, I think it's great to see our favorite sports teams raise a championship trophy and banner. Skipping work to attend a victory parade is often justified. But no sports fan has the right to be indignant when athletes choose to remove themselves from a game due to injury.
We have become so arrogant that we suggest that if an athlete is getting paid millions of dollars, an injury should be ignored -- against all common sense -- and that the player should keep performing until he can walk off the field.
"Leave it all on the field" is a familiar refrain of athletes, but does that mean their actual life?
For all the fans cheering around the world Sunday as they watch the Green Bay Packers and Pittsburgh Steelers play in the Super Bowl, not one of them will be taking a crushing hit, risking a devastating injury on any given play or being carried off the field strapped to a stretcher.
Athletes are human. They are individuals with a job to do and are compensated to do it, like all of us. So in all of our earnest desire for them to bring us satisfaction, let's remember we are watching someone's son, brother, uncle, husband, cousin or friend.
They have a lot more life to live for once the crowd has stopped cheering. At the end of the day, it is only a game.
The opinions expressed in this commentary are solely those of Roland S. Martin.
FOLLOW THIS TOPIC