STORY HIGHLIGHTS
Liza Donnelly found drawing cartoons gave her ability to understand and reflect on life
She says she uses cartoons to depict how men and women navigate life
She says humor can bring us together, but it can also alienate and divide
Donnelly: We need to support and hear more from women cartoonists around globe
Editor's note: TED is a nonprofit organization dedicated to "Ideas worth spreading," which it makes available through talks posted on its website. Liza Donnelly is a staff cartoonist for The New Yorker. Her cartoons have appeared regularly in the magazine since 1982, and in many other national publications. She is the author of "When Do They Serve The Wine? The Folly, Flexibility and Fun of Being a Woman," and a member of Cartooning for Peace, an initiative born at the UN.
New York (CNN) -- The journey to self-discovery is often a bumpy one. The obstacles are different for each individual, and can be economic, cultural or familial. Men and women both struggle against societal expectations in an effort to be true to themselves and live a life full of meaning and purpose.
For some it is a matter of survival, for others less so.
I have lived the privileged life of an American, but nonetheless have felt great difficulty in figuring out who I am and why I am here. It may sound funny, but cartooning has been my savior. And I believe that the art form is unique in its ability to open people's eyes -- and not just those of us who practice it.
See a gallery of cartoons by Liza Donnelly
Growing up in the 1950s and 1960s, the pressures to conform were many, and I felt that I didn't fit in. It was a turbulent time in our country, and the rules about how to behave were changing rapidly.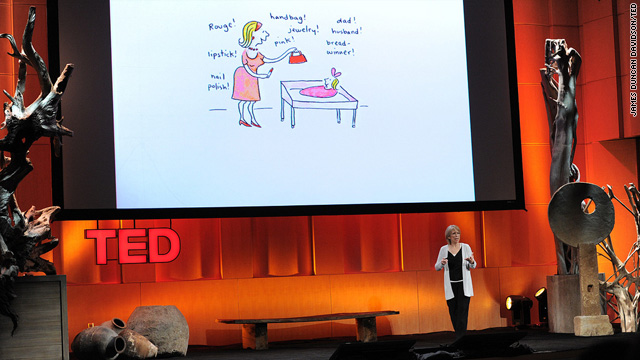 Gallery: The work of Liza Donnelly
As a woman, I felt I had to behave a certain way, dress a certain way, be a certain way. When I was growing up, little girls were supposed to be kind and thoughtful and pretty and gentle and soft. And we were supposed to fit into roles that were sort of shadowy.
Then I discovered I could draw. It put me in the category of "artist," giving me the opportunity to sit on the sidelines and watch. When I began to draw cartoons, my parents and peers approved.
My family was in chaos, and I tried to draw it together through laughter. It didn't work. My parents got divorced, and my sister was arrested. But I found my place. I found that I didn't have to wear high heels, I didn't have to wear pink, and I could feel that I fit in.
I saw through my own story how cartoons reflect and comment on our culture, and I used the medium to try to understand what was going on around me. I still do.
TED.com: Bruce Feiler on the "council of dads"
Humor is universal. But that doesn't mean we all laugh at the same things; in fact humor, while potentially a unifying force, can also be a destructive one. This has been made poignantly and dangerously clear recently with the cartoon controversies around drawing Mohammed.
Humor can be used as a weapon to strengthen prejudices and to attack and to alienate those who are different.
Because of their visual nature, cartoons have the ability to transcend language, and they do so succinctly and quickly. With the internet, cartoons have become an even more powerful tool. We need to harness this tool not to separate people, but to bring them together. Yes, cartoons should be and need to be used to expose wrongs. But we must be careful about how we are doing it.
In my cartoons, I try to expose the silly and absurd ways that Americans behave. I make light of men and women as we navigate our way through life, putting pressure on ourselves and each other in daily life. I try to explore political issues by drawing how people react to and absorb them.
TED.com: Naif Al-Mutawa on superheroes inspired by Islam
My work often doesn't translate to other cultures, because it is based on a particularly American perspective. But I believe that the things that I am trying to say are universal. Everyone struggles with cultural and political strictures, particularly women.
My work of late has led me to draw more about issues concerning women, and I have come to this for a few reasons. First, it's what I know very well. Secondly, women's concerns are also men's concerns. The issues women have to deal with are acute, but can be the same ones that men struggle with: how to behave, dress, act, survive. And when we spotlight women, help women, it in turn helps everyone.
I support women cartoonists around the globe -- there are not many, but the numbers are increasing -- because I believe that women can have a unique perspective. It is a perspective that has not been heard as much, and one that comes from our roles in the trenches of a particular culture. We can create humor that shines light on individual struggles, which in turn can expose systemic injustice.
TED.com: Patrick Chappatte on the power of cartoons
Everyone around the world likes to laugh, and with cartoons we can easily exchange this shared joy. Why not use this to join us together, rather than divide us?
Cartoons can help us laugh at ourselves; and when we look at cartoons from other countries, we can see what others are laughing at and gain an understanding of cultures different from our own. Perhaps, if we are lucky, they are the same issues. Then we can laugh together.
The opinions expressed in this commentary are solely those of Liza Donnelly.
FOLLOW THIS TOPIC