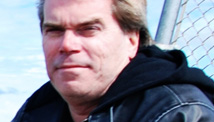 STORY HIGHLIGHTS
Michael Sullivan slept in a subway train, grimy and unshaven, feeling like an outcast
Sullivan was looking for job, but homeless people are viewed as worthless, he says
Sullivan's book provoked flood of mail from others who were homeless
Nothing changed in years since his homelessness, he says; judgmental attitude prevails
Editor's note: Michael J. Sullivan's first novel, "Necessary Heartbreak: A Novel of Faith and Forgiveness," was published by Gallery Books, an imprint of Simon and Schuster. He is working on the sequel, "The Greatest Christmas."
New York City (CNN) -- I remember vividly when I got "the look." My hair was grimy and my clothes smelled from having been worn for three straight weeks. I buried my unshaven face into my jacket as I stepped onto the E train in New York, clinging to my green garbage bag of belongings.
It was holiday time and the train was packed, but it was my home at night during the winter of 1983-84. I was exhausted from walking so much, searching for a job. A seat opened up between two passengers and I sat down. A well-dressed woman gave me "the look."
How did I know what "the look" was? Well, I used to give it before I was homeless -- a mocking stare that told the person that he or she wasn't fit to move about normally in society. I was conditioned at a very young age to view all homeless people as worthless alcoholics and drug addicts. They were not human -- they were thugs and murderers and a burden to society. Or so I thought. Until I got "the look."
During those bleak, frigid winter evenings and mornings, I realized that people who shared those subway rides probably thought of me in the same way. Humiliated, I left the seat and stood by a pole near the end of the car, cringing in fear of another "look."
They were not human -- they were thugs and murderers and a burden to society. Or so I thought.
--Michael Sullivan
I was desperate. I begged and applied for any part-time or temporary job, even washing my hair in a toilet at a nearby university, using the soap in the dispenser so I would look presentable for an interview.
One night, exhausted from a day of walking from one end of Manhattan Island to the other, I rested at an eatery, letting my body finally relax. It had been a few days since I had actually slept. Within minutes I fell into a slumber, only to be woken up by a whack on the side of my chair by an angry lady and her umbrella. Once again, I got "the look."
No longer able to bear the freezing temperatures, I hid beneath a pew in a Queens church on New Year's Eve and intentionally got locked in for the night. While others were toasting the arrival of 1984, I celebrated out of the cold with God.
The number of homeless people is very difficult to pin down, but a federal study found 672,000 were homeless on a January night in 2007. About 37,000 homeless people stay in shelters in New York on any given night.
A few months later I was rescued from the train by my aunt and uncle. Some 27 years later, Simon and Schuster's Vice President Anthony Ziccardi felt strongly enough about my story that he agreed to publish the semi-autobiographical "Necessary Heartbreak: A Novel of Faith and Forgiveness," which I had based in part on my experience, writing most of it on the E train.
I begged and applied for any job, even washing my hair in a toilet at a nearby university ... so I would look presentable.
--Michael Sulllivan
Since the publication of the book, I have been stunned to hear from so many people who have suffered the degradation of homelessness. I remember one particularly heartbreaking account from a woman who was living in a car with her daughter. I received so many stories from men and women of all ages that I wondered how far we have left our judgmental attitude behind. Because when we elevate our compassion, it leads to action to solve the problem.
I sit here in front of my laptop, warm, with a roof over my head, one-half of a couple financially and emotionally responsible for a family of four. But we're like many in this country today, a job loss away from a slippery slope. I know there are others. I hear their cries and worries through e-mails and letters.
But in a recent TV interview, the host told me that I deserved to be homeless. During a recent radio tour to promote my novel, one talk show host insisted I chose to be homeless.
No to both accusations. I did not.
Despite great efforts, like many others, I was no longer able to pay rent. Uncontrollable circumstances led me to the shelter of the E train those winter nights: the loss of my mother from cancer just before I graduated from college the year before and a falling-out with my father with whom I'd always had a difficult relationship. What I learned from my winter of pain was that I wasn't alone.
So before you give anyone "the look," take a moment to glance inside that human being's soul. He or she has a story to tell, but it might not necessarily be the one you've been conditioned to believe.
The opinions in this commentary are solely those of Michael Sullivan.
FOLLOW THIS TOPIC