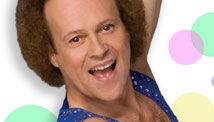 STORY HIGHLIGHTS
Richard Simmons recalls his mom summoning him to exercise along with Jack LaLanne on TV
He was thrilled later to have LaLanne on his show; LaLanne thought he was zany, he says
LaLanne was funny, he says, but serious about fitness: He walked the walk, talked the talk
Simmons: LaLanne was a pioneer in fitness clubs and products
Editor's note: Richard Simmons is a popular health and fitness guru and Emmy-award winning TV personality. He operates the Slimmons exercise studio in Beverly Hills, California, is the author of several books, including cookbooks and an autobiography, and maker of exercise videos.
(CNN) -- I would be sitting in the kitchen enjoying a nice fried oyster po' boy and an order of french fries and I would hear my mother scream, "Richard, Jack LaLanne is on! Come in here and exercise with me."
Well, as a teen weighing more than 200 pounds, the last thing I wanted to do was exercise. Sometimes I would sneak into the living room and watch my mother, Shirley, her hands on her hips doing waist twists with Jack. He always wore the same thing: a tight-fitting jumpsuit that showed his fit body.
Jack, who died Sunday at 96, was a hero of mine.
But I think there was a time when I hated him and was jealous of him. Who would have thought that years later I would follow in his footsteps and become a teacher of physical fitness? In 1980 when I got my own syndicated show, my producers asked me who I would like to have as a guest on my show. "I want Jack LaLanne. He started it all, and I want to work out with him."
A few weeks before his appearance on my show, reporters asked Jack what he thought of me. Jack said he had watched my show and that I was about the craziest person that he'd ever seen on TV. He said something about my not being from this planet.

Looking back at Jack LaLanne's career
I will never forget the day he walked into the studio. Well, he did not walk in, he sort of flew in. From the moment I met Jack and his unbelievable wife, Elaine, I knew we would all be good friends. He was so funny on my show. And he really talked from his heart, just like he did on his own show.
Jack LaLanne was an outspoken man. He told people the truth about eating and exercising long before anyone else. And he was matter of fact. You see, Jack walked the walk and talked the talk. And when he spoke, people really listened to him.
He had this twinkle in his eye like a fit Santa Claus. And, oh, how we laughed on the first day that we met. In between tapings, Jack came up to me and said, "Why you are a real showman Richard. You are really helping people out, and I am very proud of you." I just melted when I heard his words. I was being praised by my mentor.
I never forgot what he said to me. During my career, I got to work with Jack many times. We did shows and personal appearances together, and sometimes I would really kid around with him. I would say to the audience, "I need to make a confession. I need to tell you all the truth. Jack LaLanne is my father." Well Jack's eyes nearly popped out of his head. And he laughed until tears were coming out of his eyes. And he always had a quick comeback line. Because besides being a fitness icon, Jack was also a comedian.
And no matter where we appeared, Elaine LaLanne was right there with us. What an unbelievable couple. I don't think I have met two people who were in love as much as Jack and Elaine. I would've been proud to be their son.
When I teach at my exercise studio Slimmons on Tuesday night, I will teach the class in honor of Jack. And he will be watching in heaven because he is manager of the health club up there now, helping the angels learn how to fly.
I do hope all health clubs and fitness studios around the world will take a moment of silence and think about this amazing and gentle man. For you see he started it all. Jack had the first health clubs in the country and created products for people to use at home.
I will miss Jack very, very much, and in his honor, I will continue to do what I do. We should all thank Jack for making our world more fit and happy.
The opinions expressed in this commentary are solely those of Richard Simmons.
FOLLOW THIS TOPIC