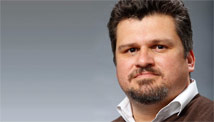 STORY HIGHLIGHTS
Ruben Navarrette Jr.: Congress has honored victims of Arizona shootings
Navarrette says a good further step would be to postpone the divisive health care debate
He says Congress should do things both parties can agree on for now
Navarrette: Congress needs to be part of process to heal divisions, not widen them
Editor's note: Ruben Navarrette Jr. is a CNN.com contributor, a nationally syndicated columnist and an NPR commentator.
San Diego, California (CNN) -- Members of Congress recently gathered on the steps of the Capitol to observe a moment of silence in honor of their wounded colleague, Rep. Gabrielle Giffords, D-Arizona, as well as the six people who were killed and 13 who were wounded in last week's shooting rampage in Tucson, Arizona.
A few days later, House Speaker John Boehner took to the floor and read a resolution supporting the victims. "What this institution needs right now is strength," Boehner said.
These were nice gestures but hollow ones. If Boehner and other members of Congress really want to pay their respects to the victims of this tragedy, they can do better. Here's how: They can pledge not simply to return to business as usual but rather strive to achieve a more civil and mature tone in Washington.
This is not to say that I believe the lack of political civility is to blame for what happened in Tucson. There is no evidence of that. In fact, it's starting to look as if the alleged shooter -- Jared Lee Loughner -- had little interest in politics or politicians, except for Giffords. It is simply to say that, as we go forward, the country needs to take a breather and not jump right into another bruising battle over an emotional issue with a proven record of turning Americans against one another.
Boehner was half right. The institution of Congress does need to show strength at such moments. But, more importantly, it also needs to practice something you don't see much of these days in our political system: restraint. Just because lawmakers are geared up to pursue an agenda doesn't mean they should.
Congress would be wise to heed the message that President Barack Obama brought to Tucson this week as he addressed a memorial service for the victims of the shooting.
"At a time when our discourse has become so sharply polarized," Obama said, "at a time when we are far too eager to lay the blame for all that ails the world at the feet of those who think differently than we do -- it's important for us to pause for a moment and make sure that we are talking with each other in a way that heals, not a way that wounds."
The country needs to take a breather and not jump right into another bruising battle over an emotional issue.
--Ruben Navarrette Jr.

Nation pauses to honor Tucson victims

Watch Obama's entire Tucson speech

Can the GOP repeal health care reform?
Democrats can do their part by resolving not to thwart everything that the Republican majority wants to accomplish, but rather by looking for opportunities to work with the opposing party for the good of the country.
There should be plenty of common ground on issues such as reforming the public schools, shoring up Social Security, fixing the immigration system and reducing the deficit. Democrats need to put aside petty partisanship and concentrate on fixing the nation's problems, no matter which party gets the credit.
Republicans can reciprocate by not repeating a costly mistake that Obama made when he first took office and rushing into the health care debate when the country wanted him to focus on jobs, jobs and jobs. That decision used up a lot of political capital. That's because, as we've learned, health care reform is one of the most emotional and divisive issues in the national debate. Republicans would be wise to steer clear of it for six months and focus on racking up some smaller and easier victories that could build up good will in both parties.
Should this happen? Of course. Will it? Probably not. So far, all we've heard from lawmakers in terms of how they intend to do things differently from now on is that some of them say they'll be going to public meetings armed.
Great. That's just what we need. Can we expect congressional representatives to get to the point where they shoot it out with their constituents during particularly testy Q&A sessions?
I know, I know. Pitching a timeout in the debate over a possible health care repeal is going to be a hard sell, even though Republicans postponed action on their bill this week because of the Arizona shootings. Neither side is interested in a truce, even after a tragedy like this one. They depend on conflict to excite -- and incite -- their base, which helps them raise funds for their next re-election campaign.
Democratic supporters will ask why their side should go along with the majority in the House when the opposition didn't do that while it was in the minority. Meanwhile, Republican supporters will point to the midterm elections and claim that, as the saying dictates, "to the victor, goes the spoils."
Both of these views are predictable, but they're also awfully petty and shortsighted. There will be plenty of time for lawmakers to reassume the roles in which they feel most comfortable. Republicans can go back to trying to undo health care reform, and Democrats can go back to trying to stop them. Whatever support the parties can count on right now -- in Congress, and around the country -- will still be there for them in six months. Nothing will change.
This isn't like suggesting that Congress postpone the health care battle until next year, when little will be accomplished because of the presidential election. This is six months. That is not long enough to derail an agenda, but it is long enough to let tempers cool.
The country needs for Congress to take a break, and to acknowledge that what happened in Tucson was a big deal and something that has enormous significance for our political system and our country. Americans need time to process these tragic events and heal before jumping back into the volatile and combative health care debate. Lawmakers can either help them with the healing process, or they can stand in the way.
While we pray for the victims of this rampage, let's also pray that Congress makes the right choice.
After all, the message behind Obama's speech Wednesday may have been simple, but it was also powerful: "We can be better."
Yes, we can.
The opinions expressed in this commentary are solely those of Ruben Navarrette Jr.
FOLLOW THIS TOPIC