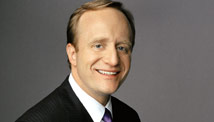 STORY HIGHLIGHTS
Paul Begala: Sarah Palin's video on the Arizona killings was bitter, self-centered
Begala says Ronald Reagan had an ability to score political points with a sunny attitude
Palin's talk didn't dwell on the victims but on her own sense of victimhood
He says Palin missed an opportunity to rise above those who unfairly attacked her
Editor's note: Paul Begala, a Democratic strategist and CNN political contributor, was a political consultant for Bill Clinton's presidential campaign in 1992 and was counselor to Clinton in the White House. He is an affiliated professor at Georgetown University's Public Policy Institute.
(CNN) -- What is one to make of Sarah Palin's defensive, bitter, self-centered speech in response to the mass killings in Arizona?
It may well work, in that dog-whistle way the former Alaska governor has, with some ultra-conservatives. But the speech is one more piece of evidence (as if we needed one) that Palin, even at a time when Americans are crying out for healing and unity, is a strikingly polarizing figure.
When she first burst on the national scene, I watched her convention speech and could not imagine Ronald Reagan delivering it. She was sarcastic and caustic and harsh -- everything Reagan was not. I felt the same thing watching her post-Arizona video presentation. The Gipper was a tough partisan and a strong conservative, but he had a sunny, optimistic worldview and a resilient, Teflon manner that slipped punches, drawing in even those who disagreed with him, and driving Democrats to distraction.
Reagan understood the biblical wisdom that "A soft answer turneth away wrath, but grievous words stir up anger." Palin seems hell-bent on using the most grievous words (including the calumny "blood libel") to stir up still more anger: the one thing we already have a surplus of.

Palin slams what she calls 'blood libel'

Palin's 'blood libel' video controversy

Mike Huckabee defends Sarah Palin

Reaction to Sarah Palin's Tucson message
Palin's speech goes on for 1,141 words, yet she never mentions the names of the victims (except a reference to Rep. Gabrielle Giffords). Reagan's Challenger speech is just 650 words, and includes heartfelt and personal tribute to all seven of the astronauts who died. The famously prolix President Clinton mourned the 168 Americans murdered by right-wing terrorists in Oklahoma City with just 918 words. But it's just not fair to compare Palin to Reagan or Clinton. They were giants; she is a pygmy.
The timing is wrong, the tone is wrong and the tenor is wrong. Palin talks way too much about herself: how she learned of the shooting, how she reflected on what happened, how she has been puzzled. She lectures us about personal responsibility, about civic engagement, about spirited debate, sharing her views of history and political science and blah, blah, blah.
With a defensiveness that is perhaps understandable, she reminds us that she wisely disavowed violence during a speech in Arizona during the 2010 campaign. But she fails to acknowledge that she did so because three days earlier -- as congressional Democrats were receiving death threats -- she had released the now-infamous map putting Giffords' district and others in cross hairs and urged her followers to "Don't Retreat, Instead - RELOAD!"
Of course, this is not to say that Palin's rhetoric -- or anyone else's -- had anything to do with this massacre. But her selective recall is self-serving.
Palin could have done something big here. She could have acknowledged that, while bull's-eyes are common political graphics, perhaps in retrospect she should have heeded Giffords' concerns and changed the map. She could have risen above those who unfairly attacked her, saying that she understands how in a time of pain and confusion people sometimes say hurtful things.
The timing is wrong, the tone is wrong and the tenor is wrong. Palin talks way too much about herself. ...
--Paul Begala
She could have called for earlier intervention and better mental health care. She could have even shocked the world and said no one needs a 33-round gun magazine for either self-defense or hunting. (Then again, perhaps Palin is the only one who does. Anyone who misses a caribou five times with a high-powered rifle is no hunter.)
Most of all, Palin could have spoken to us as the devoted mother of five who felt the pain of the parents who lost their child, and of the children who lost their parents in that savage attack. In fact, the words of comfort she did offer felt almost like an afterthought: Oh, yeah, sorry about all those people who were shot ... but did you hear the nasty things the liberals are saying about me? She desperately needed someone to tell her, "Sarah, I know the attacks on you sting, but don't you really want to focus on the attacks that killed six Americans and wounded 13 more?"
This was no Mama Grizzly protecting her cubs. This was a bitter, self-centered politician protecting her hide.
The opinions expressed in this commentary are solely those of Paul Begala.
FOLLOW THIS TOPIC