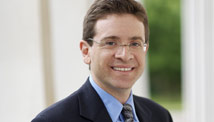 STORY HIGHLIGHTS
Julian Zelizer: Left has accused right of rhetoric that inspires violence
He says there's no evidence that political climate was a factor in Arizona shooting
Still, GOP must deal with perception of ties to extremism, he says
Zelizer: Both parties have suffered damage from links to extremist groups
Editor's note: Julian E. Zelizer is a professor of history and public affairs at Princeton University. He is the author of "Jimmy Carter," published by Times Books, and editor of a book assessing former President George W. Bush's administration, published by Princeton University Press.
Princeton, New Jersey (CNN) -- The mass shooting in Arizona has raised a political challenge for the Republican Party. Party leaders have spent the last few days rebutting charges from liberals that extreme rhetoric from the right had something to do with inspiring the rampage.
At this point, there is no evidence that the gunman went on his horrendous shooting spree as a result of political rhetoric from the right or the left.
The alleged shooter, Jared Lee Loughner, had enrolled as an independent voter. Rep. Gabrielle Giffords, his apparent target, had been the focus of criticism from conservatives, particularly for her vote in support of President Obama's health care bill. The New York Times published a chilling article documenting the tension that had been brewing in her district, including vandalism at her local office (for which no one has been arrested) that had led her to fear the possibility of violence. She had also been criticized by liberals for being too centrist.
The shooting may have been the result of mental illness without any connection to recent political debates. But, given the political climate, it has immediately stimulated debate about the dangers of extremism in American politics.
In an age that has fueled all sorts of extremist organizations and writers -- facilitated by the ease of reaching an audience over the internet -- the major political parties need to take extremely strong stands against fringe organizations that promote violence or use incendiary rhetoric to target opponents.
Extremist organizations have always existed in American politics, but the internet is now giving them an easy forum to reach national audiences quickly.

Giffords 'doing remarkably well'

Pawlenty: Blaming rhetoric 'unfair'

'God takes care of that'

Long term impact of Arizona shootings?
The political danger for parties of being tied to extremism should be apparent to Republicans and Democrats. In 1964, just a year after the assassination of President John F. Kennedy, Republicans nominated Barry Goldwater, a conservative senator from Arizona, to run as their candidate.
Goldwater's campaign had ties to some of the right-wing organizations of the time, such as the John Birch Society. Goldwater, who saw himself as the candidate who represented the conservative cause, embraced extremism as a virtue, not a vice. He said: "Extremism in the defense of liberty is no vice. And let me remind you also that moderation in the pursuit of justice is no virtue."
This was a period when the radical right, including violent organizations, was becoming a major presence in certain parts of the country. When Kennedy was killed in 1963, many politicians immediately thought that right-wing groups, which had greeted Kennedy in Dallas with signs featuring his picture on a wanted poster, were responsible. While Lee Harvey Oswald had no connection to these groups, the political climate led many politicians to conclude this was not an impossibility.
Nor was there a firewall between Republicans and these groups. Before Kennedy's death, Sen. Gale McGee of Wyoming had warned Kennedy that the movement had been developing a "close affinity" with the conservative wing of the GOP, even though they remained operationally separate.
McGee explained that "the Conservative Right and the Radical Right, in short, often make common cause, and if the conservatives are not card-carrying Birchers and do not -- for instance -- advocate the impeachment of the Chief Justice, they deplore the same Supreme Court decisions as those who do ... in short, as the Radical Left has had its sympathizers over the years, the Radical Right in America today has its own band of conservative fellow-travelers."
Democrats ran a campaign that targeted Goldwater in 1964 as the candidate of the far right. Lyndon Johnson ran a series of devastating television ads that promoted this message. One ad showed images of the Ku Klux Klan marching through the streets. As viewers watched Klan members burn crosses and march in their regalia, the narrator said: " 'We represent the majority of the people in Alabama who hate n--erism,Catholicism, Judaism and all the --isms of the would world.' So said Robert Creel of the Alabama Ku Klux Klan. He also said, 'I like Barry Goldwater. He needs our help.' "
Another ad went over statements that Goldwater made saying that he would "wreck" Social Security. They focused in on a pair of hands ripping up a Social Security card. Viewers are told that "On at least seven occasions, Sen. Barry Goldwater said that he would change the present Social Security system. But even his running mate, William Miller, admits that Sen. Goldwater's voluntary plan would destroy the Social Security system. President Johnson is working to strengthen Social Security."
The results were devastating for the GOP. The election of 1964 was a stunning Democratic triumph. Johnson won 486 electoral votes and 43,129,484 popular votes. Goldwater walked away with 52 electoral votes and 27,178,188 popular votes. Democrats scored huge majorities in the House (295-140) and the Senate (68-23).
Democrats have also suffered when Republicans were able to connect them with fringe groups. After the 1960s, Republicans said the Democratic Party had come under the control of radical organizations such as the Weathermen, a group of left-wing activists who sometimes used violence to pursue their objectives.
The GOP capitalized on the fact that these organizations were on the left wing of the political spectrum to claim that the Democratic Party had moved away from the liberalism of Franklin Roosevelt and Lyndon Johnson toward a kind of radical, sometimes violent, ideology that was far off center.
Regardless of the circumstances of the Arizona case, the growing clamor from organizations and individuals that have espoused radical and often violent views has been an unfortunate turn in contemporary politics. In 2009, the Department of Homeland Security had warned about the growth of white extremist organizations and the potential for violence.
Thus far, many Republicans have been firm in condemning the attacks. House Speaker John Boehner said, "I am horrified by the senseless attack on Congresswoman Gabrielle Giffords and members of her staff. An attack on one who serves is an attack on all who serve. Acts and threats of violence against public officials have no place in our society. Our prayers are with Congresswoman Giffords, her staff, all who were injured and their families. This is a sad day for our country." Roger Ailes of Fox News has said that those who work at the channel must "tone it down" and make arguments in a more intellectual fashion.
But that is not enough. While conservative and liberal commentators are correct to push back against those who instantly linked the shooting to Tea Party politics, it is a mistake to ignore the political environment that led some observers to assume there was a connection.
Stopping violent extremism should be a bipartisan affair. It must be as important as implementing health care (for Democrats) or pursuing tax cuts (for Republicans).
From public statements to stricter gun control laws, this must become a political priority. While the escalation of violent rhetoric has been more notable on the right in recent years, politicians in both parties have a civic duty to push back against these forces of hate and destruction. They must publicly and constantly condemn these sorts of organizations and make certain that their members are kept far away from campaigns and political activity. They must support efforts to investigate and crack down on organizations that espouse violence. Politicians must also avoid using the kind of rhetoric that appeals to these groups, even when that is not their intention.
We can have polarized and partisan politics without having poisonous politics. During the past few years, the lines between these two political styles have become dangerously blurred. Now is the time to for our leaders to take action.
The opinions expressed in this commentary are solely those of Julian E. Zelizer.
FOLLOW THIS TOPIC