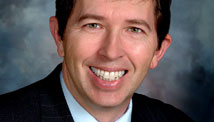 STORY HIGHLIGHTS
Forensic psychologist Dewey Cornell: Shooting sprees often preceded by plenty of clues
He says people forget incidents quickly, don't seize chance to address gaps in mental health
Mental health funding lags, but threat assessment strategies cheaper than costs of disaster
Cornell: Politics, heated rhetoric hinder action on guns, mental health
Editor's note: Dewey Cornell is a forensic clinical psychologist and professor of education in the Curry School of Education at the University of Virginia, where he directs the Virginia Youth Violence Project. He is author of "School Violence: Fears Versus Facts" and "Guidelines for Responding to Student Threats of Violence." He recently developed threat assessment guidelines for Virginia colleges.
(CNN) -- The rampage shooting in Arizona is another anguishing reminder that mental health is the weakest link in our ailing health care system.
Again and again we have seen horrific acts of violence committed by emotionally troubled individuals who were obviously in need of mental health treatment. Many of them made no secret of their paranoid fears, confused thinking and violent intentions.
As a nation, we might be convinced it was time to take violence prevention seriously if it were not for our recurrent amnesia soon after each one of these terrible events. A cursory Google search reveals spree shootings in just the past year in more than a dozen states, including Alabama, California, Connecticut, Florida, Illinois, Indiana, Massachusetts, Missouri, New York, Pennsylvania, Texas, Virginia and Washington.
These incidents are often portrayed as shocking and unexpected, but a careful investigation reveals that most of these individuals were clearly troubled, depressed, desperate and angry.
We minimize the scope of the problem by variously pigeonholing them as "school shootings" or "workplace shootings" or "domestic shootings." Unfortunately, we now have the category of "political shootings" that could grow in size.

Missed point for alleged killer

Shooting heroes tell their stories

Breaking down the Giffords shooting

Loughner's classmates speak out
Terrance W. Gainer, the Senate sergeant-at-arms, reported a surge in threats to members of Congress following the health care debates. With any high profile shooting generating such public attention, there is a genuine risk of copycat crimes by other disturbed individuals.
Undoubtedly, an investigation will show multiple ways in which the Arizona shooting might have been prevented. It is reported that the suspect, Jared Loughner, had exhibited disturbed and frightening behavior while attending a community college. But colleges generally lack the resources or authority to address safety issues such as this one and often resort simply to suspending or expelling the student, transferring the problem to others.
In this case, college authorities reportedly instructed Loughner to obtain a mental health evaluation certifying that he was not a danger to himself or others before he could return to classes. This is a common strategy, and one that sadly reflects the fragmentation of efforts to help persons with mental health needs.
For years, state and local governments have looked for budget savings by cutting mental health programs and closing treatment facilities. The cost of prevention is minuscule, however, compared with the millions spent to prosecute and incarcerate one violent offender, not to mention the substantial costs sustained by the victims, many of whom will need mental health services that are not available in most communities.
In the wake of shootings from Columbine to Virginia Tech, government panels and law enforcement agencies have repeatedly urged our nation's educational institutions to adopt threat assessment strategies.
Threat assessment is an approach to violence prevention that places primary emphasis on identifying threats and intervening to resolve conflicts and address mental health needs before they escalate into violence. Our own research at the University of Virginia has found evidence that threat assessment is a practical, safe and efficient strategy. In the aftermath of fatal shootings, Virginia and Illinois mandated threat assessment teams for their state colleges.
Congressional legislation on this issue has fallen by the wayside. Now, it is painfully more relevant.
There are broader societal changes needed to improve the prevention of violence. Just raising concern about mental illness and firearms is a topical minefield in these politically charged times. Guns are a common denominator in the vast majority of spree killings, but any discussion of gun restrictions provokes accusations of subverting the Second Amendment of the U.S. Constitution, which protects the right to keep and bear arms.
Guns are not the cause of violence, but they surely make it easy to kill -- and it is far too easy for persons with severe mental illnesses to obtain them. To be clear, gun restrictions are not the answer, but one factor that could help; effective prevention of violence is a multilevel process that requires an array of protective measures, no one of which is sufficient.
Mental illness is another legal landmine. It must be emphasized that there are many forms of mental illness and most persons suffering from a mental illness are not violent. Furthermore, patient advocacy groups do not want to see restrictions on the liberty of persons with mental illness.
Nevertheless, since the 2007 Virginia Tech shooting it has become increasingly evident that public safety laws do not give us sufficient authority to evaluate and provide treatment to threatening individuals who are not aware of their own illness. We have an underfunded mental health system laboring under a managed care approach that drastically limits mental health services and forces patients onto the streets before they are healthy or safe.
The final landmine is the First Amendment. It is beyond question to protect our right to criticize the government, but even the most conservative constitutional authorities agree with Justice Oliver Wendell Holmes that the First Amendment's protection of free speech does not mean unlimited speech, and that, for example, no one can create a "clear and present danger" by falsely shouting "Fire!" in a crowded theater.
The image of a crowded theater seems a bit dated, since we now live in a nation where we can shout, blog, e-mail, chat or tweet with more than 300 million persons, and inevitably there are many in this audience who are not emotionally stable or rational.
We need a better scientific understanding of the impact of our capacity to communicate indiscriminately but powerfully and persuasively with anyone and everyone. With all of the exaggeration, accusation and misinformation that pervades political discourse, is there a point at which shouting "Fire!"-- or drawing cross hairs on a map -- can present a new "clear and present danger"?
The opinions expressed in this commentary are solely those of Dewey Cornell.
FOLLOW THIS TOPIC