Pray for Giffords -- and for civility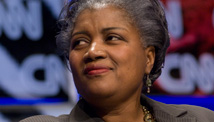 STORY HIGHLIGHTS
Donna Brazile: Rep. Gabrielle Giffords crosses party lines, inspires friends everywhere
Giffords lifts politics to an art of cooperative problem solving, she says
Brazile asks readers to join her in prayer for Giffords, other victims and their families
She says: "Let us pray that our leaders restore respect and civility to political discourse"
Editor's note: Donna Brazile, a CNN contributor and a Democratic strategist, is vice chairwoman for voter registration and participation at the Democratic National Committee, a nationally syndicated columnist and an adjunct professor at Georgetown University. She was manager for the Gore-Lieberman presidential campaign in 2000 and wrote "Cooking With Grease."
(CNN) -- "Our democracy is a light -- a beacon, really -- around the world because we effect change at the ballot box and not because of these outbursts of violence." --Rep. Gabrielle Giffords, March 2010
Rep. Gabrielle Giffords is the best kind of politician: a noble one. She lifts politics to a noble art of people-caring and cooperative problem solving. This is how she leads.
Giffords enjoys her work as an elected official. She loves people, and she wants to serve them. That's why she ran for public office.
Giffords worked across party lines not because she was "supposed" to, but because her principled commitments have inspired friends on both sides of the aisle. She has friends everywhere. Her warmth and personality make her impossible not to like. She connects with everyone. Giffords listens to each person. She listens because she cares about strangers and friends alike.
Please join me in praying for this inspirational woman, leader and friend, and for her family. Please pray for those who lost their lives and for their families. Please pray for all the other victims of this unthinkable and utterly pointless tragedy.
Were Giffords addressing us now, she would first remind us that other lives are shattered. She would say that these others, and their families, are equally in need of prayer and support. Let us pray for the large community that Gabrielle Giffords represents.

Missed point for alleged killer

Shooting heroes tell their stories

Gupta: How Giffords survived brain shot

Scrutinizing the rhetoric
She would especially take note of the loss of Christina Taylor Green, the 9-year-old student leader who was born on 9/11, the day tragedy united this nation. Her picture was featured in a book "The Faces of Hope." The assassin did not succeed in killing Gabriel Giffords. But, in the name of God, let us not allow him to succeed in destroying the hopes and futures of our children in the echoes of his intolerance.
Soon, we will turn our attention to ending violence like this forever, but until then, please pray for the many victims of this weekend's massacre.
Meanwhile, let us pray that our political leaders restore respect and civility in their political discourse, and beseech them to forgo the temptation to turn our plea to shun rancor into rancor. Please join me in praying for those who lost their lives, by name:
-- Judge John Roll
-- Dorothy Morris
-- Dorwin Stoddard
-- Christina Taylor Green
-- Phyllis Schneck
-- Gabriel Zimmerman
If you're so inclined, please send your good wishes to giffordswellwishes@gmail.com.
FOLLOW THIS TOPIC


Part of complete coverage on

In the days and weeks to come, Rep. Gabrielle Giffords' recovery from a gunshot wound to the head will be a marathon, not a sprint, doctors say.

Doctors for Rep. Gabrielle Giffords have upgraded her condition from serious to good, and said she may be transferred to a nearby rehabilitation hospital Wednesday morning.

A federal judge entered a plea of not guilty Monday on behalf of Jared Lee Loughner to three counts of attempted murder in the mass shooting that wounded U.S. Rep. Gabrielle Giffords earlier this month.

Gabrielle Giffords has been able to stand with assistance. "She's activating her muscles even more than what I had anticipated," one doctor says.

Rep. Gabrielle Giffords arrived in Houston, Texas, on Friday to continue her recovery from a gunshot wound to the brain, her office said.

The next phase of recovery for U.S. Rep. Gabrielle Giffords is likely to begin later this week when she will be transported to a rehabilitation hospital in Houston.

Rep. Gabrielle Giffords was worried about her safety long before she was critically wounded in a mass shooting that killed six people in Arizona, her husband said in a new interview.

Arizona shooting suspect Jared Loughner photographed himself posing with a 9mm handgun while wearing a red G-string, a law enforcement source said.


Most popular stories right now