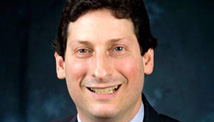 STORY HIGHLIGHTS
Brian Levin: Members of Congress have been targets of violence before
He says an inflamed political environment increases the risks they face
Levin says man named as suspect posted bizarre mix, including anti-government views
Those in political arena should take care not to add to overheated rhetoric, he says
Editor's note: Criminologist and civil rights attorney Brian Levin is a professor of criminal justice and director of the nonpartisan Center for the Study of Hate & Extremism at California State University, San Bernardino. Levin, a former New York City police officer, is a graduate of Stanford Law School.
(CNN) -- The horrific shooting of Congresswoman Gabrielle Giffords, and the killing of six others, including a respected federal judge, outside a Tucson Safeway is not the first time that a member of Congress has faced a violent threat or attack.
But while history affords many examples of attacks on legislators, today's inflamed political environment may put them particularly at risk. Congress has been the target of public disdain recently with approval ratings at multi-decade lows of 13%.
While it is too early to say what the exact motive for the Tucson massacre might have been, a man whom sources named as a suspect apparently posted a mix of bizarre ramblings interspersed with rhetoric commonly found in the racist and anti-government extremist community.
It has been disturbing to watch recent incidents of vandalism, gunshots, threats, and politically loaded rhetoric that can help create a charged atmosphere in which representatives may be viewed as appropriate targets for aggression and scapegoating -- particularly among those who are unstable and angry.
Protection for members of Congress, and our democracy as a whole, must take into account the dangerous mix posed by omnipresent firearms, angry conspiracy-oriented political rhetoric, and a surplus of distressed and isolated mentally disturbed individuals.
The risk today to members of Congress is that they represent the most locally accessible branch of our national government. In order to carry out their elected mission of community representation, members must regularly engage in personal contact with concerned constituents.

Is political rhetoric too heated?

Security and protecting lawmakers

Sheriff: Arizona mecca of bigotry

Sheriff criticizes political vitriol
It is not their celebrity, as most are relatively unknown to many of their constituents, but rather what they represent symbolically that makes them targets not only to the deranged, but to all those who have angrily opted out of what they see as an out-of-control and out-of-touch government.
The suspect named by sources, 22-year-old Jared Lee Loughner, apparently posted a YouTube video with white text on a black background discussing the government, currency, mind control and brainwashing. He also apparently posted a photo of a gun on top of an American history book on another webpage and a list of favorite books, ranging from fables to fantasy to political philosophy -- including "Alice's Adventures in Wonderland," "One Flew Over the Cuckoo's Nest," "The Communist Manifesto," and "Mein Kampf."
Would-be assassins often exhibit a volatile mix of psychological and personal distress overlaid on some kind of self-legitimizing philosophy. Assassins and attackers are often, but not always, loners. Some are ideologically or religiously motivated, while others are psychologically impaired revenge seekers, or those who chase fame or validation for their own bizarre philosophical messages.
Today, however, many of these previously isolated angry and distrustful views have some public support. An April 2010 survey by the Pew Research Center found there is "a perfect storm of conditions associated with distrust of government -- a dismal economy, an unhappy public, bitter partisan-based backlash, and epic discontent with Congress and elected officials." Last year the volume of significant threats directed toward senators increased to 49 from 29 in 2009, according to the sergeant-at-arms of the Senate.
Violent events like this week's attack, while rare, are nothing new.
On September 8, 1935, populist Louisiana U.S. senator and former governor Huey P. Long was shot in Baton Rouge by Dr. Carl Weiss, the son-in-law of a bitter political rival. Weiss died during the attack after bodyguards fired back. Long, who was considered a probable presidential contender, died two days after the shooting.
On March 1, 1954, five Congressmen were shot and wounded during debate on an immigration bill on the floor of the House of Representatives. Four Puerto Rican nationalists armed with automatic sidearms fired 30 rounds from a visitor's gallery after unfurling a Puerto Rican flag. The wounded Congressmen all survived.
On June 5, 1968, Robert F. Kennedy, U.S. senator from New York and a presidential candidate, was shot and mortally wounded by a .22 caliber round at the Ambassador Hotel in Los Angeles shortly after winning the California Democratic primary. His assassin, Sirhan Sirhan, was allegedly enraged by the Senator's support for Israel, and is currently serving out a life sentence in state prison in California.
On November 17, 1978, California Rep. Leo Ryan and four others, including NBC News correspondent Don Harris, were shot and killed on a remote airfield in the South American nation of Guyana by a follower of People's Temple cult leader Jim Jones. Jones himself died shortly thereafter in a mass suicide that claimed more than 900 lives. Jones ordered both the assassination and mass suicide after Ryan arrived at Jonestown to investigate charges of misconduct and intimidation by the cult leader. One of Ryan's wounded aides, Jackie Speier, is now a U.S. representative from California. Ryan is believed to be the only member of Congress assassinated while serving.
In 2001, two members of the Jewish Defense League, Earl Krugel and Irv Rubin, were charged with plotting to blow up the office of Arab-American California Republican Rep. Darrell Issa.
It's inevitable that in a nation as large as ours, some people who are deranged or have twisted political goals will act out with rage. However, the question for those in the political arena is -- Why supply volatile attackers, through irresponsible and overheated vitriol, with an extra match?
The opinions expressed in this commentary are solely those of Brian Levin.
FOLLOW THIS TOPIC