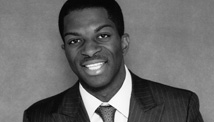 STORY HIGHLIGHTS
Authorities believe teenager died falling out of plane on which he was a stowaway
Anthony Coley: Security has greatly improved since 9/11, but this raises an alarm
Coley: How could he evade multiple levels of security, and what if he were a terrorist?
TSA needs the authority and funding to keep airports, travel secure, he writes
Editor's note: Anthony Coley is the former communications director and chief spokesman for the late Sen. Edward Kennedy and former New Jersey Gov. Jon Corzine. He works as a director at the Brunswick Group, a communications consulting firm. Follow him at twitter.com/AnthonyColey.
(CNN) -- The nation's air security has improved exponentially since the September 11 terror attacks. But events sometimes remind us there's still work to do.
One reminder happened about six weeks ago, when 16-year-old Delvonte Tisdale's mangled body was found outside Boston -- hundreds of miles from his Charlotte, North Carolina-area home.
Evidence suggests that the popular 10th-grader was an airplane stowaway, the first in a flight originating in the United States since September 11. (The last time was April 14, 1972, when a body was found in the wheel well of a plane that took off from San Diego, according to the Federal Aviation Administration.)
How could that happen?
Officials believe that Delvonte was in the wheel well of a U.S. Airways passenger plane that left Charlotte Douglas International Airport on November 14.
His body was in an upscale area of Milton, Massachusetts, run over by an Audi and a Jeep. Authorities, believing that the case was a homicide, alerted Norfolk County District Attorney William Keating.
On December 10, Keating reported that an autopsy found the injuries on Delvonte's body were "consistent with a fall from a significant height."
Keating also revealed that the teenager's body was found beneath the flight path for aircraft approaching Logan International Airport. A shirt and sneakers stained with grease were found roughly a half-mile away.
The investigation determined that Delvonte's body was found in the area where pilots typically lower their landing gear in preparation for final descent. Finally, detectives discovered handprints and scuff marks in the wheel well, Keating and Massachusetts State Police confirmed.
To be sure, Delvonte's daring act and haunting death have left more questions than answers.
The teenager had recently moved from his mother's home in Baltimore, Maryland, to live with his father. Was he attempting to take a flight from Charlotte to Baltimore, instead of Boston? And equally important: How could a 16-year-old kid who had never been on a plane evade multiple levels of security: barbed-wire fencing, security checkpoints, surveillance cameras? Did he do it alone?
The most pressing question -- asked by Keating, Delvonte's pastor, the Charlotte Observer and many others -- is one of national significance: What if Delvonte was a determined terrorist with ill intent?
These are all tough questions that should be answered without delay.
Multiple investigations are under way by the Charlotte-Mecklenburg Police Department, U.S. Airways and the U.S. Transportation Security Agency. Keating, elected to Congress roughly two weeks before this tragedy, plans to ask for an expanded investigation examining airport security. (The City of Charlotte is responsible for its airport's security.)
Regardless of what was going on in Delvonte Tisdale's life, he should never have risked it as an airplane stowaway. More important, he should not have been able to.
To be clear, since September 11, the federal government, working with state and local authorities, has set protocols and implemented several measures to enhance airline safety and protect the homeland. Some of those measures are obvious; many are not.
As the country approaches the 10-year anniversary of that dreadful day, we should all be grateful that the measures put in place have prevented another attack. We still face determined enemies, no doubt about it, but our progress has been very impressive.
In addition to Presidents Bush and Obama and members of Congress, thousands of hardworking federal, state and local government employees across the country are to thank for that progress. These Americans get up and go to work everyday with one purpose: to keep America safe.
But we cannot stop now. The Transportation Security Agency must continue to hold local officials' feet to the fire. In addition, it should have the authority, and the money, to do what is necessary to prevent air security from being compromised, as it was at Charlotte's airport in November.
The opinions expressed in this commentary are solely those of Anthony Coley.
FOLLOW THIS TOPIC