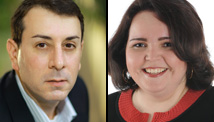 STORY HIGHLIGHTS
Washington is welcoming a huge class of freshman legislators to the new Congress
Co-authors warn new members of a host of ways their ethics could be compromised
Public officials are role models for many people in society, they say
Co-authors: Too many officials have betrayed their responsibility
Editor's note: Kathryn Jean Lopez is editor-at-large of National Review Online and a nationally syndicated columnist. Seth Leibsohn is a fellow of the Claremont Institute and a principal with the consulting firm Leibsohn & Associates.
(CNN) -- Dear New Members of the 112th Congress:
Welcome to Washington. By now you've received all kinds of advice from a crowd of experts, here and at home.
You've received counsel on what committees to seek out, what legislation to attach your name to, what position you should take on any given issue, what you should be known for.
People are talking to you about your legacy and your prospects. They're also telling you where you should live and what parties to go to. Very little goes without comment here. And there's much more to come. But as all of it overwhelms your in-boxes -- and your mind and soul -- please don't forget the most important details of all. It can be easy to neglect the fundamentals during the chaos of changing the way this town runs. But it's also critical to the mission: Don't forget to be good, to be decent.
King Solomon reminds us what legacy decency can yield, "A good name is more desirable than great riches; to be esteemed is better than silver or gold."
You are members of the largest novice class in six decades -- 94 freshman members of the United States House of Representatives, and 16 new senators. More than a few of you are new to town, many heralded in by a grass-roots Tea Party movement that, while undeniably in large part a response to the economic crisis, is about much more than that. At root, that movement is about responsibility. But there can be no meaningful accountability in Washington without leaders who personify responsibility. With that in mind, some words of encouragement and caution:
These are tough political, financial, and economic times. They're also ethically arduous. Yet, the road to solutions can be a minefield for those who do not keep their moral compass firmly in hand. Candidates who offer themselves as hope and a change -- and we do mean of either party -- too often come to believe that they themselves are those embodiments. They come to see themselves as not humble servants called to leadership but political messiahs who can do no wrong.
There are very good people in Washington, but some of the well-known cynicism about this place has merit, too. We are all familiar with the unholy litany of political leaders and staffers who have betrayed not only their responsibility but also their charge and duty.
We are all familiar with the unholy litany of political leaders and staffers who have betrayed not only their responsibility but also their charge and duty.
--Kathryn Jean Lopez & Seth Leibsohn
They have engaged in frauds, they are the reason "lobbying" is routinely considered a foul word, they have disregarded propriety and they have betrayed their marriage vows. They have sullied not only their own names but also the civic process.
Politics should be a noble calling, and yet according to a recent Gallup survey, members of Congress rank among the least honest and ethical professionals in America -- just below "Mad Men" type advertising practitioners.
But there are examples of those from both parties who can be held up as models of personal and professional probity. When they retire, they can be celebrated, without asterisks by their names. They stayed good.
We all know politics is considered a hardball sport, but how you comport yourself is as much a part of your life here as political victories and your voting record. "Decency" should be a new watchword in Washington, and it falls to you to make it so. If you don't see it here, be it here.
And let's not skirt that famous power-as-aphrodisiac line here. The men and women -- and children -- of America have enough trouble now. They don't need leaders who further mock the institution of marriage and instruct for the worse with their behavior. As Professor Brad Wilcox from the University of Virginia recently put it:
"In the last three decades, nonmarital childbearing, divorce, low-quality marriages and family instability have all been on the rise in middle-American homes. ... Why? Over this same period, the cultural, civic and economic foundations of marriage in middle America have been eroding."
But, please, don't just talk about decency -- live it. There will be times where you'll find yourself feeling lonely and misunderstood in this demanding job you campaigned for. There will be times you'll find someone willing to make you feel otherwise. Caution.
Power doesn't have to be corrupting. Your office is not an entitlement or free pass. Never cease earning the privilege you have been given. In this way, your campaign is every day -- a campaign for a race much more significant and enduring than any political one you'll ever run.
Whatever talk shows you are invited on, whatever dinners you are invited to, whatever receptions you attend -- and you don't have to go to every one and you don't have to drink when you're there -- whatever awards you are given, and whomever you give your private e-mail and phone numbers to, keep all these in mind and keep at it. It will demonstrate a great deal, and will be of benefit to much more than your good name. You may never know, but you may very well be the only code-of-ethics book any given staffer, lobbyist, blogger, reporter or constituent ever reads.
Consider the words of Gov. Bobby Jindal writing on political leadership: "All people -- regardless of their job or role in society -- have the responsibility to notice when they are viewed as a role model and live up to that responsibility. No excuses. That admiring kid of today could be a political leader, athlete, parent or teacher of tomorrow."
Perhaps your eyes are rolling. We've heard all about the "family values" hypocrite before. I'm not going to be him. That's not what we're encouraging. We're asking you to consider the advice of the poet Edgar Guest:
I'd rather see a sermon than hear one any day;
I'd rather one should walk with me
than merely tell the way.
The eye's a better pupil
and more willing than the ear,
Fine counsel is confusing,
but example's always clear;
And the best of all the preachers
are the men who live their creeds,
For to see good put in action
is what everybody needs.
And don't let the voices paying the most to bend your ear or flattering you because of the power you have be the ones you predominantly respond to; listen to the people who will help and challenge you to be good, from constituents to spouses to spiritual advisers. Virtue, it has been taught, is a habitual and firm disposition to do good. Keep good influences around you so that your words, deed and name will inspire just that.
We can all rebuild a civilizational fort of fortitude here -- and you can be among its most public architects.
The opinions expressed in this commentary are solely those of Kathryn Jean Lopez and Seth Leibsohn.
FOLLOW THIS TOPIC