STORY HIGHLIGHTS
Sister Rosemary Nyriumbe, a 2007 CNN Hero, is still making a difference in Uganda

Her school is rehabilitating women who were abducted and raped during a long civil war

One way the students make money is by the sales of women's purses they make

Nyirumbe says a second school is now being built close to the Sudan border

Washington (CNN) -- Think of pop-tops, and a soda can might come to mind. But Sister Rosemary Nyirumbe sees pop-tops as a way to help hundreds of women in Gulu, Uganda, start a new life.
Nyirumbe sells women's purses made out of the aluminum tabs, and so far she has sold more than 500 purses for about $3,000.
All of the proceeds go to the people who made them -- her students at the St. Monica's Girls' Tailoring Center.
Eight years ago, Nyirumbe started the school in Gulu to help poor young girls and women caught in the middle of the decades-long Ugandan civil war. Many of the women had become mothers after they were abducted and raped by rebels in the Lord's Resistance Army.
Nyirumbe's school feeds and rehabilitates more than 300 mothers and their babies each year. It also provides free medical care and teaches the mothers valuable life skills, such as sewing, cooking and cleaning.
The purses are a relatively new endeavor and just one of the many ways her school is helping students who have been deeply traumatized and need money to support themselves.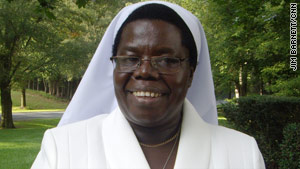 Sister Rosemary Nyirumbe started her school eight years ago. She was recognized as a CNN Hero in 2007.
"I got this idea, and it took me about two weeks to teach myself and my students," Nyirumbe said during a recent trip to the U.S. "It's really changing their lives, because they are paid for what they produce."
In 2007, Nyirumbe was recognized as a CNN Hero for her efforts with the school.
"It raised a lot of awareness about what we're doing, because after that, it exposed me to many people in the world," she said. "It has really made a lot of people come to understand the importance of supporting us."
However, the needs are still many. For example, there is no electricity at the school.
"We have a generator which we can use for about two hours, but the cost of fuel is so high that we cannot maintain it," she said. "Uganda is a country which is developing, and technology is available. But in my case, I live in a place where there's no electricity."
The school is also next to a prison, but Nyirumbe said she saw that as an opportunity, not an obstacle. She said that as she drove by one day, she knew that inside there were people she could help.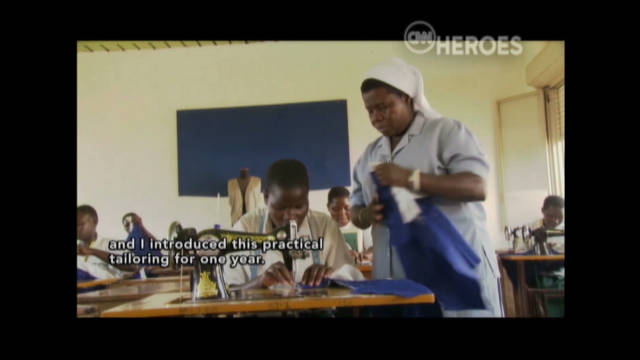 CNN Hero: Rosemary Nyirumbe
"I went to the prison authority and asked them if they would let the women come out, and they told me to put it in writing. I did, and now the children are coming to our center from the prison," she said.
Nyirumbe, who joined the sisterhood when she was just 15, says that since being named a CNN Hero, she has seen a marked increase in publicity, awareness and trust. Doctors, lawyers and professional athletes from the U.S. now routinely travel to her school.
But she gets her most satisfaction from seeing "these girls working with their heads up. They have their dignity restored, and they can support themselves and they can take care of their children. And they love their children."
At 54, Nyirumbe is not planning to slow down anytime soon. A second school north of Gulu and close to the border with Sudan is now being built.
"I think I see everything as a kind of plan of God for me, and it gives me the energy, it gives me the joy to be where I am and to work in a difficult situation," she said. "And I think if I was someone always unhappy or ... I was not giving joy to the people, I would not accept to take care of these girls who have suffered a lot."
She then paused before adding determinedly, "Yes, I will continue."
Donations for Nyirumbe's school can be made through the Rural Hospital Relief Fund.