Five years of honoring CNN Heroes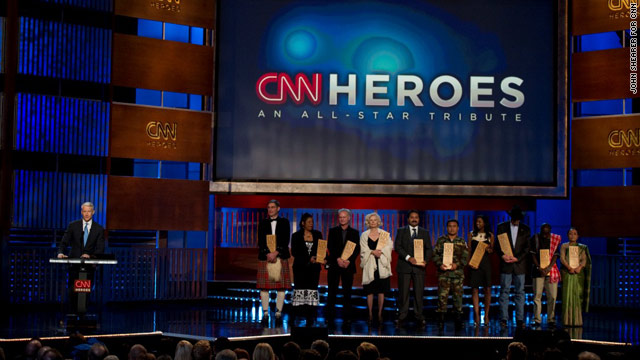 STORY HIGHLIGHTS
"CNN Heroes: An All-Star Tribute" will air at 8 p.m. ET Sunday, December 11

The live, global telecast will be held at the Shrine Auditorium in Los Angeles

The annual show honors the top 10 CNN Heroes of 2011

Cast a vote for Hero of the Year at CNNHeroes.com

(CNN) -- "CNN Heroes: An All-Star Tribute" returns to the Shrine Auditorium in Los Angeles as the network celebrates its fifth year of honoring "everyday people changing the world."
CNN's Anderson Cooper again hosts the star-studded gala, which this year will be broadcast live around the world at 8 p.m. ET/ 5 p.m. PT on the global networks of CNN. The telecast shines a spotlight on the extraordinary accomplishments of the top 10 CNN Heroes, who will each receive $50,000 in recognition of their work.
The show culminates with the announcement of the CNN Hero of the Year, one of the top 10 who will receive an additional $250,000. Voting to select the Hero of the Year is being conducted online at CNNHeroes.com and will end December 7 at 11:59 p.m PT.
Performers and presenters for this year's tribute show will be announced in the coming weeks. Last year's show included appearances by Halle Berry, Demi Moore, Jessica Alba, Kid Rock, LL Cool J, Renee Zellweger, Gerard Butler, Kiefer Sutherland, Marisa Tomei and Aaron Eckhart. It also had performances by Bon Jovi, Sugarland, and John Legend with Common and Melanie Fiona.

Gallery: The top 10 CNN Heroes of 2011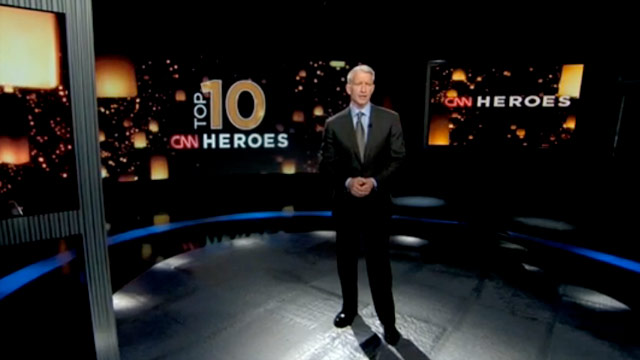 Top 10 CNN Heroes revealed
Since January, profiles of CNN Heroes have been featured every week on CNN and online at CNN.com. These Heroes were chosen from nominations submitted through the CNN Heroes website. This year, more than 10,000 nominations were received.
"We hope to empower these selfless individuals to persevere in their humanitarian efforts to create progress," said Jim Walton, president of CNN Worldwide. "We are proud to share the stories of this year's Top 10 Heroes."
Preceding the tribute show, CNN will air a red-carpet special, "Showbiz Tonight @ CNN Heroes," at 7 p.m. ET, hosted by A.J. Hammer. The special will feature celebrity arrivals and interviews as well as a celebrity-hosted social media suite that will tap into the worldwide online passion and interest in the Heroes event.
CNN.com will also offer live-streaming from the red carpet, as well as exclusive backstage interviews of the honorees and celebrity presenters throughout the live broadcast.
Kelly Flynn is the senior executive producer for the CNN Heroes initiative and "CNN Heroes: An All-Star Tribute." This year's show will be produced by Ian Stewart and Hamish Hamilton.