STORY HIGHLIGHTS
Former mortgage broker Ernie Casillas is still searching for work after three years

Casillas can find a job in 30 days if he does his homework, says "reinvention expert" Eli Davidson

Networking is a crucial tool that job seekers tend to overlook, Davidson says

Casillas, 48, is among 14 million-plus Americans who are unemployed
Los Angeles (CNN) -- During the California housing boom a few years ago, mortgage broker Ernie Casillas was living the American dream.
The 48-year-old father of one earned a solid middle-class income and built a diversified retirement portfolio.
Then the housing market collapsed in 2008, and Casillas soon found himself on the brink of financial ruin.
He lost his job, his home and eventually his marriage. He is one of more than 2 million Californians without work.
CNNMoney: State-by-state job holes
Casillas has tried to broaden his employment prospects by reinventing himself. He returned to school to train in information technology.
He soon discovered that in the fiercely competitive world of IT, few high-tech companies were willing to take a chance on an entry-level technician.
Casillas then tried his hand at jewelry making and discovered he was pretty good at it. He sells his wares at a local farmer's market and swap meet, but it's hardly a living.
He also volunteers at a local YMCA as a youth counselor in hopes of landing a permanent job -- but so far, no offers.
Desperate for work, Casillas eventually posted his resume on Craigslist.
Explore your skills: Ask friends and family about all your abilities, even those that don't fit your current job description. Make a list of those skills.
Get support: During a job search, you need to be part of a positive group. Get and give support as part of a team. It is best to go outside your family.

Be accountable: Tell someone your goals. Check in with them daily, if possible.
Research: Before an interview, research not just the company but its competitors. Go into your interview more educated about the industry than any other applicant.

Source: Motivational speaker Eli Davidson
"It took a lot for me to put that ad on Craigslist, because I had to change what I was before," he said. "I wasn't this rich little yuppie anymore, driving expensive cars, having expensive suits. I'm in this just like everybody else looking for work. It humbles you."
As one of more than 14 million Americans who are are out of work and three years into his job hunt, Casillas says he's willing to try anything to turn his luck around.
Job seekers struggle in rough economy
Enter Eli Davidson, a self-described "reinvention expert," who says she can coach Casillas into a job within 30 days.
"Ernie, if you do what I say and do your homework, I guarantee you -- you will find a great job," Davidson tells him in the dining room of the south Los Angeles home that Casillas shares with his mother.
Davidson -- a motivational speaker and author of "Funky to Fabulous," which is billed as "surefire success strategies for the savvy, sassy, and swamped" -- preaches personal empowerment.
She now runs a successful life coaching business designed to teach others how to turn their lives around.
After overcoming her own hardships -- a failed business and marriage -- Davidson says she reinvented herself out of necessity.
She usually charges $1,000 and up for a series of group sessions, but she agreed to work with Casillas for no charge because of his dire financial situation.
Step one: Personal transformation
When people have been out of work for as long as Casillas, they need to overhaul their self-perception, according to Davidson.
Casillas breaks down, thinking of the past three years.
"Even personal friends at work, high school friends have shut the doors," he says, his voice cracking through tears. "They think because I don't have a job, I'm going to ask for money. ... It's not that. I just need support."
Psychic career counselor says business is booming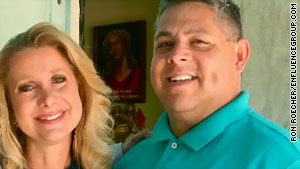 Ex-mortgage broker Ernie Castillas has turned to help from motivational speaker Eli Davidson in his hunt for a job.
Davidson tells him she will teach him "to spot the green" -- the opportunities around him -- instead of focusing on mental roadblocks that may have held him down.
"The first step for Ernie is he's going to get some inner tools by getting inspired and ignore what the outer world is telling him like, 'You can't, it's impossible, no way, it's never going to work,' " Davidson says during a motivational session.
For the next month, she tells Casillas, "You're going on a diet of all the naysayers in your life -- all those people who make you feel bad you didn't get a job."
Glancing over at his mother, Casillas jokes, "I'm not having any barbecues with my family. No more barbecues!"
Step two: Networking
Networking is a crucial tool that job seekers tend to overlook, according to Davidson. More than 80% of people who are finding employment were successful because of their networking skills, she says.
Davidson then asks Casillas, "Are you actively looking for a job on LinkedIn?"
"No, because most of the people there are engineers, (or have) bachelor's degrees, MBAs," he responds. "Here comes a guy who has 20 years of banking experience who's going into tech support; I didn't think I would measure up."
Wrong response, Davidson says.
"Did you see where Ernie's perceptive filter kept him from seeing the No. 1 way this man is going to get a job?" she asks.
" 'I'm looking for an opportunity' is the phrase he is going to need to use."
Davidson instructs Casillas to build a strong online profile and to start networking on sites such as LinkedIn and Twitter.
She tells him to make five professional connections a day.
Step three: The resume
Even though Casillas says he has sent out piles of paper resumes, Davidson says that's "like playing an 8-track."
I wasn't this rich little yuppie anymore. ... I'm in this just like everybody else looking for work. It humbles you.
--Ernie Casillas
She tells Casillas to "think out of the box" and distinguish himself. She suggests offering a prospective employer a solution to a problem he has identified, or blogging about an employer for whom he'd like to work.
Until Casillas finds someone willing to give him an opportunity, his only source of income is an unemployment check.
He says he worries the money will soon run out unless Congress approves an extension of benefits. Despite the competition for jobs and high unemployment across most of the country, Davidson says she is optimistic about Casillas' job prospects. "I know you will find a job," she tells him.
And we'll be checking back with Casillas to see where he's at in a month.
CNN's Traci Tamura and Gregg Canes contributed to this report.
FOLLOW THIS TOPIC