STORY HIGHLIGHTS
The Joplin tornado destroyed Joplin High School's marching band instruments and uniforms
Last year the drum line placed 3rd in the winter competition. This year, they have no drums
100 bands around the U.S. are raising funds to get the Joplin Eagles ready for band camp
JHS classes will be held in Northpark Mall this fall because the school was badly damaged
Joplin, Missouri (CNN) -- All the things Gareth Evans took for granted -- his family's home, his school and his music -- were ripped apart by the tornado that plowed a 13-mile-long trail of destruction through this southwest Missouri city a few months ago.
But he is hoping he will still be able to play in the marching band in his senior year of school.
Joplin High School was hit and everything stored in the band room was destroyed, including sheet music, uniforms and instruments.
Gareth, 17, plays bass guitar, trombone, trumpet, mellophone and rhythm instruments. "Music is my family's life," he said. "My brother, sister and my father all learned to play in that band room. It has family value."
Gareth is one of about 139 band members who are still piecing their future together.
"We are starting from scratch," said band director Rick Castor. "Every day, more walls at the school fall. It may take more than three years to fully recover."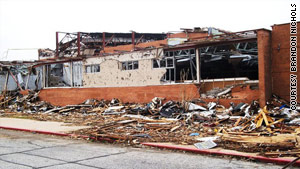 The Joplin High School band room (pictured above) was ravaged by the tornado.
Gareth, a rising senior, will finish high school in classes held at a store in a mall a few miles from the school property.
Meanwhile, the highly decorated Eagles marching band is in desperate need of funds to replace instruments. Castor said the students need percussion and marching brass instruments, which are "not the kind of stuff people have laying in their closet."
Joplin High School band was very involved in parades, marching festivals and competitions. Last year the Eagles drum line placed third in state in the winter competition.
All their trophies were destroyed.
Joplin High School's music library was the second oldest and one of the largest in the state and had been worth over $800,000. It's all gone.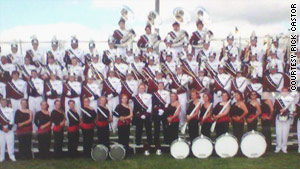 Marching bands across the country are raising money to replace Joplin High's band equipment.
"We lost a lot; our selections included music permanently out of print that can't be replaced," Castor said.
More than 600 miles away, in Little Elm, Texas, Lanette Bowcutt heard the news of the Joplin band's losses.
"As I continued to read the stories. I learned the band lost everything," Bowcutt said. "My son plays in the Little Elm High School band. Knowing how much band meant to him, I just felt compelled to do something."
She had a T-shirt design created, started a Facebook page, and "band-ing together for Joplin High School band" was born. More than 100 bands around the country are helping raise funds to get the Joplin Eagles ready for band camp that begins August 1.
Stanbury Uniforms, based in Brookfield, Missouri, has designed new uniforms and marching shoes for the band's first football game.
But without instruments, a band is not a band, and with the new school year looming Joplin's band kids "are getting really desperate," Bowcutt said.
Being in band is very important to Gareth, but replacing his instruments is not his only priority right now.
"I hope we can rebuild and get through this, but it won't be the same."
A lot of people still need help, he said.
"We still need volunteers, supplies. I still see old ladies picking through the rubble."
Some 62% of students at his school have been affected by the tornado; they either lost homes and possessions or know someone who lost a loved one when the twister hit the city of 50,000 on May 22.
The tornado was estimated to be an EF-5, the most devastating on the Enhanced Fujita Scale, with wind speeds exceeding 200 mph. It killed 159 people.
Gareth's family is still searching the ruins of their home. His aunt found his brother's water-damaged diploma under some boards.
They barely escaped injury themselves. His father, a paramedic, had called home to warn them, and "we made it into the storm shelter like 20 seconds before it hit," Gareth said.
"At first we didn't think it was that bad. We crawled out of the storm shelter and saw this huge tree on its side, and then we knew it wasn't good," he said. "My mom opened the garage and a live deer bleeding from his neck ran out. Mom screamed."
After working with his father that day in the aftermath of the storm helping injured people, Gareth said he plans to go into the medical field.
"I knew I wanted to work in emergency medicine, working in a emergency room somewhere."
But first, Gareth will need to graduate from a mall.
Classes for Joplin High's juniors and seniors will be held in at the vacant Shop Co. store in Northpark Mall. The 2011-12 school year starts August 17.
FOLLOW THIS TOPIC