Men weigh in on love, money and kids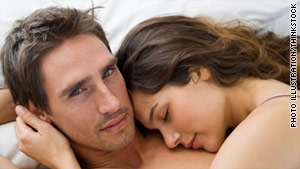 About 12% of men younger than 30 said couples with healthy relationships had sex daily.
STORY HIGHLIGHTS
Sixty-eight percent of men say they believe in marriage and plan to say "I do"
Ninety-two percent aren't bothered if a woman has a higher income
Younger men prefer a boy if they have only one child
(CNN) -- Younger men are more likely to have a problem dating a woman with children, a newly released survey finds.
Tens of thousands of men answered questions about children, money, sex, marriage and many other issues.
Some 68% of the men who participated said they believe in the institution of marriage and plan to get married someday, according to AskMen.com, which conducted the Great Male Survey online.
About 92% of the men said they would be OK if their female partner or spouse made more money than them. And only about one-third of men filling out the questionnaire said it was very important or somewhat important that their wife or future wife signed a prenup.
About half of the male respondents aged 15 to 28 were not comfortable with the idea of dating a woman with children. Men's discomfort with dating a mom dropped with each additional decade of age, falling below 15% of men aged 50.
About 47% to 50% of men under age 30 were fine with dating a woman with children.
If they had to choose between having a child or a dog, men under age 20 would pick the dog by a tiny margin of 28% to 26%. Men between 35 and 50 wanted the child more than a puppy. About one-third of all men wanted both a child and a dog, while about 13% didn't want either creature in their house.
If men could have only one child, apparently the desire for a boy was greater than that for a girl, but the older the men were, the less the gender of the child mattered.
To maintain a healthy relationship, about 12% of men under age 30 thought couples should have sex every day. More than 75% of men answering the survey thought couples should have sex several times each week. About 1% said sex once a month would be OK.
About 68,000 men participated in the survey. For more on their opinions on issues of love, politics, fashion, technology and what characteristics make a "real man," check out the full survey results.
FOLLOW THIS TOPIC


Most popular stories right now

Featured Deal |