STORY HIGHLIGHTS
Natural hair on African-American women can still stir curiosity
Women tell of strangers wanting to touch their hair
Some see the issue as one of race relations and power
(CNN) -- Tamara Winfrey Harris tells a story of being in a chain restaurant with her husband when their names were called for a table.
Just as the couple rose to go, a middle-aged white woman standing nearby reached out swiftly to touch Winfrey Harris's hair which at the time was styled in natural twists.
"She missed by mere seconds, she was actually going to grab my hair as I walked past her," recalled Winfrey Harris who runs the blog What Tami Said. "I turned around and she said, 'Oh, your hair is neat.' It just floored me because who does that, just reaches out and touches strangers?"
It's a common tale shared by women of color whose natural hair can attract stares, curiosity, comments and the occasional stranger who desires to reach out and touch.
The reaction to such fondling can range from amusement to outrage over the invasion of personal space.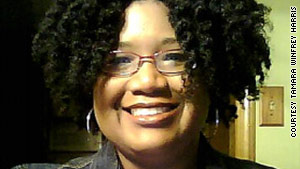 Tamara Winfrey Harris says she had a total stranger reach for her hair in a restaurant.
The discussion surrounding it is often rooted in race relations.
Blogger Los Angelista explained her response to a woman's incredulous "Are you serious, I can't touch your hair?" by writing that no she couldn't, "Because my black ancestors may have been your ancestors' property, and had to smile while they got touched in ways they didn't want to, but I am not YOUR property and never will be so you'd best move your hand away from me."
"Natural hair" for black women is, by definition, hair that is not processed and not chemically altered. Straightened hair is oftened viewed as easier to care for and more attractive.
Rather than use chemical straighteners known as relaxers (also sometimes called "creamy crack" for both the damage it can do to black hair as well as the inability of some women to live without it) some women wear their hair in its natural state.
Natural hair can be described as curly, kinky, wavy, or -- the sometimes dreaded and considered by some to be an offensive word -- nappy.
Black hair fuels a more than billion-dollar industry which includes products, weaves, and wigs that can enable African-American women to change up their styles at a whim. Tons of websites, blogs, books and videos about natural hair exist to educate those desiring to "go natural."
The style has been embraced for reasons of fashion, politics and simply by those unwilling to spend the time and money to maintain their chemically processed hair.
So why the continuing fascination with natural hair, given that so many women of color are now rocking the style and have been for years?
Keneesha Hudson said that despite the growing number of women embracing their natural hair texture, it's still considered unique.
Hudson is the owner/founder of Urbanbella, a company in Atlanta that specializes in helping women embrace their natural hair texture. She first went natural in 2002 when she did the "big chop" (cutting all of her processed hair off) so she could have the freedom to swim, she said, and today she sports a thick mane of natural curls.
"For the longest time we black women have been wearing our hair chemically straightened to a point where most of us really don't know what our natural hair looks like," Hudson said. "There's a generation of us who have never even seen our hair in any form but straight except for baby pictures."
Visitors to her salon will sometimes ask to touch her hair to establish that it is actually all hers and not a wig or a weave, she said, while still others are strangers who "sneak and touch it."
"We love to go to the football games, and there's a group of guys that sit behind us," Hudson said. "One week, towards the end of the season, one of the guys in cheering just kind of laid his hands on my head like 'Yeah!' I said 'That has nothing to do with cheering for the game,' but I just find those little moments happen a lot."
In 2008, Renee Martin wrote "Can I Touch Your Hair? Black Women and The Petting Zoo" for her blog Womanist Musings and said she continues to get e-mails from women thanking her for her post and relaying their personal experiences about their hair being touched.
Some white women who responded, Martin said, shared their stories of their own hair being touched in countries populated by people of color. They chalked it up to natural curiosity and accused Martin of being too sensitive, she said.
But she says she doesn't think the crux of the issue has to do with curiosity.
"I think it's the idea that they have the right to possess black women and they will take any excuse they can to jump over the border, whether it's policing our behavior or policing our hair," Martin said. "I think it's about ownership of black bodies more than it has to actually do with hair."
Actress Issa Rae, star/creator of the web series "The Misadventures of Awkward Black Girl," said she has been natural all of her life. She had cut her hair and worked the short afro into the character, who was heartbroken and starting over.
Rae has endured the comments of "Eww, why is your hair like that? Why are you trying to go back to slavery?" from other African-Americans and says that, growing up, she had requests to touch her hair from both blacks and whites.
The touching doesn't bother her as much as "when they ask stupid questions to make me feel like my hair is alien hair."
"I had someone ask me if I wear my hair like this to honor my ancestors, and that was funny to me," she said. "This is not for Kunta [Kinte]."
Rae notes that in the 1970s, there was an afro movement for a while, but it died down in the 1980s. There are quite a few layers when it comes to discussions about black hair, from length to texture, and hair is very much tied to the culture, she said.
"Hair is just a huge component of blackness, so it's not going to go away," she said.
Tia Mosley, 29, went natural at the age of 12 when she refused to get her hair relaxed anymore. The inquisitiveness about her 'do is as natural as the hair on her head, she said.
"People want to touch my hair all the time and I have no problem with it," she said. "I have a problem with the touching and the attempt to touch without asking."
Mosley said that when she used to work at a predominantly white theater company in northern Georgia, her hair was viewed as exotic and stirred up a great deal of interest.
"They thought I was from the islands and they had lots of questions about my hair," she said laughing. "I would say 'No, I'm from the island of Houston, Texas."
FOLLOW THIS TOPIC