STORY HIGHLIGHTS
About 3.9 million student parents are working on undergraduate degrees in the U.S.
There is about one child care spot for every 10 student parents who need child care services
Oregon State University offers 15 hours of free babysitting while parents study in the library
(CNN) -- If Sherita Rooney only had to worry about writing papers and acing exams, her college life would be a breeze.
But Rooney, a senior at West Chester University in Pennsylvania, has the extra stress of getting her 5-year-old and 14-year-old off to school, picking them up at the end of the day, running to piano and ballet lessons, making sure their homework gets done before they're fed and bathed, and only then can she sneak off to a coffee shop to study until 2 a.m.
Then she gets to do it all over again the next day.
Rooney is one of about 3.9 million student parents working on their undergraduate degrees in the United States. Nearly half those students are single parents and work full-time jobs, according to a 2011 report by the Institute for Women's Policy Research.
While it can be a nightmare to squeeze in class, work and parenting responsibilities in a single day, the students somehow manage their chaotic schedules.
"It's crazy," laughs Rooney while describing her daily routine. "You probably wouldn't even believe it."
Single parent? Tips for raising a child alone
The biggest challenge for many student parents is finding adequate child care services on campus -- unless, of course, professors don't mind screaming babies interrupting their lectures.
There is one child care spot for every 10 student parents who need services. The number of centers at two- and four-year institutions has decreased in the past eight years, which leaves student parents on a college budget with few options.
Rooney receives a scholarship that covers the $800 child care costs for her son each month. But the grant doesn't extend to the summer, which poses a problem for the 28-year-old math major, who needs to take summer classes to graduate on time next year.
"It's just a juggling act with trying to find someone every day who will babysit my kids so that I can go to class and go to work," she said.
Rasheedah Phillips had her daughter Iyonna at age 14. But that wasn't going to stop the single mom from attending Temple University, where she majored in criminal justice before enrolling in Temple's law school. Phillips said she comes from a family of teen moms -- including her mother, grandmother and several relatives.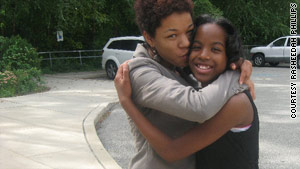 Rasheedah Phillips says she got a degree to give her daughter Iyonna "all the opportunities she deserves."
"When I then became a teen parent, really my motivation was to not continue that cycle in my family and to give my daughter more opportunities and a better chance than I had to not repeat those same circumstances," she said.
Temple didn't have a child care center on campus so Phillips dropped Iyonna off at different centers throughout Philadelphia while she attended class and worked to pay the bills. Without loans and scholarships, Phillips -- now 27 and an attorney who helps child care providers obtain licenses -- doesn't know how she could have afforded day care expenses.
Some universities recognize the financial struggle for student parents and have worked to subsidize child care costs. At the University of Wisconsin-Madison, the Office of Child Care and Family Resources supports about 600 student parents. Besides seven day care centers on campus, the office sponsors a program called Chicken Soup, which provides care for sick children if a parent has to attend a lecture or take an exam.
"At most campuses, you move away from your support network if you did have one," says Lynn Edlefson, director of the Office of Child Care and Family Resources. "We have to be the support network for lots of families from all over the world."
Though the child care programs receive some of the highest funds from a public university student government -- the Associated Students of Madison will allocate $19 per semester this year -- Edlefson explained there is still a shortage of affordable care on campus and cited costs of $345 per week for infant care.
At Missouri State University's child care center, student parents have the opportunity to volunteer at the center and receive a subsidy in child care expenses.
On Wednesday mornings, Jeff Kessinger, who is studying for his teaching certification at Drury University, shops at Wal-mart and buys snacks and cleaning supplies for the center. The volunteering reduces his weekly child care costs to $88 for his 3-year-old daughter.
In 2010, low-income student parents and child care centers received $16 million in federal funding. The amount is likely to decrease with the new federal budget, says Tiffany Boiman, a senior outreach and policy associate at the Institute for Women's Policy Research.
Child care helps depressed moms' kids
With government dollars dwindling, centers are extra grateful for any money from student fees. At Oregon State University, students pay $8 a year to support child care services.
One of the programs includes Our Little Village. Based in the campus library, parents can study in the stacks up to 15 hours per week while their kids play games and do arts and crafts. The program has become so popular, serving around 150 families, that days of operation will increase from four to five starting this fall.
Kate Porsche says the babysitting program helped her maintain her sanity while attending graduate school. Porsche made it a Saturday routine to head to the library with her two girls after lunch.
"It's amazing what you can get done in three full hours of uninterrupted time," she said.
Once finished with an assignment, parents don't need to run their kids home before class. Instead, the kids can tag along.
Students are always welcome to bring their children, even babies, to Aaron Wolf's geology classes.
"I think it actually brings smiles to most people," Wolf said. "It breaks ice a little bit."
Though he's never had a student breast-feed in class, or at least hasn't noticed, the chair of Oregon State University's geosciences department says breast-feeding is also totally acceptable.
"We don't want people really to have to decide between their academic careers and their families, so we try and include both," he said.
There's a stereotype that student parents are "not going to make it," says Sherrill Mosee, president of the Higher Education Alliance of Advocates for Students with Children and author of "Professor, may I bring my baby to class?"
Mosee, whose stepdaughter got pregnant in college, helps students defy that stereotype through a nonprofit she founded called Family Care Solutions, Inc. that grants scholarships to student parents.
"If we're not able to invest in these student parents, they will never know the outcome," she said.
Parenting.com: 9 things you shouldn't say to your child
Advice for being a successful student parent by Sherrill Mosee, president of Higher Education Alliance of Advocates for Students with Children
1) Have a cheerleader: That person could be your child. Your daughter or son should be a daily reminder of why you're in school in the first place.
2) Don't be afraid to ask for help: Communicate with your professors often. That way, if there's an emergency involving your child, your absence won't seem like an excuse.
3) Don't let guilt consume you: It's OK if you can't spend a lot of time with your child. Remember it's not about quantity, but quality. Reading a book, playing games or walking in the park with your child are special moments.
FOLLOW THIS TOPIC