STORY HIGHLIGHTS
Alana Gooden, 19, says Philadelphia's youth poetry movement helped save her life
Devastated by family tragedy, Gooden was failing school
She says dealing with her grief through spoken-word poetry has turned her life around
Gooden will compete this month in a national poetry competition
Philadelphia (CNN) -- Alana Gooden never thought she would live to see her 18th birthday.
Her brother died in a car accident when she was 12 years old and the emotional impact lingered in the family for years.
By the time Gooden had reached her junior year in high school, her world came crashing down. After a falling out with her mother, she moved in with a friend and her family in poverty-stricken North Philly.
She started cutting class, and went from her high school's honor roll to failing.
Danger became a real part of her everyday life: She helplessly watched a man open fire on a crowd outside a corner store where she had stopped for hoagies with a friend.
She even considered selling drugs to make ends meet.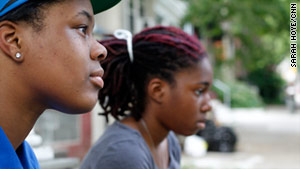 19-year-old Alana Gooden, on the left, credits Philadelphia's spoken word or "slam" poetry program with saving her life.
Yet, after relentless urging by her creative writing teacher, Cait Minor, she joined the Philadelphia Youth Poetry Movement (PYPM) near the end of her junior year in 2010.
Gooden turned 19 this year is now using spoken-word poetry -- or "slam" poetry -- to express herself. Performing in front of a crowd has helped her build up her confidence.
"At the time, I didn't think that could help me in any way, I was already struggling," she said. "But I actually came out and I've been hooked since then."
With the help of her poetry mentors, Gooden has turned her life around. She graduated from high school in June and will attend Temple University in the fall.
Gregory Corbin -- a social studies teacher and spoken- word poet -- founded PYPM to provide a positive outlet for teens in his native Philadelphia who might otherwise fall through the cracks.
"We're not interested in just about making young people better poets, we want to make them better people at the end of the day," said Corbin, the movement's executive director. "We're doing our best to provide tangible, concrete solutions for these young people."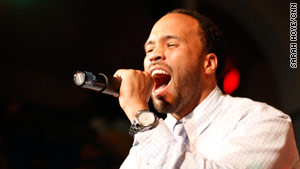 Gregory Corbin, a teacher and poet, founded a youth poetry movement in Philadelphia to make the city's youth "better people."
Philadelphia, like many other U.S. cities, has big problems: a cash-strapped local government, a fledgling school district facing a $629 million shortfall, high unemployment and drop-out rates, and inner city violence.
Founded in 2006, the nonprofit youth poetry program -- run entirely by volunteers -- helps youth in Philadelphia discover the power of their voices through spoken word and literary expression.
Corbin says he developed the idea for a youth poetry movement in Philadelphia with a friend during their ride back from a poetry event in Washington.
PYPM started as just a monthly youth poetry night. The positive reaction and personal growth Corbin saw in the students inspired him to expand the program.
He traveled with the emerging poets to out-of-state poetry competitions using private donations, and was even featured on HBO's seven-part series "Russell Simmons Presents Brave New Voices" in 2009.
Despite his success, there were times Corbin was down to $5 in his bank account. Yet he and his fellow volunteers refused to abandon Philly's youth.

Sarah Kay: The roots of spoken poetry

M. K. Asante gives his spoken word

Students put fears to verse

Spoken poem: 'If I should have a daughter'
"On the way to school they can walk by violence, walk by drug dealing, there's so many obstacles for these young people to jump over," Corbin said. "We want to give them opportunities and choices. We want to make sure that they understand how great they really are."
Students involved in the Philadelphia Youth Poetry Movement spend their Saturdays throughout the school year attending free writing workshops held inside borrowed spaces since the organization doesn't have a permanent building.
There are monthly "slams," regional performances and community service outings. Several PYPM members have graduated from high school and gone to college, or learned a skilled trade, achievements many of them never imagined possible.
The majority of summer is spent practicing for the Super Bowl of poetry competitions. Gooden is one of six PYPM students who spent months competing for a coveted spot at the Brave New Voices national poetry competition July 20-23 in San Francisco.
Gooden credits Minor and the other mentors at PYPM for her turnaround.
"I could look in her eyes and actually tell that she cared," she said. "Everyone was so open and friendly, they really wanted something for us."
Today Gooden is slowly letting down her guard and believes that she can go out and change something in the world.
"Every day I'm fighting to prove to myself that I can actually be something," she said.
If PYPM didn't exist, Gooden said she and her fellow members might not be where there are right now.
"We wouldn't be performing, we wouldn't be promoting positive change, we would be out there with them downtown, flash mobbing, running around, fighting, cursing, getting arrested, shooting, dying," she said.
But their journey is bigger than poetry -- they are preparing for life, said Denice Frohman, the movement's program director.
"Poetry is kind of just this art form that has brought us together. And I think that, beyond that, a lot of these kids have found a family," said Frohman, who is also a Drexel University graduate student and a performance poet herself.
"A lot of these young people have become a lot more motivated because they feel more empowered. They feel like they have something to say, something to give and contribute to this world."
This year PYPM received a $40,000 Knight Arts Challenge grant from the John S. and James L. Knight Foundation to establish a permanent gathering space.
Although the financial support is encouraging and absolutely necessary for the program to survive, society must also invest in youth in order to cultivate future leaders, said Frohman.
"If we don't listen to them, we won't know what they're lacking, and what they need from us," she said.
FOLLOW THIS TOPIC