STORY HIGHLIGHTS
Until they make a controversial call, most fans don't even know umpires' names
Umpires have to endure long, hot games, grueling travel and meager pay
The ultimate goal for every minor-league umpire is to make it to the majors
(CNN) -- Minor league coaches and players spit in their faces, red dirt embeds itself in their skin, and until they make a newsworthy call, probably not a single baseball fan knows their names.
Don't ask these umpires if they've been hit by baseballs. The question is how many.
"You don't get to triple-A without bruises," said Art Thigpen, 43, a ninth-season umpire. "You've probably been hit so many times in the same place, you don't even feel it."
They're officiating minor league games in the hope they will move up to umpire on Major League Baseball fields, with a comfortable salary and high-stakes games. There are 70 possible spots in MLB, but they come available one at a time as umpires retire.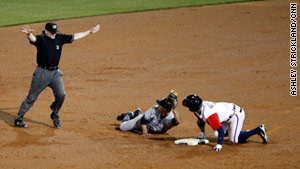 Umpire Mike Estabrook declares Gwinnett Braves center fielder Jordan Schafer, right, safe at second base.
It's harder for most of these men to work their way up to the majors than it is for a baseball player.
Any guy below the majors is traveling with two other men as part of an umpire crew, driving from state to state for six months. They say they are grossly underpaid and insurance is their only benefit. There's no retirement plan for umpires until they reach the majors.
To pay the bills the other six months of the year, many of the umpires call winter ball games in other countries, substitute teach or work other jobs.
Getting schooled
Be over age 18, have a GED or high school diploma, and a type-A personality.

Attend a five-week session at an umpire school/academy during baseball's off-season. Here, you will learn the essentials and become an umpire.

If you make it, you will start receiving assignments and begin working rookie ball, then work up through the different levels, all the way to triple-A.

For six months of the year, prepare to travel with two other men by van all across the country and live in hotels.

Live frugally on your salary and find an odd job you can work during the four- to six-month winter off-season.

Or sign up to officiate winter ball in a warmer climate, like Venezuela or the Dominican Republic. Downside: not going home and having one month off for the whole year.

Be able to deal with coaches and players yelling in your face while simultaneously defusing tense situations.

Be confident, have good judgment and know that your call can't please everyone.

Get some rest and don't watch baseball on any of your seven total "off" days.

If you don't make it to triple-A baseball within seven to 10 years, you probably won't ever make it.

Be willing to compete against your closest friends for a rare spot in the Majors.
Every baseball off-season, 300 men are accepted to each of the two umpire schools in Florida, where they are put through a five-week "boot camp" that will weed out at least half of them. Without going to umpire school, you can't officiate in professional baseball.
The sessions teach umpires where to place themselves on the field, how to handle confrontations and defuse escalating situations -- and get used to furiously fast baseballs coming from every angle.
If they make it through the selection process, most umpires start at the bottom of the tiered baseball system and work their way up from rookie ball to triple-A. This process can take seven or eight years, giving MLB enough time to take notice. If you haven't made it to triple-A in seven years, you probably won't make the cut.
"It's a very risky venture," said Mike Estabrook, a 13-season umpire. "Getting a big-league job is like hitting the lottery, that's how hard it is. That's why we all do this. We're not here because we like being minor league umpires."
Umpires rotate field positions each game, but home plate is the coveted spot. The calls there can make or break a career. The home plate umpire runs the game, Estabrook said. But the position can pose risks as well.
Two years ago, Travis Brown was working home plate when a baseball bat shattered on contact with a ball. A jagged edge sliced through his face-mask strap and came an inch from embedding in his face.
Traveling men
Sitting in the umpire's locker room before a triple-A game in Lawrenceville, Georgia, the four men share a few laughs.
Thigpen, Jon Byrne and Brown are a crew and by the end of the season, they're going to know each other too well. Estabrook, a "rover," doesn't belong to a crew. Instead he travels alone as a fourth man to complement crews. For now, everyone seems to be getting along.
If these men don't like each other, it's going to make their constant travel even more grueling. In just under three weeks, they've put 3,000 miles on their van.
While Thigpen and Brown aren't too far from home at this moment -- Florida and Georgia, respectively -- Byrne won't be visiting his family until the off-season. He has traveled from Australia to work his first season in the International League with this crew.
On the road, the distance presents challenges. Thigpen's wife, home with three children, is having car trouble. Her husband can't do anything to help.
When he finally reaches home at the end of the season, he'll need a week to readjust to homelife -- no working until 2 a.m., no travel, no baseball.
But while tough on marriages, the road can create friendships and experiences that no normal life would present.
"If you can think of it, it's probably happened at some point in an umpire's career," Brown said. "There's something about the hours that you travel at night. When you hear banjos playing in the middle of nowhere at 4 a.m., anything can happen."
It also introduces the men to a few kind families who open their doors in minor league baseball towns across the country. The families often are happy to provide home-cooked meals or share a beer with homesick umpires.
Until they reach the majors, these are their perks. They allow the men to forget the 19-inning games, the heckling and the mileage. Some of them love baseball and others don't, but they always aim for the ultimate goal.
"Since I started in baseball when I was very young, I've been involved in just about every aspect of the game," said Thigpen, a former Chicago White Sox draft pick. "When I'm done with this, I'm probably done. This is the last picture for me."
FOLLOW THIS TOPIC