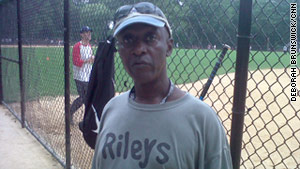 It's hard to find a concession stand near Central Park's ballfields, so Bernard Robinson sells beverages to the thirsty.
STORY HIGHLIGHTS
Bernard "Poly-cotton" Robinson is a vendor at New York's Central Park fields

For the past 30 years, he's sold drinks and helped keep score for corporate leagues players

Robinson doesn't have a vendor's license because he says it's too expensive

He and his colleagues have formed close friendships with many of the players

New York (CNN) -- It's Wednesday afternoon, and Bernard Robinson has just arrived at Central Park's softball fields to prepare for a game.
But he's not playing. He's getting ready to work.
Robinson, 60, isn't hard to spot. As early as noon, he's the only one wheeling around a red cart filled with ice and an assortment of beverages.
He's affectionately known by most of the park's softball players as "Poly-cotton," a moniker he acquired from a player who knew that Robinson once worked with fabrics.
Faster than an infield double play, Robinson sets up shop, whipping out a plastic-sealed 24-pack of water from his cart and sinking the drinks into ice.
Robinson takes only cash. No credit cards are accepted here.
Central Park's 26 softball and baseball fields are home to scores of educational and corporate softball and baseball leagues.
One of the teams playing this night is from the accounting firm Ernst & Young. As members of the team arrive and gather in the dugout, they all shout out a hearty "Hello!" to Robinson as he unpacks bags of ice.
"Good to see everybody," Robinson responds cheerfully.
Gabe Wasserman, an auditor who's played for the team for six years, warmly greets his friend.
"It's the first day of spring when I see you!" Wasserman says.
Dangling from Robinson's neck is no corporate identification badge but a metal bottle opener. Brown paper bags dangle out of his rear pocket.
For Robinson, there's no time to rest.
Soon after arriving, a woman races over from the opposing dugout briskly waving a $10 bill, and a frosty, refreshing beverage is quickly sold.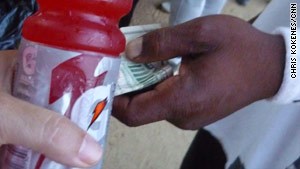 Vendors in Central Park are loved by the ballplayers but operate carefully because of ordinances that require a permit.
There's no hard sell required. On days when temperatures reach 90 degrees, the thirsty come willingly, and there's likely to be Corona, Coors Light, Budweiser, Gatorade and ice-cold water waiting.
Central Park and its sprawling 843 acres are an oasis for many New Yorkers, allowing them to quickly escape the stresses of urban life.
Although there may not be any superstar sluggers like Derek Jeter or A-Rod to watch at Central Park's fields, there's a unique intimacy about the game experience -- an atmosphere that wouldn't exist without Robinson and his colleagues.
Robinson has been canvassing the park and selling cold beverages for nearly 30 years. During the spring and summer months, he works seven days a week, sometimes as late as 8 p.m., depending on how late the ballplayers want to hang out and drink.
Born in Orangeburg, South Carolina, Robinson moved to New York with his family when he was 8 years old.
After serving two years in the Air Force and doing odd jobs in Wisconsin, Robinson returned to New York in 1975 to attend nursing school. He spent just over a year in nursing school before he dropped out and got a job at a Harlem hospital.
"But I didn't like that at all," Robinson says. "I should've stayed in school."
I like talking with people. I help watch their belongings and catch a few bad guys now and then.
--Ray "Panama" Taylor, vendor
In 1982, Robinson's brother introduced him into the business of selling drinks in Central Park. Along with his longtime partner, "Panama," and other colleagues, he has become a part of the daily tapestry of the park.
Why does he do it?
"Because it's fun," Robinson says, adding, "I can make a good living."
On a good week, he can pull down $1,000 to $1,200. And that's all profit.
"These guys down here love us," Robinson says, referring to the players. "Sure, some of them bring their own drinks, but for the most part, they like us to provide drinks. They all do appreciate it."
Robinson and his crew circulate around the various fields in the park, carrying or wheeling drinks, replenishing their stock with bags of ice -- always picking up garbage, even if it's not theirs.
Ray Taylor, 58, aka "Panama," has been by Robinson's side for 30 years.
They've developed a close relationship with many of the regular ballplayers.
"I like talking with people. I help watch their belongings and catch a few bad guys now and then," Panama says.
Wearing a dark denim jacket, blue sweatpants and a baseball cap, Panama pushes a wheeled cooler in between games, hawking his wares.
"When we lose, we booze!" he cheerily chimes.
Raised in the Bedford-Stuyvesant section of Brooklyn, Panama -- nicknamed after his country of birth -- reminisces about his 15 years as a light heavyweight professional fighter.
Panama says he sparred with the likes of Tommy Hearns and Michael Spinks, hanging up his gloves in the early 1980s to work as a hospital orderly.
Today, Panama is the father of 13 boys and five girls, and he supports his large family by hawking drinks at Central Park during the spring and summer, and selling clothing on the street the rest of the year.
"During the summer games, I help quench your thirst. During the winter, I keep you warm," he quips.
He also helps train fighters at a boxing gym in Queens, including one of his sons.
Panama's mood turns sour only when the conversation turns to the police.
"Why do they harass the working man?" he asks. "They started to become a problem recently. They are not going after the bad crimes. That's the quality of life that the police should focus on. The crime rate is up in Central Park, and this is what they spend their time on?"
There's no argument that selling drinks in the park without a vendor's license is illegal. These men work on the sly, yet there seems to be an uncertain alliance that they are able to maintain with the police who patrol the park.
Vendor's licenses are hard to come by, the men say: The city usually bids them out to large companies who can afford the hefty fees.
Bernard Robinson takes it all in stride and says the police don't hassle him too much.
But, as fate would have it, luck was not on his side this day.
"They already got me earlier in the week," Robinson says demurely as he unfolds a pink ticket he received earlier in the day for operating without a vendor's license.
It's hard to find a concession stand ... and you've got all these teams paying thousands of dollars to play in the park. Leave them alone.
--Brian Montgomery, umpire
Brian Montgomery, 50, who works as an umpire in many of the corporate softball league games, is quick to jump to their defense.
"It's hard to find a concession stand ... and you've got all these teams paying thousands of dollars to play in the park," Montgomery says. "Leave them alone."
On a hot summer day, Robinson and his team are usually the only salvation from a dry thirst.
But the players say these guys are more than just vendors:
Robinson keeps tabs of the games and knows, after all these years, when one game is about to end and another begins.
That's prime time for moving his wares.
"You got some peanuts in that bag?" asks one of the players.
Players come and go, but to Robinson, not much else has changed over the decades.
The sun has nearly set over the park and the first evening game is over. Ernst & Young notches a 5-3 win.
But just before they leave, Gabe Wasserman -- wanting to make sure they see each other again -- hands Robinson a copy of the team's season schedule.
FOLLOW THIS TOPIC