STORY HIGHLIGHTS
Bike lanes accommodate a new wave of commuters, but many feel under assault
Bicyclists feel they're getting a multitude of tickets from police for "erroneous reasons"
Various organizations are working to educate people about bike lanes and cyclists
New York (CNN) -- Move over cars, bicycles are occupying more space on U.S. city streets every day thanks to an ever-expanding network of bike lanes. Bikes aren't just for recreation. They're increasingly becoming a mode of transportation for commuters, but it's not always a smooth ride.
As more commuters turn to pedal power, bicycling blogs and online biking bulletin boards are filling up with tales of ticket blitzes and stories of bikers feeling like they are under assault.
The biker battles are particularly contentious in New York.
"There are some crazy stories coming out of New York," said Jeffrey Miller, president and CEO of The Alliance for Biking and Walking, a national coalition of state and local bicycle and pedestrian advocacy organizations. "We don't have any reports anywhere like what we're having in New York City right now. It frankly seems a little bit out of control."
Miller was referring to the number of tickets handed out to bicyclists for seemingly erroneous reasons.
"My favorite new one was the woman who was wearing a skirt and the officer who ticketed her for being a distraction to drivers," Miller said. "Does he go around ticketing every pretty lady he sees? It's just ridiculous."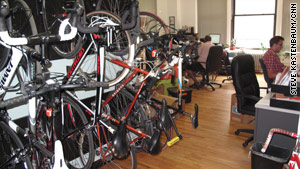 Bikes line the wall of an office with bicycling commuters.
Published reports cite a nearly 50% increase in the number of summonses written for bicyclists in New York this year. It has frustrated bikers to the point where one group has initiated a crowd sourcing project, asking bikers to report when and where they were ticketed. The data is being used to develop a map of the hot spots where bicyclists are targeted.
Casey Neistat received a ticket from a police officer for riding outside a bike lane on a rainy day in New York a few weeks ago.
"The sirens go on so I kind of get out of his way because I assume he's flying by," said the 30-year-old filmmaker. But instead of heading off to an emergency, the officer pulled Neistat and his bike over. "He just rolled down the window, took my driver's license and handed me a ticket."
Neistat admits he was riding outside a bike line. Technically, it's not against the law to do that in New York. But at the time he didn't know that and he paid the $50 fine.
He's also not a fan of bike lanes. "They're not always the safest place to be," he said.
Neistat decided to express his ticket frustration by making a short video illustrating how bike lanes are often blocked with obstructions: double-parked cars, delivery trucks, construction crews or pedestrians using the lanes to get around crowded sidewalks.
"It didn't take us long. We were out for about five minutes before we found a huge construction site in the middle of a bike lane and that was the first thing that I just crashed right into."

2010: Bicycles banned in Colorado city
Neistat kept crashing into things as he tried to adhere to the police officer's directive to ride within the bike lane. He crashed into orange cones, a taxi and the back of a delivery truck.
He edited and posted the video online, where it clearly struck a chord with other bicyclists. Within just a few days it had gone viral, with close to 4 million views.
The increase in ticketing bicyclists comes at the same time the bike lane network in New York is expanding dramatically. City officials hope to more than double the number of miles of bike lanes to 1,800 by 2030.
Skeletons warn speeders in city
At the same time, the city has embarked on a campaign to educate people on bike safety. A spokesman for New York City Mayor Michael Bloomberg said, "The focus is on safety for all road users. If you choose to drive, if you choose to bike, if you choose to walk -- we want the streets to be safe."
The majority of the bike tickets issued have been for real infractions such as running a red light or riding against the flow of traffic.
To those who believe they're on the receiving end of a ticket blitz, a police spokesman said, "It's NYPD's job to enforce the law. Just as we ticket drivers who break safety laws, the same has to be done for cyclists. We expect everyone to follow the law and abide by the rules of the road, which are there for everyone's safety."
Many bicyclists feel the increased ticketing has discouraged bike riding as the city is encouraging more people to commute by bike. But some biking advocates chalk that up to growing pains.
"As bicycling is being more seriously integrated into our transportation system, of course there is going to be more focus on making sure that bike riders are following the rules to make it safe for everyone," said Caroline Samponaro. She's the Director of Bicycle Advocacy at Transportation Alternatives, a New York based organization that advocates for bicycling, walking and other alternative transportation.
The streetscape in New York is undergoing its greatest change in 50 years and the state's Department of Transportation is trying out new types of infrastructure to support bicycling.
One involves separated or protected bike lanes. Typically, this involves taking away a lane of motor vehicle traffic on major avenues. The bike lane is positioned next to the sidewalk. It's then physically separated from traffic by bollards and a row of parked cars. In some locations an additional sidewalk acts as a buffer between bikes and car traffic.
The numbers show more people will commute by bike when they have the option of riding in a protected lane. "On First Avenue, where they just built a protected bike lane," Samponaro said, "we've seen a 153% increase in bike volumes on that street. It's pretty exciting."
Transportation Alternatives is working to educate people on the cycling rules of the road. "Our message here is bike politely," said Samponaro. At the same time, the group is trying to encourage police officers to focus their efforts on bikers who ride recklessly and put other people at risk.
Other cities where bike commuting is on the rise face similar challenges. "We are seeing an absolute sweep across the country of an increase in biking," said Jeffrey Miller of the Alliance for Biking and Walking.
Fifty miles of new bike lanes were recently installed in San Francisco. In Portland, Oregon, officials estimate 6% of all trips are now taken by bicycle. In Chicago, police recently conducted a sweep during which hundreds of bicyclists were stopped and issued warnings for not riding by the rules of the road. The Bicycle Coalition of Greater Philadelphia said there has been a 151% increase in the number of people commuting by bike over the last decade in their city. They say Philadelphia is the No. 1 big city for bike commuting per capita in the United States.
Meanwhile, despite receiving a ticket, Neistat hasn't changed his ways. He still rides outside bike lanes on his commute to work. He hopes to get a different message across with his viral video.
At the end of his video, there is text that reads: "Ticket the people blocking the bike lanes, not bikers." Neistat is then seen crashing his bicycle into a police car parked in a bike lane.
FOLLOW THIS TOPIC