STORY HIGHLIGHTS
Margaret Mitchell's "Gone With the Wind" was published June 30, 1936
Novel spawned a business that makes more now than it did in author's lifetime
To celebrate 75th anniversary, fans known as "Windies" gather for Scarlett look-alike contest
At grave, visitors toast tart-tongued former reporter reared on Civil War stories
Atlanta, Georgia (CNN) -- For someone who hated publicity, Margaret Mitchell can't seem to duck the limelight these days.
On a hot Sunday afternoon, a flock of visitors gathered before her tombstone in Atlanta's Oakland Cemetery to observe the 75th anniversary of "Gone With the Wind," the sweeping novel she published on June 30, 1936.
"Ladies and gentleman, we have a special guest today," a costumed guide announced.
With that, a smiling brunette in a flower-print dress wandered from behind the bushes. "It gives me the humbles to see so much fuss over my little ole book," she said in a ripe Southern accent.
A small desk with an antique typewriter waited behind her. At a nearby table, people poured champagne so the celebrators could raise a flute in her memory. The woman playing Mitchell, cemetery employee Sally Smith, said a few more words and then posed for pictures, all the while standing directly atop the author's grave.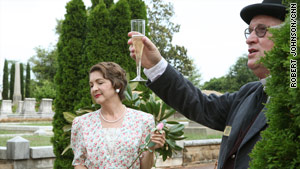 Sally Smith, acting as Margaret Mitchell, stands humbly by as a toast is made in the writer's honor.
"It's terrible, isn't it?" she joked a few minutes later, stepping out of character. "Margaret Mitchell did value her privacy. I'm not sure she would approve."
But her fans do, and they are legion.
Still popular -- and controversial
"Gone With the Wind" is not really the second best-selling book of all-time, behind only the Bible, as generations of Atlantans have boasted, but it does stand as one of the most astonishing triumphs in the annals of publishing.
More than 30 million copies of the Pulitzer Prize-winning novel are in print worldwide, according to most estimates. And that little ole movie? David O. Selznick's 1939 adaptation finishes atop most reckonings of the biggest-earning films of all-time, adjusted for inflation.
Throw in sequels, licensing and merchandise, and the business of "Gone With the Wind," still guided by Mitchell's estate in Atlanta, is humming along very nicely.
"It's making more money now than it ever did in Mitchell's lifetime," says John Wiley, co-author of a new history of the book, "Margaret Mitchell's Gone With the Wind."
"I'm surprised we're still talking about it," says Matthew Bernstein, a professor of film studies at Emory University in Atlanta. "You would think it would have played out by now, but it hasn't. I wonder if it ever will."
Mitchell, a tart-tongued former newspaper reporter who was reared on Civil War stories, professed to be puzzled by the overwhelming reception her only book received. She thought it might appeal to a regional readership, or at worst sell a thousand copies to family and friends.
Instead, there are more than 1,000 foreign editions. Wiley, who collects them, loaned 104 Chinese editions (most of them pirated) to a current exhibition in Gadsden, Alabama.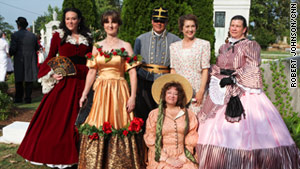 Dressing up in elaborate costumes is part of the fun for serious fans know as "Windies."
"It appeals to different cultures on different levels," says Pamela Roberts, who made a new documentary film about the author for Georgia Public Broadcasting, "Margaret Mitchell: American Rebel."
"On one hand, it's a great story that sweeps young women off their feet with this brassy heroine who did things her way. The other appeal is the theme of survival. 'Gone With the Wind' has inspired people around the world who have lived through war or suffered under oppressive regimes. You know, the Nazis and the Soviets banned it."
Of course, the book does have political problems of its own. Its apologetic depiction of slavery and liberal use of the N-word are hard for modern audiences to overlook.
"I have a son who's 27 who won't watch the movie," Emory's Bernstein says. "He sees it as racist, and he doesn't want to waste his time on something like that."
Film critic Molly Haskell, who defended the novel and movie as vivid works of early feminism in her book, "Frankly, My Dear," believes the GWTW blossom is past its peak.
"It has lost some of its aura," she says. "The parts that titillated my generation aren't so daring anymore. And the politics make us uncomfortable. I have plenty of e-mails testifying to the fact that the novel still draws new fans, and Scarlett remains one of our most original heroines, but knowing as much as we do about the causes of the war, it's harder to continue thinking of the South as a moral victor."
Who are the Windies?
The most devoted fans of "Gone With the Wind" are well aware of its controversies. Doesn't matter. They cherish the book and movie with the passion of a first love.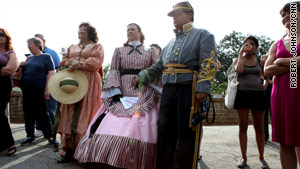 Selina Faye Sorrow attended the memorial in a pink and chocolate dress -- one of many GWTW outfits she's made.
More than 100 of them gathered this month at the Marietta Gone With the Wind Museum, 20 miles northwest of Mitchell's grave in Atlanta, for two days of talks, contests, souvenir swap meets and autograph sessions with four of the few surviving actors from the film. The doors had hardly opened when a cell phone rang and the opening notes of the movie's famous theme sounded: da-DAH-da-da ... No one seemed to notice. "Half of us have that ring tone," someone said.
Kathleen Marcaccio, who keeps track of GWTW happenings from her home in Royal Oak, Michigan, figures there are as many as 150 true Windies who travel to events around the country and seriously collect memorabilia. The tribe didn't really come together until after the 50th anniversaries in the 1980s. Most are women, many Southern, but they come from all regions. Marcaccio isn't aware of any black Windies.
As for that nickname, she said, "We'd rather be Windies than Goners."
Selina Faye Sorrow, a 48-year-old dressmaker from Powder Springs, Georgia, arrived in one of her many Scarlett O'Hara costumes, a pink-and-chocolate-striped blouse with a hoop skirt that took her six weeks to make. "Everyone needs a hobby," said her police officer husband, Ronny. "Mine is collecting tools. Hers is 'Gone With the Wind.' "
J.D. Thompson -- at 18, perhaps the youngest Windy -- drove from Alamo, Tennesse, with his parents. "I got into this because I love historical architecture and saw a picture of Tara online," he said. Now he has the novel loaded on his iPad and iPhone.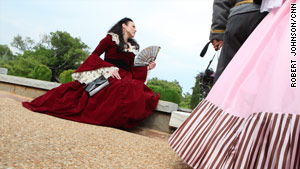 Wearing red velvet in Atlanta's heat can make a modern day lady need a fan.
Christina Bystrom, a 41-year-old correctional officer in Seattle, tackled two Southern icons in one trip, flying to Memphis to visit Elvis Presley's Graceland and then driving to Atlanta with a friend to catch the Wind. She also attends "Star Wars" fan-fests and once mingled her enthusiasms by posting on Facebook a picture of Scarlett brandishing a light saber. The caption: "Scarlett means business. She really needs that tax money."
The "Star Wars" crowd make Windies seem sedate by comparison, Bystrom said. "Those people really dress up."
Not that Windies are slouches when it comes to wardrobe. After breakfast and a short program, it was time for the opening session's main event: a Scarlett look-alike contest. Nine women entered, modeling dresses based on ones worn by Vivien Leigh in the movie. Each was named for its corresponding scene: the Curtain Dress, the Peachtree Dress, the Barbecue Dress ...
"Everyone does the Barbecue Dress," said Karen Stewart of Plain City, Ohio, who tried something different. She donned the plain outfit Scarlett wears when she's rooting for food in the ravaged garden at Tara, shaking her fist at the sky and vowing never to go hungry again.
After the contestants answered a few questions, the judges huddled and delivered their verdict. The winner was McKenna King, an actress from Stone Mountain, Georgia, who practically ignited the room with a red crushed-velvet gown like the one Scarlett wore when Rhett carried her upstairs to have his way with her.
Fighting back tears, King said she had been a GWTW fan since she was a girl and listened to a recording of the movie over and over to learn all the lines. "I drove my mother bananas."
A lifestyle that's gone with the wind
Two days later, King was back in her crushed velvet for the tour of Mitchell's grave at Oakland Cemetery. The author was struck by a car in 1949 and died at the age of 48. She's buried beside her husband under her married name -- Margaret Mitchell Marsh -- not far from the plot of Atlanta's first black mayor, Maynard Jackson. Golfing great Bobby Jones is nearby. The cemetery says Mitchell's grave is its most visited.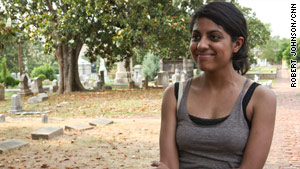 Kalpana Narayanan loved the book "Gone With the Wind" as a child, but says now she has mixed feelings.
More than 100 people turned out for the commemoration, fanning themselves in the 90-degree heat and trying to cool off with libations like the Scarlett, a mixture of bourbon and cranberry juice. Costumed guides led them around the graveyard, past its elaborate Victorian statuary, stopping at the burial places of a seemingly endless array of Mitchell kin.
Finally, they came to the tour's conclusion, Mitchell's grave, and stared at the simple tombstone, which lists names, dates and hometowns, but says nothing about "Gone With the Wind."
After the guide introduced the surprise guest -- the author herself -- one of the Windies, Karen Stewart, approached the woman portraying Mitchell and thanked her for writing her opus. Then she handed her a single pink rose.
"That was her favorite flower," Stewart said later, eyes moistening. "We come to Atlanta every year and put one on her grave."
Near the back of one group stood a slight young woman who seemed different from the others. Kalpana Narayanan, a 29-year-old artist of Indian extraction, had traveled from New York City for the GWTW weekend.
"I was a little skeptical about coming," she admitted. "I'm a brown person, and this story is kind of complicated for someone like me. I thought about entering the Scarlett contest, but I wasn't sure they'd want me. I was thinking, 'Are they going to make me dress up as Prissy or Mammy?' "
She laughed and quickly apologized for the wisecrack. The Windies actually had been quite welcoming and fun to be around, she said. But that didn't dispel the ambivalence she now felt about the book she had loved without reservation as a girl growing up in Atlanta.
"The relationship has changed," she said. "I'm not sure what I think now. It's a case study in cognitive dissonance."
If the Windies felt that dissonance, it didn't show. But there was one story, told by the Scarlett look-alike winner, that proved the antebellum lifestyle really is gone with the wind.
One day in the 1970s, King recalled, she walked into the house and commanded her nanny to "go draw me a bath."
"What'd you say?" shot back the nanny, who was black.
"I said go draw me a bath."
The nanny phoned King's mother at work and told her, "You won't believe what your daughter just did." Mrs. King instructed her girl to go outside, cut a switch and give it to the nanny so she could administer punishment.
"And then," the would-be Scarlett continued, "she painted my back porch red."