STORY HIGHLIGHTS
A college grad has to decide between multiple part-time jobs or searching for one full-time
Author: A bachelor's degree today is like getting a high school diploma in past
It's up to students on how to focus a multifaceted education into a career
Editor's note: David Seamon is a freelance journalist and a 2011 graduate of the School of Communication and Information at Rutgers University. Based in New Jersey, he is a contributor to The 9/11 Student Journalism Project and a documentary filmmaker.
(CNN) -- The starting gun has been shot. I can't unwear the gown, unwalk the aisle or unshake the dean's hand. My identity has been profoundly changed by a piece of paper, a diploma that hereby certifies that I graduated from Rutgers University.
There is no going back. Now what?
Fresh out of college, slim hope for a job
Do I keep teaching piano lessons, delivering produce, singing at my church, auditioning for musicals, picking up the occasional bartending shift and taking freelance writing and video gigs?
Or do I drop the part-time jobs and focus solely on journalism, my college major and try to find a job as a reporter?
Or do I continue my education and enroll in graduate school for journalism? Do I go for an MBA? Do I go for an MFA? What would be different about my life with another degree?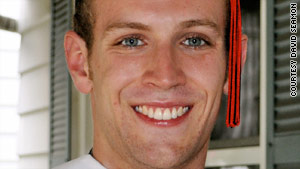 David Seamon graduated from Rutgers University, but he faces the decision of what to do next.
A few weeks ago, I was working on a story for my television reporting class. My topic: Graduating students who regret choosing their major and/or are applying for jobs that have nothing to do with what they studied in college.
I interviewed a criminal justice major that had no interest in being a cop, lawyer or any kind of civil servant. She was about to graduate and talked about her career plans uneasily, trying to dodge questions such as "What are you going to do with a degree in a major you regret choosing?" She didn't know.
The Great Recession's lost generation
I talked to a dean about my story. She said a liberal arts education prepares you to do many things, rather than focusing on one trade in particular.
There you have it, straight from the horse's mouth: If you are a liberal arts student, your degree carries less weight in choosing a career than your college experience as a whole. In fact, during my final semester, I heard friends and faculty say that having a bachelor's degree today is comparable to having a high school diploma in years past.
That is a frightening thought, but if you consider the job climate today, it makes sense. You need more than just a degree.
So I'm a well-rounded journalist armed with a bachelor's degree who is trying to avoid moving home, but has no career plan that would net him enough money to support himself. Find me on LinkedIn.
All the uncertainty is what makes college graduation so different from previous achievements. Graduating elementary school and high school was a means to get to college. Getting my driver's permit was a means to getting my license. These milestones were important, but they fed into something else -- a next step.
Making sacrifices to land a dream job
So what is my next step now?
We all know the horror stories of English majors working as cashiers at Stop and Shop, and public relations majors waiting tables. It's hard to say whether they will ever find steady jobs with salaries and benefits.
They may be doing everything right: Building a resume, landing an internship, expanding their network, etc. But for all their efforts, they are stuck.
I say what's the rush?
The key to post-graduate life is realizing that the education never stops. If you don't find a job immediately after four years of college education, it doesn't necessarily mean that you're doing something wrong. It just means you have more time to keep learning.
My ability to gain knowledge wasn't contained within the past four years like a window of opportunity that was nailed shut at commencement. The world is my classroom.
People I know and people I will meet will fall into the roles of professor and peer, and they'll test me, grade me and expect me to reflect the education I have received thus far.
The degree is a permanent part of who I am. It says that I had the nerve and the will to stay the course of a four-year education and emerge an open-minded and prepared individual.
The better I get to know that individual, the better education I'll get whether I go back to school or continue to look for a job. I know the job market is bad today.
I had dinner with my parents the other night, and while at the table, my mom showed me a book she got out of the library for me: "1001 Things Every Teen Should Know Before They Leave Home."
You know it's rough out there when you're 22 and your mom presents you with a book that could be called "Job Search 101 for the Spunky Sixth Grader."
As gloomy as the job market looks, I cannot turn it around. Even though I don't have a full-time job and the door is shut, for now, on my formal education, the schooling has just begun.
Armed with what I know, who I am and where I've been, I'll go where I want and learn what I can from whoever I meet.
There is no moving backward for us graduates. There is only the terrifying and fantastic adventure that lies ahead.
FOLLOW THIS TOPIC