STORY HIGHLIGHTS
Amy Sacks runs the Pixie Project, a nonprofit shelter for animals in Portland, Oregon
Sacks tracks down people living on the streets with pets and offers to vaccinate their animals
Most homeless shelters do not allow pets, so many people stay on the streets or in tents
Homeless man says couple's dog has "given us a reason not to give up"
Portland, Oregon (CNN) -- James has an unlikely reaction when he watches his gangly black puppy Bigera chow down on a can of dog food: His stomach rumbles.
"Sometimes there's not enough for the both of us that day," he said. "But I make sure she always eats. She has to. She's what keeps me sane out here."
"Out here" are the streets where James -- who asked that his last name not be used -- lives with Bigera.
They have been together for a little more than four months. At night they sleep on a doorstep.
As each day ends, James said Bigera runs back to the stoop and lies down as if she knows she's returning home.
"I wish we didn't have a doorway," he said. "I wish we had a house to go into, but it's what we call home for now."
More and more, people who until only recently had somewhere to live are out on the streets of Portland with their pets, said Amy Sacks, who runs the Pixie Project, a nonprofit pet store and shelter for animals.
She tracks down homeless people in alleys and under bridges and makes her pitch as to why they should make sure their pets get proper care.
"It's the economy. I am taking so many animals that are family pets," said Sacks. "I just took in a 9-year-old dog, and these people were besides themselves. They had the dog since it was 7 weeks old, and they lost their home."
Sacks said she knows that no matter how much she helps, the animals will still live on the streets since Portland -- like many cities -- does not usually allow homeless people to bring pets into shelters.
"It's gut-wrenching," she said, describing her work.
"I go at it from the standpoint that all I can do is get them fixed, get them vaccinated, make sure they are not hungry or cold and make sure they are not reproducing and that's the best we can do," Sacks said.
For those reasons, Amy Sacks stops to speak with James, using a script she has developed over time: She gives his dog a few treats, compliments James on how he cares for her and then asks if Bigera has been fixed.
James responds "no" and suggests he might want to breed her some day.
Sacks raises her eyebrows at the idea but pushes forward on how having Bigera fixed at a free clinic would protect her from infections and cancers.
At the same time, she argues, vets at the clinic could make sure the dog is up to date on all her shots.
Sacks leaves James with her card but without any commitment that she will ever hear from him.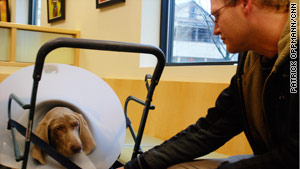 Aaron picks up his dog, Persis, from a free clinic. Most city shelters do not accept animals.
Surviving on the streets is difficult enough, she said, without having a pet that depends on you.
"If you don't know where you are going to sleep or your next meal is coming from, it's hard to provide for another life," Sacks said.
Some people merely want companionship and love of another living creature. Also, many homeless women keep dogs to ward off sexual attacks, she said.
"(An animal is) completely nonjudgmental," she said. "It's always happy to see you, it always wants to be where you are, and I think a lot of these people have been cast aside by society."
Starting at 8 a.m., a line begins to form at the DoveLewis emergency animal hospital, where the veterinary staff, Multnomah County and the volunteer group Paw Team hold regular free clinics for the pets of homeless and low-income people.
Many of the people waiting to have their pets treated never dreamed they would have to rely on charity for something so basic as a vet checkup.
Having her has basically given us a reason not give up.
--Ruben, speaking about his dog, Persis
Ruben and Aaron, a couple in their 20s who asked that their last names not be used, showed up with their gray Weimaraner named Persis.
Both men were neatly dressed and attentive to their dog.
"Both of us are in food services; people have stopped going out to eat so we lost our jobs," Ruben said.
The two men spent the last nine weeks with their dog living in a park in a small tent. As difficult as it was to have a pet on the streets, Ruben says it's what helps keeps them going.
"Having her has basically given us a reason not give up," he said. "Hopefully in the next few weeks, both of us will be into housing, and this whole horrible thing will be over for us."
Marilee Muzatko, a technician at DoveLewis, said many of the clinic's clients have only recently slid into poverty.
"Most of the people here had houses, apartments, a job at one time, but they are -- because of economic conditions -- sliding downward," she said. "There is that line in the sand: 'I can't go any lower than this. You've taken everything else. I have this one thing.' "
Volunteers helping at DoveLewis said they have treated more than 1,000 pets of homeless and low-income people last year, and they expected to see twice as many in 2011.
As the day at the clinic ends, Sacks helps the vet technicians get the newly treated animals back to their owners.
As she says her goodbyes, a text messages bleeps on her phone.
"Hi Amy, this is James and Bigera," the message reads. "Would call but I'm low in minutes. We decide to go ahead and have her get spayed. I'd rather not risk her health at all."
FOLLOW THIS TOPIC