STORY HIGHLIGHTS
Tedesco and Fernandez are two baby boomers who are doing what they love
Both are driven by a work ethic that might stem from being part of the baby boomer generation
Tedesco doesn't have retirement like Fernandez, but neither want to stop working
Editor's note: In 2011, the Baby Boomer generation turns 65. So what can the #Boomers expect in their retirement years? This week CNN will bring you special coverage of this generation
Key West, Florida (CNN) -- They are both baby boomers, both still living their dreams, but only one of them is feeling secure about retirement. She has her eyes on valuable coins, while he is following butterflies.
The ultimate guide to retirement
The Key West Butterfly and Nature Conservatory is a tropical oasis. As you walk along the path, through the gazebo and across the little bridge, butterflies are all around you. Some will land on your shoulder if you stand still long enough.
Here in the habitat, there are 60 species of butterflies and 29 species of birds, says co-founder George Fernandez. "This is a unique experience," he says. He's always sharing his knowledge like a proud kid.
"The Atlas moth is very unique. It lives only four to five days, very, very short life cycle," he tells two of his guests.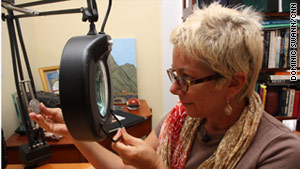 Carol Tedesco is a freelance photographer, writer and expert on treasure coins recovered from shipwrecks.
The conservatory opened in 2003. Just like the butterflies, it has been flying high ever since. Thousands of people come here every year. "It starts with having a passion, having a dream, having a mission," says Fernandez.
Now after 20 years of hard work, the former gallery owner says that dream, that passion has given this baby boomer and his partner some security.
"We have invested everything that we have and we own into making this a success, and by God, we were gonna do it, and by the grace of God, it came to fruition," says Fernandez.
Fernandez could retire tomorrow if he chose. But he says that won't happen, "In the course of eight years, we have found that this has been incredibly rewarding financially, spiritually, emotionally. I wouldn't trade it for the world."
How much do you need to retire?

How the boomers rocked
Like Fernandez, 62, Carol Tedesco, 52, says she's fulfilled.
"Would I do it differently? No. I really wouldn't," Tedesco says.
But unlike Fernandez, Tedesco couldn't retire tomorrow if she wanted to.
"I love my life," she says, "I make enough money for the life that I have, but I don't have a retirement."
4 in 10 American's can't afford to retire
Tedesco is a freelance photographer, writer and expert on treasure coins recovered from shipwrecks. On her desk is a book she's written, "Treasure Coins of the Nuestra Senora de Atocha and the Santa Margarita" and albums of wedding photos she's done for clients.
Tedesco came to Key West years ago. She didn't even bring her car, figuring she'd only be here for a few months. But she's never left.
While she hasn't parlayed her dream into wealth, she is living it.
"My dream was to work with historic sunken shipwrecks and with the people who make up that whole field. My fear was being an old person and not having done it."
It's not like Tedesco doesn't think about the future. She does. She just thinks about it a bit differently.
"I do plan for the future," she says, "but when I'm planning for the future, I'm planning my next project or my next book or the next photography exhibit or whatever the case may be. So, I'm planning. I'm not necessarily planning on how much money I can put away and what it's gonna grow into."
Both Tedesco and Fernandez are driven. It's a work ethic both say may have come from being a part of the baby boomer generation. Working hard was instilled in them early.
It came from his parents, Fernandez says. "I could not say, 'Write me a check for. Can I borrow your credit card for.' No, that never existed. I think that was instilled in both myself and my sister and to this day I will pass it on. You can make it. You have to have that drive that is with you all day long, 24/7. "
Neither Tedesco nor Fernandez have children. He has a second home in North Carolina. She has a small Key West home encased in lush tropical foliage.
While they came at it differently, neither Tedesco nor Fernandez gaze into the future with worry. They are happy with their lives. Fernandez says, "I have no dream of ever retiring. I will be here for as long as I can."
As for Tedesco, "Well, I have spent a little time in Latin America," she says, "and a Social Security check can go a long way there."
FOLLOW THIS TOPIC