Recycle sandwich bags, dry-cleaning bags and more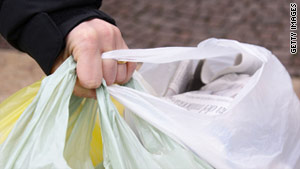 You can fill your plastic bags with lots of other plastics that are recyclable.
STORY HIGHLIGHTS
Not only are sandwich bags recyclable, it's easy to do so

Many of these items can be dropped off at the bin in front of your grocery store

The items include newspaper and dry-cleaning bags

Tune in to CNN on Saturday at 3 p.m. ET for a special Earth Day edition of CNN's "Green Solutions: In Focus." The award-winning series is produced by CNN photojournalists and brings you stories of people's efforts to save our planet and nourish a nation.
(MNN) -- In February, we learned that Ziploc and RecycleBank have joined forces for a recycling program for Ziploc bags. I knew that Ziploc and other sandwich bags were recyclable, but I didn't know how easy it was.
RecycleBank's program gives you rewards for taking Ziploc products to specific locations. It turns out that Ziplocs and all plastic sandwich bags can be dropped off at any bin that takes plastic grocery bags. I followed her link to the rewards program page at Ziploc.com and saw some information that surprised me.
MNN: Grocery stores discontinue discounts for reusable bags
Here's a list of items you can recycle at these locations:
• Ziploc bags (clean and dry)
• Plastic grocery bags
• Plastic retail bags
• Newspaper bags
• Dry-cleaning bags
• Bread bags and produce bags
• Toilet paper, napkin and paper-towel wraps
• Plastic shipping envelopes
• All clean bags labeled #2 or #4
I had no idea that all these plastics could go into the grocery bag recycling bin. Still unsure if the information at Ziploc.com was accurate, I went to the website of the grocery store where I shop: Wegmans. On the Sustainability FAQ page, there was a link to what can (and cannot) be recycled in the bins out front. The link went to plasticbagrecycling.org, and I found that all of the things on Ziploc's site are accepted at Wegmans, plus a few other items.
• Produce bags
• Furniture wrap
• Electronic wrap
• Plastic food storage bags e.g. sandwich baggies (clean and dry)
• Plastic cereal box liners (if it tears like paper, do not include)
• Tyvek (no glue, labels or other material)
• Diaper wrap (packaging)
• Case wrap (e.g., snacks, water bottles)
Look at all of that -- diaper packaging, electronic wrap, the plastic wrap from around paper towels -- all stuff that I have thrown in the trash at one point or another because I had no idea how to recycle it. Now it turns out that recycling it is easy.
MNN: Smart alternatives to oil-based products
It's still best to limit the amount of plastic you buy. Recycling uses energy, water and other resources and creates its own stream of waste.
However, it's nice to know that some of the plastic I use doesn't have to live in a landfill for hundreds of years. Between the landfill and recycling, recycling is the better option.
© Copyright 2011 Mother Nature Network
FOLLOW THIS TOPIC


Most popular stories right now

Featured Deal |