STORY HIGHLIGHTS
Piper Weiss finds photos of her mother in surprisingly fabulous outfits
Those images opened a conversation about her mom's life
Weiss started a blog and photos flooded in from around the world
She interviewed the adult children and combined text and photos into a book
(CNN) -- You might call them fashion archaeologists or mom-thropologists. They dig through their mothers' closets and photo albums trying to figure out the woman who raised them.
Piper Weiss didn't think she and her mother even spoke the same style language.
"My mom and I never got along in terms of style," recalls Weiss."And we would always have these huge blowout fights in the dressing room because she wanted me to wear things that I didn't think were cool."
That is until Weiss was around 30 years old and found an old photo album of her mother before she was married. "Those blew me away. Those were like I met another woman that I'd never known existed."
Share your photos of your fashionista mom
The photos showed a woman who traveled around the world and liked working. She wore big fake glasses to her job at an ad agency because she thought the glasses made her look more scholarly.
A photo taken in Portugal showed her mother in aviator glasses with a scarf around her neck. A photo from Morocco showed her in a bright yellow jumpsuit with a scarf tied at her waist while riding a camel.
"It's a creative approach to dressing and a little risky -- and clearly she was all about having a good time. And she kind of looked like a member of the Rolling Stone groupies and ended up touring with them. Just really cool."
As Weiss asked her mother about clothes, the fashion choices became an entry point to more sharing about who her mom was before she got married.
Daughter Lacy Tobias believes she learned to layer clothing from her mother Ann Tobias.
"What really came out were stories about being young and the things that she had hoped for at the time. She didn't want to get married. She wanted to travel."
After Weiss posted a few of the photos on the internet for her friends to admire, she started a blog called Momstyleicons and started getting photos of other moms sent to her from around the world, accompanied by some amazing sentiments.
The adult children wrote, "I never knew my mother to look this way" or "I've never seen her laugh like that" or "I never saw my mother wear a dress," said Weiss. If those moms were still living, the photos started interesting conversations.
Weiss interviewed some of the photo submitters about their mothers and compiled those often touching stories with the photos into a just released book, "My Mom. Style Icon." It's full of pictures of moms in very different styles, some that have aged better than other looks over the decades.
There are chapters on big hair, wedding gowns, bathing beauties, mommy and me and moms gone wild.
And there are many hats in the photos that Weiss loved.
"If you're wearing a hat, you gotta have confidence, you have to own it," she said, noting that women today don't pull hats off as well.
Georgia Bloch wore a Trilby hat in her late-1940s photo in Paris, with her arms crossed, looking dead-on at the camera.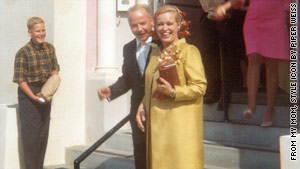 Patrick Mahoney watches as his mom and her sixth husband leave the church.
Another woman who made an impression on Weiss was historical romance writer Edith Layton, who had a collection of 30 evening bags and a fan collection. Layton always dressed in incredibly bright colors, her daughter told Weiss, and often dressed like historical figures.
Patrick Mahoney sent in a photo of his mother at her sixth and final wedding, where she wore a gold coatdress with matching shoes and purse.
Mahoney grew up helping his parents in their dry-cleaning store. He said elderly people would bring in their decades-old clothes that they never wore to get them dry-cleaned every year. The clothes were bought in better times and were a reflection of who they wanted to be and how they wanted to be remembered, he told Weiss.
Weiss wears some of her mother's clothes, which she took to the tailor to have shortened or taken in a bit after removing shoulder pads.
Weiss, who has no children, said she's not leaving a fashion legacy of her own.
"I'm from the world of disposable clothing," she said. "I appreciate clothes that disintegrate after six times of washing." That's about the time it takes for her to get tired of the modern outfit.
FOLLOW THIS TOPIC