STORY HIGHLIGHTS
Street artist Catlanta creates magnets, cardboard cutouts of cats for people to take home
He uses Flickr, Twitter to lead people to their locations throughout Atlanta
"It's kind of like a game. I like the idea of the scavenger hunt," Catlanta fan says
Social media helps street artists make names for themselves faster than ever, blogger says
Atlanta (CNN) -- The hunt begins as soon as word hits the internet. Then they're off, prowling the urban landscape, smartphones in hand, in search of the coveted kitties by the street artist known as Catlanta.
"They" are your garden-variety mix of urban dwellers in Atlanta, from students and artists to young professionals and housewives. For them, it's about the thrill of the chase. Plus, the reward is kind of too cute to resist: a small, metallic gold magnet in the shape of a cat, emblazoned with a heart and the artist's moniker.
Take-home art is nothing new, and street artists have developed a history of using social media to promote themselves. But Catlanta appears to be a special breed. He's using a combination of Flickr, Twitter and Facebook to engage the people of Atlanta in a scavenger hunt for his work.
And fans love it. Just ask Zachary Long, a wedding photographer who follows Catlanta on Flickr and Twitter. Like other fans, Long monitors his feeds for news of the next "kitten drop," when Catlanta hits different neighborhoods with a tote bag of his eponymous creations.
Long's golden opportunity came in March, when Catlanta made a drop in downtown Atlanta, affixing the kitties to mailboxes, gates and lampposts.
As he always does, Catlanta had snapped photos of the kitties on his imitation BlackBerry and uploaded them to Flickr, captioned with clues to their locations, commencing the hunt.
Long immediately recognized a parking meter outside his apartment and rushed to claim the kitty stuck to it. He showed it to his mother, who was visiting from out of town, and she was instantly enamored, he says. The pair set off at once in search of another for her.
They drove around for an hour, following the photographic clues on Long's iPhone, to no avail. But they had fun trying, he said.
"For me, the appeal is the social aspect and that it's interactive. You don't just view the work in a gallery; you have to actually go outside and try to find the artwork," Long said. "It's kind of like a game. I like the idea of the scavenger hunt, going out there to beat others before they find it. It's just fun."
That's what Catlanta likes to hear. It's a game for him as well. When he's not working at a doggy day care, he spends most of his time on his living room floor, creating kitties and baiting fans on with Flickr images of the works in progress.
Having that participation with complete strangers, it just makes it fun and that's really all that it comes down to. Just having fun."
--Street artist Catlanta
"I like that's it sort of accessible street art, and people who wouldn't normally be looking at that kind of stuff are taking the time to look at it and participate," the lanky 23-year-old said recently, as CNN.com accompanied him on a drop on Georgia Tech's campus in downtown Atlanta.
As Catlanta's fan base has grown -- 923 Facebook fans and counting -- people are snatching up the kitties faster and faster, sometimes within an hour of going up online. Fans post enthusiastic pictures of themselves and the kitties on Catlanta's Flickr, and he's been written up in local media.
Despite his growing popularity, the recent studio art grad resists attempts to attach a "deeper meaning" to the game. His responses to a reporter's prying questions are punctuated with long pauses and "I don't know's."
"Having that participation with complete strangers, it just makes it fun, and that's really all that it comes down to. Just having fun."
Artists around the world create work for the public to take home, even in the shadowy realm of street art, where self-styled misfits like Catlanta, who started out as a graffiti writer, operate under an assumed identity to avoid arrest. After all, some embrace what they do, while others, including law enforcement, consider it criminal destruction of property.
The divide is part of what motivated Catlanta to stop scrawling kitties on abandoned buildings and Dumpsters and create magnets.
"I don't really want to be known for spray-painting stuff because a lot of people don't really like that. I went to art school for studio art so I'm not out to do spray paint or graffiti," said says.
Street art is no longer solely defined by illicit graffiti and tags on public property.
Alternative forms of urban adornments pop up around the world daily, some the brainchild of Kickstarter projects. Their whereabouts are chronicled on numerous blogs and interactive maps. Google and Red Bull recently teamed up to create Street Art View, a user-driven map of street art around the world, in what some interpret as an ominous sign of its growing mainstream appeal.
The advent of Web services such as Flickr, YouTube and Vimeo has enabled street artists to reach audiences beyond the communities where their work is part of the landscape. It also lets them connect with fans and other artists without having to give up their identity, says RJ Rushmore, who runs Vandalog, a blog that showcases street art worldwide.
"If you're doing street art, chances are you don't have a lot of resources. So if you can promote yourself cheaply or for free, that's a huge advantage because of course everyone has internet access now," he says.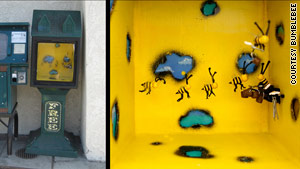 The California-based artist Bumblee uses paper-mache to transform abandoned newspaper stands into dioramas.
Take, for example, Bumblebee, a graffiti writer and street artist in Downey, California. He began dressing up abandoned newspaper stands and phone booths as bee-themed dioramas in 2008. Last year, he was named one of the 50 best street artists by "Complex Magazine."
"Social media is the key to getting your name out there," says Bumblebee, a 20-something who keeps his identity fiercely guarded. "It has changed the whole concept of street art. You can do one piece and become pretty popular."
He acknowledges the critique of some who view the use of social media to share your work as "cheating," but says there's more to it.
"It definitely changes the way the game is played, the popularity game, because it's not about how many pieces you do anymore. It's about the quality of your piece. But with that, you can do something really thought-provoking that says something rather than just putting up your name on a wall."
Other criticisms pertain to the "flattening effect" social media has on once-distinct regional styles of graffiti or tagging.
"Now that you have all these blogs and art spreading through various forms of social media, you definitely start to see things that are obviously a derivative of someone or something else," says Keith Plocek, a Web editor for LA Weekly who also chronicles street art in his blog, dirtythirdstreets.com. "But you could say it's kind of unavoidable in the internet age."
The level of participation and engagement on the local level could be what makes Catlanta special, says Reynolds, the blogger who runs Vandalog.
"When street art is done for the right reason, it's about giving back to the community," he says. "I would argue that's what it seems like Catlanta is doing it for."
Catlanta's drops began in January when an unusually bad winter storm hit Atlanta, prompting him to find an indoor activity. He borrowed inspiration for Catlanta's design from a T-shirt he inherited upon his grandmother's death.
"I think without social media it wouldn't have all happened so quickly," he said.
In addition to the magnets, which don't allow for much variety, he also drops a box of large cardboard cutout kitties. On the day CNN.com followed him, he placed the box in a stairwell near Georgia Tech's campus before walking to the bar across the street to upload the images.
Thirty minutes later, as he walked back to his car, a collegiate-looking type nearly knocked into him as he ran toward the kitty box.
"We already found them," some other young types yelled from across the street. One of them, a girl, lovingly cradled the box.
Catlanta didn't skip a beat as he walked to his car, which, by the way, has a Catlanta magnet affixed to the dashboard.
"It's so silly," he muttered under his breath once the enthusiastic students were out of sight. "What really surprises me is when they take the box."
FOLLOW THIS TOPIC