STORY HIGHLIGHTS
An Atlanta homeless shelter has an unusual feature: An art studio
Director felt there are creative people who have fallen on hard times
Outsiders and shelter residents have formed an art community
Artists keep part of painting sales, shelter portion goes for supplies
Atlanta, Georgia (CNN) -- An art studio doesn't usually make anyone's list of what the homeless need.
But when Anita Beaty decided to start painting in the storefront window of a homeless shelter, people were soon looking in and asking to join.
"It seemed to me that there were lots and lots of creative people among folks who were experiencing homelessness," Beaty says.
And she would be familiar with their needs -- Beaty is the executive director of the Metro Atlanta Task Force for the Homeless. She'd been looking for a way to combine her love of art with her passion for eliminating poverty.
The art studio sits in the group's headquarters, a 1920s-era building on Peachtree Street in downtown Atlanta. Beaty says the homeless can find a secure place to paint and a creative community environment there.
To get their own free studio space, those interested must show some artistic ability and follow certain rules, including staying drug-free.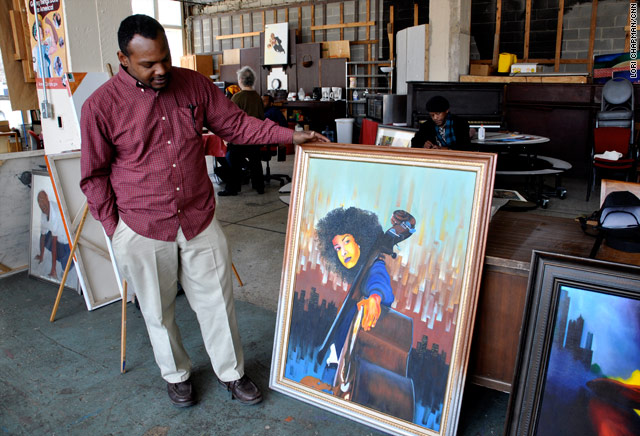 Gallery: Artwork from homeless shelter
There are seven artists working there now, including TieRee Malone and Greg Walcott, who say painting helped them turn their lives around.
Malone arrived at the Task Force after losing his mechanic's job and his work-site apartment about two years ago. He already knew he had artistic talent, but had never found a way to fit it into his workingman's way of life.
"Somewhere I always pushed it in the back of my head, because I didn't see an outlet really." Then he befriended Walcott, who introduced him to the art studio.
Painting sometimes from 7 a.m. until 1 or 2 the following morning, the two learned from their fellow artists and at free workshops Beaty organized with established painters.
Not everyone working at the studio is homeless.
"We love mixing it up between our resident artists, and artists who don't live here, and losing the distinction of 'it's not that homeless gallery where homeless people paint,' " says Beaty.
One of the current artists is Georgia Tech football player Michael Peterson. He was drawn in by the free studio space, but says he's made some great friends and has come away with a changed impression of the homeless community.
That's exactly what Beaty hopes the art studio offers its neighbors -- a new perspective on homelessness. "We are so interested in showing that the arts are the way that people can look through a lens to see issues that they might not want to get up close to, or don't understand."
She even installed a coffee bar in the storefront, hoping people would come in, have a cup of coffee and enjoy the art. Drinks are free, but donations are welcome.
As for Malone and Walcott, they say art helped them deal with their situation.
"It gave me an outlet, I didn't think about being homeless, I didn't think about where I'm going to eat at," says Walcott.
It also provided a source of income. Collectors, church groups and even people passing by the building purchase their paintings, which sell for anywhere from $200 to $2,000.
Malone and Walcott also receive orders for commissions, including more than 20 from an Atlanta church. They are working on a pair of paintings illustrating their interpretation of the biblical story of the parting of the Red Sea.
Artists at the studio get to keep 80% of the profits from a sale. The rest goes to the Task Force. Beaty says the money is mostly used to buy art supplies.
Using income from their paintings, Malone and Walcott were able to move into transitional housing at the shelter, which offered more privacy for $50 a week. After about two years, they'd earned enough from their art, along with weekend jobs they both worked at a nightclub, to rent a house together.
They plan to stick with art, only now they spend more time painting on their own back porch, enjoying the birds and the sunshine. Malone is focused on creating pieces people will enjoy in their homes, while Walcott hopes his work will someday land in museums.
Both say they're not sure where they'd be today if it wasn't for the art studio.
"Some people just go through things, it's a learning experience, some bounce back, unfortunately some don't," says Malone. He believes anyone can get through homelessness if support comes from the right angles. For Malone and Walcott, the art studio was just the help they needed.
FOLLOW THIS TOPIC