STORY HIGHLIGHTS
Harold and Dorothy Seymour wrote three seminal baseball history books together
She wrote much of the third book herself as he succumbed to Alzheimer's
For decades, he refused to share the credit with her or even acknowledge her role
Last summer, Oxford University Press agreed to give her credit as co-author
Naples, Florida (CNN) -- Harold Seymour wrote baseball's first Bible, debunking some of the game's biggest myths.
He informed fans that Abner Doubleday didn't invent baseball in 1839 in Cooperstown, New York, (Footnote: There's evidence of games involving sticks, balls and bases being played in England in the 1700s.) and that Jackie Robinson wasn't the first black Major League player. (That distinction more likely went to Moses Fleetwood Walker in the 1880s.)
Three books produced over a span of 30 years made Seymour the dean of baseball historians, and his journey from batboy to Ph.D. was celebrated as a success story. The study of America's national pastime at last seemed "grownup and worthwhile," observes John Thorn, a colleague who followed in his footsteps.
But after Seymour died in 1992, his wife, Dorothy, set about debunking one more myth: that he had researched and written all three books on his own.
She was the student turned secretary who married her professor. Now, more than 50 years after the first book was published, baseball's scholars acknowledge that hers was the invisible hand that shaped the three volumes.
For years, she didn't question her subservient role. As he slipped into Alzheimer's, she wrote much of the third book herself but, as always, he refused to give her credit. She knows now that she was exploited and doesn't argue with people who say she was a victim of intellectual spousal abuse.
Seymour didn't just steal Dorothy's work, says Steve Gietschier, former chief of research at The Sporting News. "He stole her personhood."
She is Dorothy Seymour Mills now, remarried but "not retired" at 83. Her hair is perfectly coiffed in a stiff helmet, the style favored by women of a certain age. Her bright blue eyes crackle with intelligence. She wears a tailored pantsuit as she opens the door to her condo in Naples, Florida. Spring training is just getting under way, but she's no fangirl. In fact, she says, her interest in baseball is purely academic.
Just inside is the collection of brightly painted canes she uses to get around. She doesn't hobble, though, and on several occasions uses the tip of her cane to push open the automatic doors of the lushly landscaped assisted-living facility she calls home.
She might be a woman wronged, but she definitely is not a member of the Oprah Generation. She speaks without a hint of boastfulness or bitterness, and some details must be coaxed from her. Even then, she doesn't trash her late husband.
Hers is a story of love and learning -- and the evolving roles of men and woman, husbands and wives, in changing times.
"Things were different in the '50s and '60s," she says, explaining that before the women's movement, happy housewives greeted their husbands at the door with a martini on a tray and a roast in the oven. "In those days, women were expected to permit their husbands to take over everything."
Eventually, the baseball research that brought the Seymours together drove a wedge between them. She started her own writing projects, and he scoffed at them. She waited more than a decade after he died, and then she spilled the beans in her 2004 memoir "A Woman's Work."
She wasn't driven by a quest for glory, she says. It simply was a historian's duty to set the record straight.
Chapter One: Spring
In baseball, things tend to come in threes: three strikes, three outs, three innings times three. As former Major League Baseball Commissioner Bart Giamatti famously observed, a baseball season unfolds in three acts -- spring, summer and fall -- and it is designed to break your heart.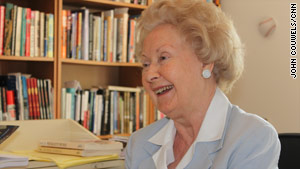 Dorothy Seymour Mills was the first in her family to attend college and worked as a copy boy at the Cleveland News.
Dorothy Seymour Mills' story follows Giamatti's seasons. In the spring of life, she married her history professor. She blossomed in the summer as they worked side by side. And in the autumn of their years together, she came into her own as his light faded.
Even as a teenager in Cleveland, she broke through barriers to go where the boys went. She was the first in her family to go to college and, through a work-study program, she became a copy boy at the Cleveland News. "When a reporter shouted, 'Boy!' I jumped and reported for duty," she recalls. She couldn't wait to be a journalist.
She took notice of professor Harold Seymour when she enrolled in his contemporary affairs class at Fenn College, now part of Cleveland State University. He told her she had a "teach me if you can" attitude. But before long, she was working as his secretary, and they were having a contemporary affair of their own. She was pushing 20; he was nearly twice her age.
They both had working-class roots, and her dark, shoulder-length hair complemented his carrot top. She was prim, proper and organized; he was more scattered.
He had grown up in Brooklyn, a diehard Dodgers fan. He was a batboy for the team and worked on the New York waterfront during World War II. She found his stories fascinating.
They married in May 1949, the day after she completed her junior year. He was working on his doctoral thesis: exploring the origins of baseball. It was his passion, not hers.
I saw in Seymour a handsome redhead who had already established himself.
--Dorothy Seymour Mills, author
"I saw in Seymour a handsome redhead who had already established himself in his profession," she recalls. "Of course, he seemed like a romantic figure. I was flattered and pleased to have a mature man attracted to me."
She transferred to what is now Case Western Reserve University to finish her senior year. If student-teacher affairs are scandalous now, they seemed even more so in the staid 1950s. Dorothy wanted to avoid drawing stares and fanning gossip as both a student and a faculty wife at Fenn.
Seymour convinced her to obtain a teaching certificate so they could spend summers together working on his research.
"I thought, 'Gee, this is a new life I'm starting out on, even if it's not what I had in mind.' "
There's an old saying in academic circles that a husband works on his Ph.D. while a wife gets her Ph.T., "Putting Hubby Through." From the beginning, Dorothy did more than type. Their travels took them to her favorite places: libraries. And to male bastions like the newsroom of The Sporting News.
Wearing a dress, a hat and white gloves, Dorothy created a stir. The editor later wrote Seymour a note, commenting, "I wondered why a man who had such a nice-looking wife was hauling her around a baseball publication office to check some records."
After all, in the early 1950s, a woman's place was in the home.
"She loves her washing machine and irons her husband's shirts, being careful not to see a ring around the collar because she chose the right detergent," Dorothy says. "Later on, we learned from people in the women's movement that if these men had washed their necks, they wouldn't have ring around the collar."
As a good '50s wife, she typed the 632-page dissertation in which Seymour traced baseball from a childhood pursuit of boys into a full-fledged business and American cultural centerpiece. Cornell University awarded him his doctorate in 1956, and the dissertation helped launch sports history as a legitimate scholarly pursuit. It grew into his first baseball history book, published in 1960.
Dr. Seymour's wife knows now that she probably contributed more to that dissertation than the academic world would consider appropriate. In the preface, Seymour acknowledged "the help of numerous individuals and organizations."
He did not mention Dorothy.
Chapter Two: Summer
Seymour's second baseball book came 11 years after the first. Twenty passed until the third published in 1990. As he taught at high schools and community colleges, Dorothy taught elementary school. She wrote a dozen children's books in the mid-1960s and was paid $100 for each. One, "Ann Likes Red," became a classic.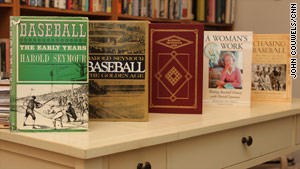 Mills has written more than 20 books, including the three baseball books she co-authored with her first husband.
The reading books led her into publishing. As an editor at a midsize Boston publishing house, Ginn & Co., she noticed that the husband-and-wife writing teams she edited shared credit. It was an "a-ha moment" that sparked the first twinge of discontent, and it came at a time when the women's movement was awakening.
"It's true he was the one who had the idea. The problem with me was, because he had the idea, I kept thinking of the whole project as his. And it wasn't. It became mine as well. I just made that assumption, and it wasn't the right assumption."
Once fun-loving, Seymour grew aloof. He would not acknowledge colleagues in the growing field of sports history. He felt slighted, she says.
"He thought himself very important but insufficiently recognized. He felt the need to be the big star, and the way to accomplish that was let people think he'd done all the work himself."
She didn't push back because she wanted to keep the peace. She found Seymour volatile and difficult to live with, and so silence became a habit.
His focus was almost always on himself. He had shrunk in my estimation.
--Dorothy Seymour Mills
"He was often more ready to deliver insults than to give praise," she says. "His focus was almost always upon himself. He had shrunk in my estimation."
Others who knew Seymour agree that he was gruff and seemed to suffer from an inferiority complex.
"Even in correspondence, he was prickly, crusty, hypersensitive to how his stature was perceived, but to me he was a god," says Thorn, the baseball scholar. "Dorothy was nowhere. She was invisible."
The former researcher for The Sporting News, Gietschier, agrees. "He was a very dominant and aggressive personality, and to even suggest that her name be on the title page was simply beyond the pale."
By the 1970s, Seymour was falling into increasingly long bouts of depression. He became reclusive, spending most of his time in his study, smoking his pipe and reading history books. By the 1980s, Dorothy was working on the project by herself at night.
"He was just all bound up inside himself."
Their roles had reversed. She was the writer, he the reviewer of her work. She began to stretch in other ways. She bought a computer. (He was against it.) She took out a credit card. (He was against it.) She insisted on getting a telephone in the house.
By 1987, he had checked out, Dorothy says. She was coming up with the ideas, conducting all of the research and preparing chapter outlines so detailed, they became the actual chapter drafts. By then, she also knew "something was seriously wrong with Seymour."
It would take another five years for a doctor to give Seymour's ailment a name: Alzheimer's.
As she drafted the manuscript of the third book, she formally asked Seymour to share credit on the title page, writing a memo detailing her contribution. It was dated June 1, 1989.
"But he felt that he could not do that," she says. "He couldn't really explain. I'm sure he felt it was entirely his. He felt it, even though it wasn't."
After she asked for credit, he would not let her attend a meeting with his editor. She stayed behind in the hotel room, even though she had written the last 13 chapters herself. Ironically, the publisher, Oxford University Press, paid her $1,000 to edit the manuscript, not knowing she'd written it.
Chapter Three: Autumn
In 1992, as Seymour's health rapidly failed, Dorothy contacted his longtime editor, Sheldon Meyer, about the royalty checks. She raised the issue of her contribution, and Meyer responded that he was "astounded" but doubted anything could be done about adding her name to the books.
"It is certainly an injustice to you," he wrote in a letter Dorothy keeps to this day.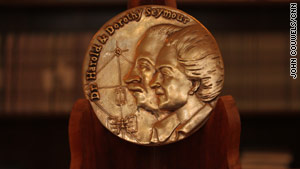 The Harold and Dorothy Seymour medal honors the author of the year's best baseball history book.
Seymour was hospitalized in July and died that September. He was 82, and they had been married 43 years.
It was a "fascinating life," she says. It opened doors she'd never imagined, but it also limited her. And yet she never considered divorce. In her generation, it simply wasn't done.
"Before he was diagnosed, I asked myself, what do you do with a person you've become estranged from? You don't throw away a person that you've lived your life with. You must stick with that person and support him as much as you can."
A year after Seymour's death, she went on a Christmas cruise and met Roy Mills, also recently widowed and retired from the Canadian Royal Air Force. They fell in love and married in 1995. She says she learned for the first time what it was like to have a supportive spouse.
Gaining formal recognition would take a while longer.
In 1993, the Society for American Baseball Research added her name and image to its Seymour medal, an annual award given to the author of the best baseball history.
She alone was the recipient of the 1996 Seymour medal, and she considers the honor one of the highlights of her life. She believed her work finally was being acknowledged.
She told her story in an essay published in the now-defunct online literary journal Blue Ear in 2000. It created a ripple among baseball fans and historians and led to her memoir, "A Woman's Work," published in 2004.
Gietschier, who wrote the foreword, says his own research brought him to Cornell's Carl A. Kroch Library and the more than 70 boxes that make up the Harold and Dorothy Seymour Collection. The evidence was indisputable; the notes were written in two hands, one of them distinctly feminine. It was without a doubt a partnership.
Before he was diagnosed, I asked myself, what do you do with a person you've become estranged from?
--Dorothy Seymour Mills
Dorothy thought the matter settled until it arose again last summer, when the Society for American Baseball Research gave her late husband its Chadwick Award, honoring baseball's most important historians.
This time, Dorothy raised up her voice in protest. This time, she had Gietschier and other male supporters.
Thorn, whose latest book, "Baseball in the Garden of Eden," will be published this spring, was on the selection committee. He explains what the three members were thinking:
"We felt that we should not be an ice-breaking vessel in the world of scholarship when Oxford University Press had not given her credit. Maybe we ducked our responsibility there. We could have done the right thing and taken the stance, because we all believed that she had been given short shrift."
It took just three days for the committee to come around: The Chadwick was awarded to both Harold and Dorothy Seymour.
Thorn and Gietschier took up her cause with Oxford University Press. Executive Editor Timothy Bent had been at Oxford for 18 years, but it was the first time Dorothy's claim had crossed his desk.
Bent confirmed that Dorothy had worked on all three books. And in August, Oxford University Press took the unprecedented step of adding her name to the three book jackets. The hard copies are out of print, but her name lives on in the digital versions of "Baseball: The Early Years" and "Baseball: The Golden Age."
And her name comes first on "Baseball: The People's Game."
In April, all three will become available through print on demand.
Bent says the change in the author's voice in that third book was impossible to ignore.
Even Dorothy's staunchest supporters say they can't understand why she didn't protest sooner.
"Of course, Dorothy made a terrible personal and strategic error in not voicing her contribution earlier and more strongly," Thorn says. "She will always have to overcome that perception, that she seized the field when it was hers alone. But I believe her story.
"Sometimes she forgets that she is a conspirator in her own predicament. I do respect Dorothy and admire her, but she doesn't get a pass."
Dorothy doesn't give herself one. Over a salad served on good china and white tablecloths in her retirement complex's dining room, she admits she was "annoyed" with herself for many years. But she didn't speak up because she didn't want to upset her husband. Her explanation reflects the prevailing attitude of a generation in which most women were married with children by age 25; the men wore the pants in the family, and their wives often were described as "long-suffering."
"This came to me when I was too young," she explains. "That's why I was so easily persuaded. If I had to do it again, I would wait until I was well established in a profession and then look around. I think those women who wait and don't marry as young women are smart."
Besides, she says, delayed recognition is better than none at all. She sees parallels between her story and the women ballplayers of a bygone era made popular by the movie "A League of Their Own."
"They were exploited, too. They took the place of the men who were sent to fight in the war. Afterward, they were dismissed. They were no longer needed. They were sent home."
She has just finished a historical novel about baseball. This time the protagonist is a player of the early 20th Century whose minor league contract is canceled by the baseball commissioner because she is a woman.
Dorothy's pitch to her book editor reveals what lies behind the hats and white gloves of her upbringing:
"Most women 'go along with' what happens to them even if it is unfair and causes them pain. They acquiesce because they have been conditioned not to fight back but to work within the system. But what if those women had refused to 'be nice about it?' What if they had become so angry that they attempted to retaliate against their perceived opponents?"
Without giving away too much of the plot, suffice it to say that in the next baseball book authored by Dorothy Seymour Mills, a man gets his just deserts.
"This time," she says with a smile, "there's a murder."
FOLLOW THIS TOPIC