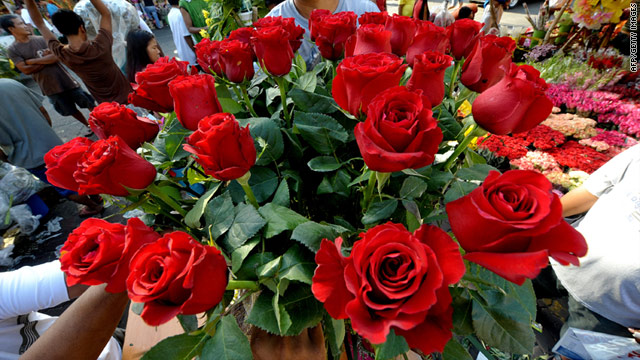 STORY HIGHLIGHTS
Bangkok, Thailand, has some of the most expensive Valentine's roses
The cheapest were found in India and China
Europe and the United States import many of their roses
(CNN) -- Think you have to pay a lot for a Valentine's gift this year? Spare a thought for romantics in Bangkok, Thailand, where florists charge $45 for just one rose.
Bangkok, Hong Kong and Tokyo are some of the more expensive places in which to buy red roses for Valentine's Day, according to an informal price check by CNN on Thursday.
A dozen premium Dutch roses cost a whopping $487 in the Thai capital Thursday. In Hong Kong, a dozen roses cost $205, and in Tokyo, they cost $120.
The price was much cheaper in China -- just $15 for a 12-stem bouquet of homegrown roses -- but buying a dozen is not the norm. In fact, there is a romantic meaning behind a whole range of numbers, giving Valentines a range of ways to profess their love.
One rose means "You're the only one," and three says "I love you." Sending 108 roses is equivalent to a marriage proposal, and 365 means "I think of you every day."
And for $1,516, Beijing shops were offering a total of 999 roses, which means "We'll be together forever."
Prices were cheaper elsewhere across Asia. In Jakarta, Indonesia, and Seoul, South Korea, a dozen roses were going for $60 at florist shops Thursday. A similar bouquet in Delhi, India, cost only $9.
By far the cheapest prices of the informal survey were in Nairobi, Kenya, where 22 roses -- nearly two dozen -- cost about $2.50. That's because Kenya is a major rose producer and horticultural exporter.
In 2008, the value of Kenyan flower exports was nearly $500 million, according to the Kenya Flower Council. The country shipped more than 93,000 tons of flowers that year, and annual growth has averaged more than 10% for the past six years.
Almost all of Kenya's flower exports -- 97% -- are to Europe, the council says.
But if it was Kenyan roses they were selling Thursday at London's Liberty department store, the cheap prices weren't filtering down to consumers. Liberty was sold out of red roses Thursday and other colors were costing between $58 and $96 per dozen.
The United States imports more than 80% of its Valentine's Day roses, primarily from Colombia and Ecuador, according to the Society of American Florists. The vast majority of the rest come from California.
The reason so many come from abroad has to do with weather and timing, the society said. Growers need 50 to 70 days to produce enough roses for Valentine's Day after the demand for red roses at Christmas is filled. Winter's shorter daylight hours and higher energy costs hamper efforts to grow large rose crops.
Plus, in order to grow a single long-stemmed rose -- a Valentine's Day favorite -- growers have to nip off several rosebuds along the stem, reducing the total number of roses they can grow, the society said.
The average Valentine's Day price for a dozen florist-arranged, long-stemmed roses in the United States is just above $73, according to the Society of American Florists. At other times of the year, it's just more than $59.