STORY HIGHLIGHTS
The start of the year is prime school enrollment and application time
Parents often use false assumptions or poor criteria to choose schools
Experts suggest parents visit more than one school before they decide
Natalie Crate loves her family's home in a serene community on Massachusetts' North Shore, but come spring, it might be for sale. Crate and her husband aren't happy with the local public schools and would rather have a great education for their daughter than a nice house.
Meanwhile, in North Carolina, Marcy Gang is growing tired of clipping coupons and skipping vacations. If the lottery to get into a nearby charter school goes her way, the family will be able to save $1,300 a month that currently goes toward private school tuition. Her two kids are thriving, but she believes they can do just as well at the right public school.
And down in Florida, Cynthia Falardeau is feeling great about her son's public school, now that he has gotten into the right kind of classroom. Wyatt is 8 and autistic; the family once considered taking a financial and emotional hit to move into an apartment near a charter school that specialized in the developmental disorder. Instead, they chose to stay and found a way to make their local school work for them.
Back-to-school time seems like a lifetime away for kids, but for the next few months, parents will be flooded with information about school fairs, open enrollment, charter school lotteries and private school applications.
Still, the search for the right school is rarely easy.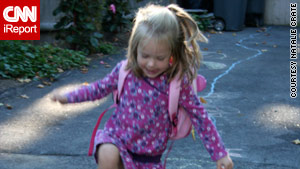 Natalie Crate's daughter will probably attend private school until her family moves to a better school district.
"Everybody I talk to is freaking out about it," said Crate, whose daughter will enter kindergarten in the fall. "It isn't university, it isn't rocket science, but if you don't start with a solid foundation, you can't do much."
These mothers and other parents shared their frustrations and ideas about choosing a school on CNN iReport. Some said they aren't sure what their options are or what criteria will help them find the best school for their child. Some reported that they felt like they were too late -- unable to sell houses in areas with failing schools, struggling to pay private school tuition or making up for slow progress at a school that didn't meet their child's needs.
Gang said she did a quick check of the local schools a few years ago, when a job change required a quick move to Raleigh, North Carolina. Now that her kids are school age, she wishes she'd done it differently.
"I didn't really know all the right questions to ask at the time," Gang said. "My kids definitely need structure and discipline. The best way is to talk to the parents, talk to the kids. See what they like or don't like. Understand their methods, how they discipline."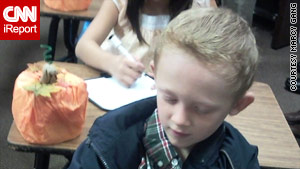 Marcy Gang's son's behavior improved after he went to a private school, but it's expensive.
Advocates for school choice -- programs and policies that give parents more options of where their kids go to school -- are pushing the conversation this month with the first National School Choice Week, which runs through Jan. 29.
"The parent is responsible for the education, period," said Kyle Olson, executive director of National School Choice Week. "And if they don't like what's going on in [their local] school, they need to do something about it. They can't just throw up their hands."
So what should a parent do as school enrollment season begins?
First, parents should assess their child's needs, said Bill Jackson, the founder, president and chief executive of GreatSchools, a nonprofit that helps parents find, compare and get involved in local schools.
Parents might already know if their children have special needs, if they respond best to rigid schedules and strict discipline, or if they blossom with hands-on projects and move at their own pace. Older students might need extra instruction in certain areas or show a talent in math, science, music or art that needs to be nurtured. Not every school can provide those services equally.
"You should think about your own child's strengths and challenges and look for a school that fits, that will make them college-ready at high school graduation," Jackson said. "Are all kids going to go to college, or a four-year college? No. Do you want to raise an 18-year-old that has the option? Yes."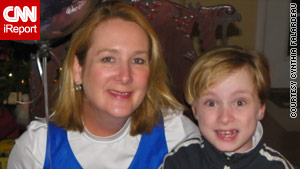 Cynthia Falardeau fought for her son, Wyatt, to be placed in a general education class at his public school.
Wyatt Falardeau had been in public school classrooms since 3, but he hardly spoke and continued to cry and scream when his mother left, Cynthia Falardeau said. His parent worked with other advocates and educators to create a plan for Wyatt to enter a general education classroom.
Since then, he has begun to speak in sentences. He communicates often through drawings. When his mom lingers too long, he tells her it's time to go.
"When he's in a setting with typically developing children, I feel like it's drawing him out of that darkness," Falardeau said. "The hardest part is figuring out how to advocate for your child. Some people are of the opinion that if you scream really loud and make a lot of noise, you'll get what you want. Maybe it works in the beginning, but I don't think it's a great way in the end."
Falardeau said she sees lessons for all parents in her experience. She and Wyatt's teachers remain in constant communication and will continue to adjust to suit his needs.
"It's not always perfect," she said, "but I think, overall, because both sides are working together, it's working."
As school enrollment decisions loom, here are more tips for making the decision:
Define your ideal school
Refine your search by considering what's important to you, whether it's math, foreign languages, art, religion, after-school care or special education resources, GreatSchool's Jackson said. Educate yourself on different teaching methods and consider how your child learns best. Remember, too, that friends and siblings might fit best at different schools.
Consider all the possibilities
Establish what options are available nearby, including public, private, magnet and charter schools, homeschooling organizations, online education or partnerships with local colleges, suggests School Choice Week's Olson. Find out what local laws exist about where you're allowed to enroll. Ask about cost, financial aid and how your school district is able -- or required -- to help. School fairs, your school district's main office and GreatSchools.org are good places to start research.
Check the numbers, but don't let them dictate your decision
GreatSchools points out that numbers can give you a sense of a school, but they might not always be accurate or reflect major changes currently under way. Still, it's worth asking about the number of students, what grades study there, the student-teacher ratio and test scores. Use tools such as GreatSchools.org, the National Center for Education Statistics or state departments of education to find them. Check out how students do as a whole and compared with others at their grade level. Check whether the scores are improving and how they've changed over time.
Visit before you decide
If a school isn't friendly about a pre-enrollment visit, that might be a sign of how they'll respond when you're a parent, said Jodi Goldberg, GreatSchools director of local programming in Milwaukee. While you're at a school, meet the principal, teachers and other parents. Check out the work on the walls, how adults and children interact and what type of involvement the school wants from parents.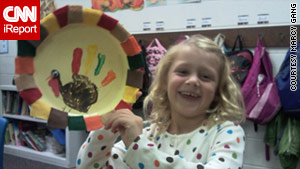 Marcy Gang's daughter thrives at her school, but her mom hopes she'll get into a nearby public charter school.
Goldberg suggests parents visit at least two schools, even if you think you've made the choice already.
"When you've seen a school, you don't think about what differences might exist," Goldberg said. "But the comparison allows you to see it."
Ask the right questions

Always ask what the school's expectations are for students, and consider whether they match your expectations for your child. Go back to what you decided your ideal school would be and ask questions that will tell you if this is the one, whether it's a matter of the school's hours, cafeteria, foreign language education or sports teams.
A few other questions GreatSchools suggests:
-- How are teachers supported, trained and tracked?
-- How much homework is there?
-- How does the school handle behavior problems?
Don't make assumptions
Goldberg said parents often make school decisions based on limited information, convenience or their own experience at a school years earlier. Word of mouth is helpful, but could be biased. Having a school nearby might seem like a deal breaker, but there might be transportation or child-care help for a different school that's a better fit.
It's important to remember, too, that schools have changed dramatically in 10, 20 or 30 years, Goldberg said, and the reputation from the past may no longer be accurate.
Know how to apply, and when
Find out deadlines for applications, enrollment, lottery sign-ups and financial aid as soon as possible, and don't miss them. Specialty schools, especially for older students, might require an audition, portfolio of work or letters of recommendation. Kids might need to be signed up early for activities, transportation or after-school care, too.
Know how to enroll
Check with your school to make sure you've got all the necessary documentation when the time comes to enroll. For instance, you might need proof of your child's identity and age, your residence, vaccinations and records of vision and dental check-ups.
Have a backup plan
The lottery might not draw your name, your application might not be accepted or your dream school might be full. Get on the wait list, if you can, and be ready to sign up at your second or third-choice schools, at least until next year.
FOLLOW THIS TOPIC