STORY HIGHLIGHTS
Kids are starting to specialize and play sports at a younger age, sports experts say

Colleges have given football scholarships to children as young as 13

Too much specialization in sports comes with risks such as burn out

Nick Heras, 14, enrolled in an elite football training program at IMG Academies
(CNN) -- Like many other American teens, 14-year-old Nick Heras wants to be a professional quarterback someday.
Unlike most teens, he has left home and moved across the country to attend an elite athletic training program. His family foots a hefty bill for Nick's dreams: More than $50,000 a year.
"I knew I had to leave and do this program if I wanted to be serious about football," he says.
In this increasingly competitive generation, some parents enroll toddlers in expensive Mandarin classes and fight to get into them into the best preschools. That pressure is perhaps as extreme as in sports.

Extreme Parenting: toddler fitness
For parents like Nick Heras Sr. and his wife, supporting their child's desire to become a sports phenom takes more than financial sacrifice. It requires time, patience and the hope that one day their efforts will pay off in the form of a full-ride to college.
"He got interested in football in a young age, and we just kept going and going with it," says Nick Heras Sr., who works in real estate. "It was like a freight train in a good way; there was no stopping him."
Nick's aspirations may sound extreme, but he has already caught the eye of premier quarterback coaches. In middle school, Nick flew from his Massachusetts home to California once a month to train with Steve Clarkson, a quarterback coach known for having NFL stars such as Ben Roethlisberger and Matt Leinart under his tutelage. Clarkson starts training quarterbacks as young as 8.
It wasn't easy moving away from his parents, three sisters and friends to train full-time at IMG Academies in Florida, a world-renowned athletic training facility that trains kids to be sports superstars.
"The hardest part is the intensity," Nick says before dashing to practice at IMG one afternoon. "When you're sore from the workout before, it's hard to find a way to still put in 100% and get the best out of it."
Recruiters and sports coaches say children are specializing in sports at younger ages and working out harder than ever before. Sporting companies are throwing lucrative football and baseball camps for children, and parents are hiring private trainers for their athletically gifted children.
Lil' Kickers, a child-development company that offers soccer classes and camps in 28 states, offers courses for 18-month-olds, though the company says the program's emphasis is not on athleticism.
"A lot of parents sort of panic," says Nick Bollettieri, the tennis coach famous for developing champions such as Andre Agassi and Monica Seles. "They feel the younger you start, the more chance you have of being successful."
Colleges seek recruits at younger ages
Ask almost anyone in the college recruiting or coaching business, and they will likely say the same thing: The talent is getting younger.
Take for instance the dramatic spike in seventh- and eighth grade athletes seeking the assistance of NCSA Athletic Recruiting, one of the largest private recruiting companies in the country. This year, the Chicago-based company had more than 7,100 eighth-graders and nearly 1,400 seventh-graders in their network. Two years ago, there were just 46 seventh- and eighth-graders combined.
Across the country, colleges are dolling out scholarships sooner, partly because the Internet increased the visibility of young athletes. Cable television also has proliferated the news of novice talent. Today, some high school football and basketball games are routinely televised, coaches say.
Last year, the University of Southern California offered a scholarship to 13-year-old seventh-grader David Sills, who plays quarterback and has Steve Clarkson as his mentor.
There are few rules and regulations around recruiting such young athletes, says Randy Taylor, football recruiting coordinator at NCSA Athletic Recruiting.
"Colleges want to be first," Taylor says. "It makes the college program look aggressive and more inviting."
Ranking systems once reserved for college athletes now exist for high school and elementary students. Coaches say this also fuels the pressure for kids to specialize in one sport. For example, HoopScoopOnline is a subscription site with analysis and coverage that ranks the performance of players from the sixth to 12th grade nationwide.
What are the risks with specialization?
Organizing children into sports teams is nothing new. The practice goes back to the early 20th century when teachers wanted to keep children busy and out of trouble, says Peter Stearns, a social historian at George Mason University.
In 1947, the first Little League World Series was held. Then, a slew of community and nonprofit teams emerged in the 1970s, leading up to the 1990s when more children began to specialize in a single sport.
"The traditional problems of childhood have been solved, and parents are worrying more than ever on what their children are doing and how to organize them," he says.
Stearns says there are downsides of focusing too deeply on one sport. Creativity can be hampered. Some athletes may burn out.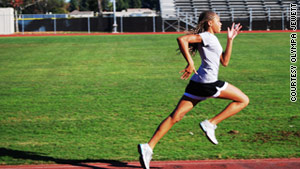 Lauren Williams was 7 when she began competing in track competitions.
The expectations for kids to perform well at younger ages are evident in Eric Small's sports medicine practice.
Small, a family and sports medicine doctor of 16 years in New York, has seen an uptick in injuries such as tendonitis and stress fractures from over-training children younger than 12.
Finding a balance with young athletes
Hilary Levey, a sociologist at Harvard University, has done extensive research on parenting and young child prodigies. She says that kids as young as kindergartners are equally aware of the pressures to succeed.
Parents should be careful in how they train their kids, allotting for other activities and limiting the hours they can practice, she says
Striking a balance is not an easy task, admits Lorraine Williams, 49, of California, who has already spent $24,000 on her daughter's track competitions.
Her daughter Lauren started running track at age 7. Lauren, now 12, won gold medals in the 2010 AAU National Junior Olympic Games in the 200 and 400 meter events.
Her goal is to run in the Olympics.
"We believe that you can set big goals, but you have to reassess them through the season," says Williams, who started a blog called Track Mom with advice to help other parents training their children in track and field.
Many coaches are already taking into account the mental development of a child, in addition to the intense physical training.
At IMG Academies where quarterback hopeful Nick Heras trains, students learn how to navigate the demands of the sports world, says Chris Weinke, Nick's coach. Weinke also played for Florida State University, as well as the Carolina Panthers and San Francisco 49ers.
Nick knows his goals are lofty. He already has a preliminary list of target Division I colleges. He casually lists them off:
Oregon because the uniforms are awesome.
Boston College because I'm from Boston.
Florida State because Warrick Dunn is my favorite football player.
But until then, he is taking his sports career one step at a time, starting with high school football this fall.
FOLLOW THIS TOPIC