STORY HIGHLIGHTS
History teachers try to strengthen reading and writing skills, too
Teachers often have to refresh students on history taught years earlier
Without state testing, history education suffers
Editor's Note: In Subject Matters, we reveal the struggles faced by educators who teach subjects such as science, math and English, and the solutions they've found.
(CNN) -- As history is made every day, history teachers' subject matter is growing with it -- even as the number of classroom hours stays the same.
That ever-expanding content is the crux of the social studies teacher's dilemma: How to cover every topic with limited class time?
Here are some of the challenges they face in their classrooms.
Cutting back too young
When high school teacher David Plonski mentions the 1860s and 1960s, he expects those dates to trigger different ideas in the minds of his students at Tarboro High School in Tarboro, North Carolina.
In the 1860s, the United States was caught up in the Civil War. The 1960s are remembered for social revolution, the assassination of President John F. Kennedy and Beatlemania.
But Plonski notices that some students have a weak sense of time, are unable to picture the different characteristics of those eras and often confuse events a century apart.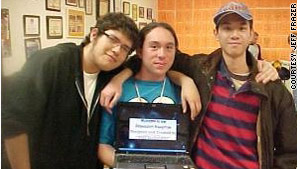 Caprock students Martin Martinez, Daniel Quintana and Nguyen Lam with their Great Depression project.
At Caprock High School in Amarillo, Texas, teacher Jeff Frazer said he's surprised by how many of his incoming students know that the Declaration of Independence was signed in 1776 but don't know that it was a list of grievances against Great Britain.
"I think they learn information by itself, in isolation," Frazer said of his students. "But putting the big picture together is not happening."
And during the comparative religions unit at Rutland Middle School in Rutland, Vermont, Ted Lindgren regularly asks students, "What is Easter about?"
He said they invariably bring up the Easter bunny but don't know the significance of the holiday to Christianity. It shows a lack of cultural literacy, Lindgren said, that they have to compensate for during class.
"There's just a lot more to occupy a student's time today than there was in previous generations," the eighth-grade teacher said.
High school students' lack of a historical knowledge base can partially be explained by the decrease in class time spent on social studies at the elementary level. History is not an area that requires testing under the federal No Child Left Behind Act, so it often gets shortchanged, teachers said.
"In a lot of districts, social studies and science have been removed from the curriculum, per se, because of math and language arts testing," said Gayla Hammer of South Elementary School in Lander, Wyoming.
To help mitigate the problem, Hammer and other teachers said, they use social studies texts within their reading lessons, because reading skills will appear on standardized tests.
Beverly Fanelli, a fifth-grade teacher at Fox Elementary School in Macomb, Michigan, said she approaches social studies as informational reading so she can work it into her language arts curriculum.
"Because we have so much to do and only so much time, wherever we have overlap, I will," she said.
History grows; class time doesn't
"The only issue that I have with what I teach is, I wish I had time to go deeper," Tarboro High school civics and economics teacher Leshaun Jenkins said.
It's a complaint repeated by other history educators, who must balance "trivia" with larger concepts.
When Plonski teaches the Jimmy Carter administration, he said, he covers the 1978 Camp David Accords, considered to be a major stepping stone to peace in the Middle East. He also teaches about the 1978 deregulation of the airlines, although it's information he believes his students will never need in the future.
He said he shortchanges his lecture on the accords because of North Carolina's recommendation that he also cover the airlines.
"You have to take away time from the bigger topics in order to make sure you cover small details, just because they could appear on the state exam," Plonski said.
World history teacher Troy Hammon of Arsenal Technical High School in Indianapolis, Indiana, said he is constantly weighing how much "trivia" he teaches, like names, dates and places, and when to try to help his students relive history.
For example, Hammon had his students take on the roles of individuals who may have taken part in the Crusades of the Middle Ages. The students then answered questions based on their knowledge of that time. Hammon believes this helps his students better understand the Middle Ages.
"History grows every year, no matter what," said Jennifer Kravitz, who teaches world history, civics and economics at Rutland High School in Vermont. "So with this ever-expanding content, teachers are trying to balance teaching history content with helping students learn the essential skills they are going to need."
Years later, time to review
When students in California take their state-mandated social studies tests at the end of eighth grade, it covers material from the ancient world history class they took in sixth grade, world history and the Middle Ages classes from seventh grade and U.S. history from eighth grade.
That one test covers several semesters of material, some of which students haven't touched in years.
"I don't think most adults could pass that test at the proficient level if they had to take it," said Carolyn Raber of Will C. Wood Middle School in Sacramento.
They have to be proficient readers. It's just as much a reading test as a history test.
--Carolyn Raber, Will C. Wood Middle School
To graduate from high school in Texas, students must pass a test that covers everything from early American history to the end of the Vietnam War.
Because some of that material was covered as long ago as eighth grade, Frazer must take time to review so his students can pass the high school test.
But that's not the only hard part about tests, teachers said. History tests tend to measure more than just a students ability to remember and analyze the past.
"They have to be proficient readers," said middle school teacher Raber. "It's just as much a reading test as a history test."
As a teacher at an urban middle school with a high number of struggling students, Raber finds it frustrating when schools or teachers are labeled as failures based on test results in single subjects.
"Realistically, I could be transferred to another school with a different set of students," Raber said, "and I would be considered a success."