STORY HIGHLIGHTS
Siblings separated for 85 years reunited thanks to online census records
Millions of online census questionnaires solve mysteries for family historians
Data includes birthplace, age, race, occupation, veteran status
For the first time, data released this year includes stats for same-sex marriages
(CNN) -- Throughout most of her 86 years, Florence Hand had been haunted by "floating dreams" that always revealed "somebody in the room besides me," she said.
The mystery had taken on legendary status in the family when Hand's granddaughter, Trisha Hand, confronted it. She dove into the millions of U.S. Census documents widely available at Ancestry.com and other genealogical research websites.
In turns out Hand did, indeed, have a brother: Albert Taber, who was raised by their grandfather. When Hand found him, he was 87 and living in Florida. Last summer, for the first time in 85 years, brother and sister reunited during an emotional meeting at a Chicago airport.
"I kissed him and he kissed me back," Florence Hand recalled. "It seemed like the most natural thing to happen, you know? My dream finally came true!"
Taber, who's now enjoying a whole new branch of his family, said he was overwhelmed by the life-changing experience.
Easy online access to census forms allows millions of Americans to learn more about themselves and their histories. Most revelations won't be as dramatic, but experts say you never know what you'll find.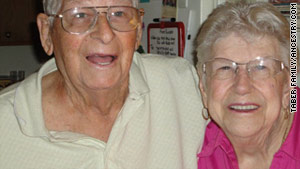 Siblings Albert Taber and Florence Hand reunited in 2010 after being lost to each other for 85 years.
Basic population statistics are released soon after each census is tabulated. However, for privacy protection, documents with names and personal details of respondents aren't released for 72 years.

The latest information made available was gathered in 1930, and reveals a glimpse of life during the Great Depression. Census takers asked the usual questions: names, ages, birthplaces. But they also wanted to know if there was a radio in the house -- reflecting broadcasting's growing importance. Forty percent of all households had a radio in 1930.
But as family historians know, it's the personal fragments garnered from census documents that tell the most dramatic stories of American life.
These historical gems often provide clues that, knitted together, can weave a story as cherished as any family tapestry or ancestral tartan.
As Trisha Hand discovered, family research can easily transform into an addictive quest that can change the way entire families see themselves.
Experts say U.S. Census Bureau data should be one of the first steps in any research journey for two reasons: It's easy to access online and can provide many clues to build a successful search.
Here's what to look for:
Spelling
The key that can unlock a family's history is one simple thing: spelling.
Successful searches often hinge on trying all alternate spellings of specific names.
During her research, Trisha Hand discovered two spellings of her grandmother's family name: Taber and Tabor. The family name is spelled "Tabor" on Florence Hand's birth certificate and on her brother's 1930 census record, but Albert Taber uses the "er" spelling.
This reflects the dirty secret known to veteran researchers: Census data is often deeply flawed. Researchers report misspelled names, incorrect ages and birth dates. Data is often incomplete.
"Census takers make mistakes, or people aren't home, or people who take part in the census don't always cooperate," said Connie Potter, researcher for the National Archives.
Birthplaces
Census records show birthplaces of each person and their parents. That information offers a hint to the next place to search.
One possible next stop: marriage, death or birth records in the state where the parents were born.
Ancestry.com and other family research websites have searchable databases for these records. Also, the Centers for Disease Control and Prevention website locates resources to find this kind of data. (http://www.cdc.gov/nchs/w2w.htm)
If census records indicate a family member was born outside the United States, experts suggest checking U.S. immigration records for details about when the relative entered the country.
Residences
A search for one family member often leads to other family members.
"Often times we see family members living next door to each other -- so look up and down the census document," said Ancestry.com family historian Anastasia Harman. "Do the last names sound familiar? Because other family members might be living in the same neighborhood as the family member you searched for."
For Trisha Hand, the Staten Island, New York, address listed on her grandmother's birth certificate became an important piece of information. Census documents for the address revealed key details that would eventually yield thrilling results.
Another residential resource for family historians involves checking homestead records. The Bureau of Land Management has online data for 5 million federal land title records from 1820 to the present.
Also, the Federal Bureau of Prisons offers guidance about researching family members who may have served federal time.
In addition to Ancestry.com, other online resources provide subscription access to census documents and data including Heritagequestonline.com. At Familysearch.org, the Church of Jesus Christ of Latter-day Saints offers free access to census records from 1850 to 1930 along with state census records and international resources.
Occupants
Names, ages, races and genders of all occupants in each home are included in census records. Researchers suggest keeping a lookout for familiar names. Try to determine each person's relationship to the others based on their ages and genders.
I wish we could have gotten them to meet up a long time ago.
--Trisha Hand, family historian
As it turned out, it was this critical piece of information that ultimately led Trisha Hand to the breakthrough for which she'd been searching.
She knew from her grandmother's birth certificate that Florence Hand's father was named Albert.
Two males named Albert Taber -- a man and a child -- lived in the house listed on her grandmother's birth certificate, according to the Census.
Trisha's heart leapt -- she had found her grandmother's father, and perhaps, her grandmother's long lost brother. Was his name Albert too?
"Through that census, I knew that had to have been her brother," she said. "Oh my God, I was on top of the world. I was on the phone with my mother and my grandma immediately."
The trail got hotter. Trisha searched names of two other occupants living in the Staten Island home: a pair of sisters who were cousins of young Albert and Florence.
That led to the sisters' relative, who helped Trisha search online public phone records.
The result? A listing for an Albert Taber in Florida. It was him, her grandmother's brother, found after more than eight decades. It wasn't long before Taber and his wife were boarding a plane for Chicago.
"Just seeing them meet for the first time, it was great," Trisha said. "I wish we could have gotten them to meet up a long time ago."
Military experience
Other census data in the personal records includes veterans' status.
In 1930, the notation "WW" meant world war; there was only one at the time.
A possible next stop for a researcher might be the World War I draft cards data base, Harman said. The data base, available at ancestry.com, offers a treasure trove of information for nearly all American men born between 1875 and 1900. The National Archives provides help in researching records for family members who served in the U.S. military.
Occupations
The personal census documents also name occupations of adults in each household.
In this way, Trisha Hand was able to find out what kind of work put food on the table at the Taber residence in Staten Island.
"Albert's grandfather, Charles Taber, was the head of household there, and he was a shipbuilder," Trisha Hand said.
Race
Census data for free Americans -- including non-whites -- has been kept since 1790.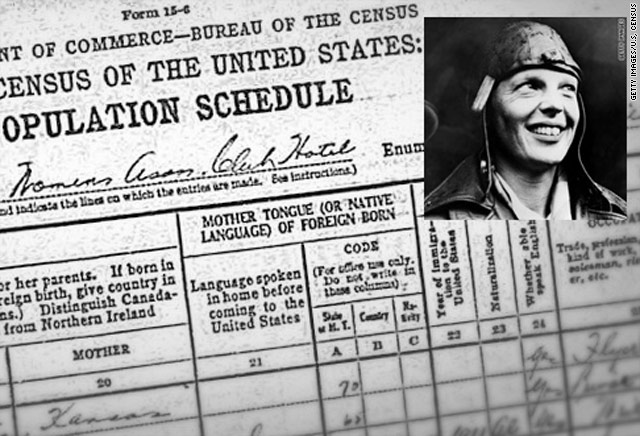 Census document explained

2010 Census: A state's political clout

Census: Who am I?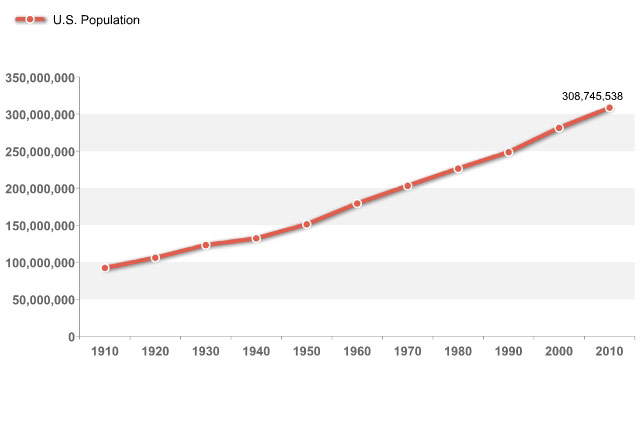 Census shows country's growth
"There's kind of a misconception that African Americans living in the early 20th century weren't included in the census," Harman said. "But you can absolutely find them there."
Before 1870, African-American slaves were listed by owner in census "slave schedules," with information about "age, sex and color." There were no names.
"There is an undercount of blacks. Blacks are severely undercounted in the census," said Connie Potter of the National Archives.
Housing
The personal census data shows whether the head of household owned a home or rented.
The amount of rent or value of the property is also included in the census. Experts say this information points to the mobility of each family. It may provide clues to their wealth or social status in their community.
Changing information
Each census includes a period of political wrangling over what questions to include, said census historian Margo Anderson of the University of Wisconsin-Milwaukee.
"There's always someone who wants a question on pet ownership," she said.
With the invention of probability sampling and opinion polling in the 1930s, the Census Bureau shifted toward a double mode of questioning in 1940, and what came to be called the short form and the long form. That first detailed long-form data will be publicly released in 2012, providing more treasures for family historians.
Relics of 2010
In 2082, when personal information from the 2010 census will be released to the public, historians will gain insight about how Americans struggled during the recession, experts said.
"There will be clues when you look at how many households had families doubling up, or adult children living with their parents," said D'Vera Cohn, who follows census issues for the Pew Research Center. "All of those will be evidence of hardship."
Brookings Institution census scholar Bill Frey said the recent census will offer more details about same-sex marriages and the country's changing diversity.
"This census passes the torch to a more globalized country," said Frey. "We'll see a growing population with connections to all parts of the world -- China, Korea, Mexico and other parts of Latin America."
At least, that's what they might see 72 years from now.
FOLLOW THIS TOPIC