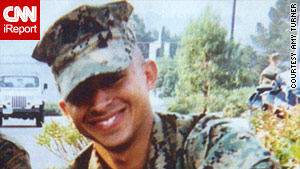 Leroy Sandoval while he was at Camp Pendleton's School of Infantry.
STORY HIGHLIGHTS
On Memorial Day, a Marine's family and friends remember his life
Pfc. Leroy Sandoval was killed in Iraq in 2004 at age 21
Fellow combatant says Sandoval's bravery saved the lives of many others in firefight
CNN's Home and Away collects tributes to fallen troops
(CNN) -- March 26, 2004, is a day that Pfc. Leroy Sandoval's family and friends will never forget. On this day, more than 7,000 miles away from his hometown of Houston, the 21-year-old Marine was killed during a firefight with Iraqi insurgents in Falluja.
"I remember being in San Antonio visiting my grandparents when my mom called me," Ashley Gomez, Sandoval's childhood friend, said. "I just remember crying and sliding off the bed to the floor. At this time I began to reflect on all of the memories and fun times (Leroy and I) had."
Sandoval is one of the thousands of fallen service members being honored by friends and family this Memorial Day. Gomez and others previously paid tribute to him on CNN's Home and Away, a project set up to remember and honor all service men and women killed in Iraq and Afghanistan.
Gomez's parents had been good friends with Sandoval's paternal grandparents for as long as she could remember. Gomez, who is two years younger than Sandoval, met him at a very young age.
One of Gomez's fondest memories of Sandoval was when he excitedly stopped by her sister's home to announce his enlistment into the Marine Corps. He was 20 at the time.
"You could just tell he had something to be proud of. I laughed at him and told him he was too skinny to join the Corps," Gomez recalled. "He just laughed and said he would prove me wrong."
Before leaving for boot camp on May 23, 2003, Sandoval weighed in at 127 pounds, maybe 130. "Skinny as a stick," Gomez joked. She, like many others, often referred to him as "Little Leroy."
"I laughed at the thought (of him being a Marine), but when he came home in his dress blues 13 weeks later, he shut me up for good," Gomez said.
Sandoval might have been small in size, but that did not stop him from pursuing his dreams of being a Marine. According to his family and his platoon commander, former Lt. Wade Zirkle, Sandoval was selfless, strong -willed and always stood up for those in need.
"He was always going out of his way to do more for the platoon and to make things easier for his fellow Marines," Zirkle said. "He was very unselfish and a terrific human being."
"My brother did everything. He cared about you," Sandoval's little sister, Amy Turner, said. "He was like my superhero."
Sandoval's time in the Marine Corps was short. Eight months and five days after leaving for boot camp in San Diego, Sandoval deployed to Iraq with Marine Platoon Pale Rider 3. A couple weeks later, he was killed in action.
Years later, Zirkle can't forget the details of the firefight that took Sandoval's life on March 26. It's a story he's told many times before.
"It was that time of night where it's not dark but it's not light," he recalled in a recent interview with CNN. According to Zirkle, enemy forces began firing heavily on his platoon from nearby rooftops and from a vehicle a couple of blocks away. Sandoval was manning the M240 Golf machine gun on the back of one of the platoon's trucks when shots started coming toward them.
As his fellow troops began to fall back and get in firing position, Sandoval -- realizing he was the main target and had the most powerful weapon -- stayed put, swung his gun toward the downpour of bullets, and began returning fire. While engaging in the firefight, Sandoval's gun jammed at least once, maybe twice, but he was quickly able to clear it and resume fire.
"He effectively suppressed the enemy on the rooftops and took them out," Zirkle said in a 2005 interview with CNN's Paula Zahn.
Soon after, Sandoval was shot in the chest, right above his chest plate, before being fatally wounded in the head. No one in Pale Rider 3 knew Sandoval had been killed until the firefight, which only lasted a couple of minutes, had ended.
Several Marines were wounded in the clash, but Sandoval's ability to return fire accurately and quickly "saved a lot of lives," Zirkle said. "If he had not done that, the platoon would have sustained much heavier casualties."
The young Marine was the only member of Pale Rider three killed in the firefight and was the first of the platoon to be killed in action. He was posthumously awarded the Bronze Star with a V for Valor for his courageous acts.
"I am really proud of him for what he did," Turner, his sister, said. "I wish he would have taken cover, but that is how he was."
"There is no disputing that Leroy gave his life so that his brothers, his fellow Marines, could live," said Gomez.
Although the anniversary of Sandoval's death will always be a painful day, Turner and Gomez have new reasons to celebrate. In the years after his death, both women coincidentally married men who celebrate birthdays on March 26.
Turner, who married in 2010, says she was able to be more at peace with her brother's death this year, and was especially thankful to see her mother able to celebrate her son-in-law's birthday and be happy on that day.
"I felt that I could see [Sandoval] smiling," Turner said. "I felt that my brother was happy that my mom could be happy."
Gomez, who married in 2006, says it was "eerie to hear that date and associate it with life," but she has realized that it's an important reminder to celebrate yet another year with her husband, who is also in the Marine Corps.
"You really remember how precious life is when someone dies so young," Gomez said. "A Marine has no regrets, and well, Leroy was and forever will be a Marine."