STORY HIGHLIGHTS
NEW: Nyad: "Nobody decides the swim is over except me"
She struggles through ocean swells, shoulder pain and asthma
She is attempting the first crossing from Cuba to Florida without a shark cage
Nyad began Sunday night and hopes to swim the 103-mile span in 60 hours
Editor's note: CNN alone will be in the support boats with Diana Nyad on her attempt to swim from Cuba to Florida. @MattCNN will be Tweeting live. Look for more updates on The Chart and follow her on the position tracker. And watch for Dr. Sanjay Gupta's documentary, "Diana Nyad:Xtreme Dream," Saturday, September 17, 8 p.m. ET
(CNN) -- Endurance swimmer Diana Nyad struggled through ocean swells, shoulder pain and asthma Monday as she attempted to become the first person to swim between Cuba and Florida without a shark cage, according to her team and a CNN staffer on a chase boat.
Both the swells and the 61-year-old swimmer's shoulder pain subsided somewhat and she was "swimming strongly," her team said in a post to Facebook around noon ET.
The shoulder pain was "down to an 8" following some "therapeutic healing," the message said.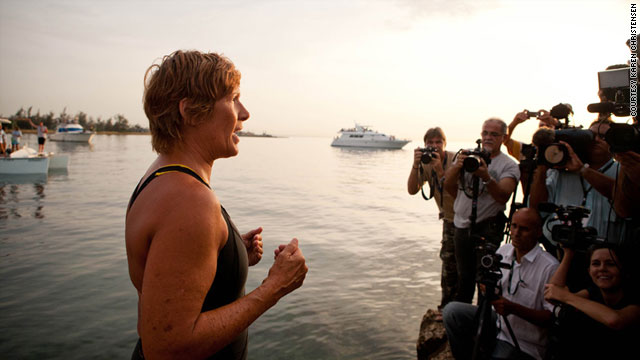 Gallery: Diana Nyad jumps in

Woman swimming from Cuba to U.S.

Diana Nyad to attempt world record

Diana Nyad 'doing great' on swim
The shoulder pain remained an issue around 2 p.m., about 18 hours into the swim, said CNN staffer Matt Sloane -- who is following Nyad on a chase boat -- in a tweet. She is also having "a little touch of asthma," he said. But he added that Nyad is "still going very strong."
Nyad in good spirits in 18th hour
The attempt to swim from Cuba to Florida is the second for the swimmer, who said at a news conference Sunday that she is fitter today than she was in 1978, when she first attempted the crossing but was unable to finish.
"When I walk up on those shores of Florida, I want to prove to the AARP crowd that it's not too late to go back and write that book or adopt that child," she said.
She jumped into the water at 7:45 p.m. ET on Sunday and expects to swim for roughly 60 hours. She is stopping briefly each hour to eat.
"Nobody decides the swim is over except me," Nyad's team quoted her on Twitter as saying.
Wind, water, one woman's drive
It took several months to gain permission for the swim from Cuban and U.S. authorities. Bureaucratic snags repeatedly threatened to call off the effort -- already called off in 2010 because of weather.
Nyad has been training for the event for two years, swimming up to 12 hours a day.
"I'm almost 62 years old and I'm standing here at the prime of my life," she said Sunday as she prepared to dive into the water at Havana's Marina Hemingway. "I think this is the prime. When one reaches this age, you still have a body that's strong but now you have a better mind."
A team of more than 30 people is supporting Nyad as she attempts the crossing. She has 10 handlers to advise her as she swims, ocean kayakers towing devices to repel most sharks and divers and safety officers trained to distract those that aren't turned away. A doctor is also on hand.
FOLLOW THIS TOPIC