STORY HIGHLIGHTS
Author's mother, Patricia Stephens Due, now 71, has thyroid cancer
Mother once spent 49 days in jail in 1960 for a sit-in at a Woolworth lunch counter
Care is a monumental undertaking now for the Due family
(CNN) -- Days ago, I sat at my mother's bedside and helped her hold a copy of our 2003 memoir, "Freedom in the Family: A Mother-Daughter Memoir of the Fight for Civil Rights."
The cover pictures her leading a protest march when she was 20 years old.
"That's you," I said, pointing out her face, determined and stoic behind dark sunglasses.
"I remember this," Mom said, and smiled.
These days, I do not take my mother's memory for granted.
My mother, Patricia Stephens Due, now 71, has thyroid cancer. Although thyroid cancer is considered highly treatable, by the time Mom's disease was diagnosed in the fall of 2009, the cancer had spread throughout her body, including her spine, which was fractured by the tumors. She was in bed for months.
In sickness, Mom possesses the same fighting spirit she's had since she defied Jim Crow to spend 49 days in a Florida jail in 1960 for a sit-in at a Woolworth lunch counter.
"I've been to jail; I can do this," she told me from her hospital bed last year.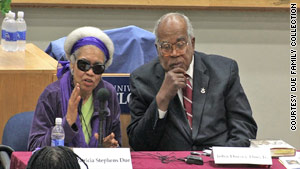 Patricia and John Due speak about civil rights at the University of Florida in February.
She did rise like a phoenix to reclaim her life a piece at a time. A year later, this past February, she was able to drive from Tallahassee to Gainesville, about 150 miles, to be a featured speaker at the University of Florida with my father, civil rights attorney John Due, where she spoke passionately about civil rights for two hours.
She disclosed her cancer fight with a warning to the audience to have a thyroid checkup.
"I guess I'm the first one to say I was so busy saving the world, I didn't try to save myself," Mom said. "You get so busy that you don't take care of yourself."
By April, her cancer was fighting back. Mom had trouble walking again, even with a cane. Now, she is unable to get out of bed and suffers from mental confusion and delirium that appeared so quickly that my sisters, father and I felt like we had fallen into a bad dream.
We are a family accustomed to a plan of action, and now we feel a collective, growing helplessness.
In bed, Mom no longer wears the dark glasses she had worn since 1960, when a Tallahassee police officer lobbed a tear gas canister in her face during her protest march, which she blamed for a lifelong sensitivity to light.
Now, at last, we can see her eyes. Our mother, the bedrock of our family, looks at us for comfort and answers.
My sisters, Johnita and Lydia, Dad and I spent Mother's Day at a hospital in Tallahassee in protective smocks, gloves and booties so we could spend precious minutes at her bedside after her latest cancer treatment. Because she'd taken a radioactive iodine pill, even staff visits were limited for fear of radiation contamination. We could hold her hand only through gloves.
Those were hard days.
The gloves are gone now, but the days are still hard. We play her the classical music she loves and try to make her smile. I sing her to sleep.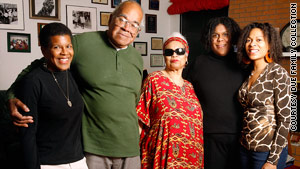 From left: Tananarive Due, John Due, Patricia Stephens Due, Lydia Due Greisz and Johnita Due.
In confused moments, we have had to assure her that she and her grandchildren are not being chased by phantom dogs that Florida farmers let loose against civil rights workers trying to register blacks to vote in the 1960s.
A voicemail message Mom left on my cell phone in April, warning me that it might be safer to fly than drive to visit her because of bad weather, brings back a day almost close enough to touch -- then it is gone forever in an electronic blip.
Erased messages open a wellspring of grief, Mom's voice from a better time suddenly lost.
Her voice -- a rich, textured contralto often compared to Maya Angelou's -- has inspired people far beyond her family.
At 15, she convinced high school classmates in Belle Glade, Florida, to sign a petition to try to fire their principal. When she was 19, she and her sister, Priscilla Stephens Kruize, organized a chapter of the Congress of Racial Equality on the campus of Florida A&M University in Tallahassee. Mom, Aunt Priscilla and three other students spent 49 days in jail rather than pay a fine -- the nation's first jail-in in the student sit-in movement.
She and the other jailed FAMU students received a telegram from the Rev. Martin Luther King applauding their stand. Baseball great Jackie Robinson published her letter from jail in his column in the New York Post and sent the students diaries to record their experiences.
The one thing Mom always wanted to do was tell the story, forever her generation's griot, so young people would understand that ordinary people could do extraordinary things.
This year, Florida Gov. Rick Scott sent Mom a letter on June 9 saying that her jail-in "was a significant moment in our country's history and your actions serve as an incredible inspiration still today."
Tallahassee Mayor John R. Marks III declared May 11 "Patricia Stephens Due Day" and visited her hospital bedside to personally read the proclamation, holding her hand. She listened silently with tears in her eyes.
"If we were treated like second-class citizens, it was like we were already dead," Mom often said, explaining her activism despite the dangers.
Without the dark glasses that so long symbolized her public courage, we see in Mom's eyes a woman of private strength determined to fortify us all while she wages the struggle of her life.
If we were treated like second-class citizens, it was like we were already dead.
--Patricia Due
Because of her health crisis, my husband, son and I moved from Southern California to Atlanta to be closer to my parents. My sister Lydia has brought her two sons to spend part of the summer in Atlanta with my sister Johnita, who is assistant general counsel and diversity chairwoman for CNN.
The past two months have been a flurry of activity, our family acting as a small army to move Mom from Tallahassee to Atlanta, following up with doctors, case managers, social workers, rehab centers and family consultants.
Dad encourages her to exercise her limbs. Her sister, Priscilla, who went to jail with her, and her brother, Walter Stephens, are often at her bedside.
We research treatments on the Internet, memorize medications and ask question after question, taking shifts so others might rest. Care is a monumental undertaking.
What do patients do when they don't have help or resources? we wonder.
In our hearts, we hear Mom's childhood mantra that followed every report card, every speech and debate competition, pass or fail, win or lose: Darling, I only ask that you try your best. And so we do. Too often, we feel helpless because we wonder what's best for Mom.
Because her closest daughter lived more than four hours away until recently, Mom missed us fiercely. She was an avid e-mailer, and she often wrote that she was sending us her energy, creating a chain. That energy still lives.
"We Due women recover," Mom told Johnita days ago, in a moment of lucidity.
We know that life owes no one tomorrow, but we find peace in those snapshot moments.
Today, she knows our names and returns our smiles.
Today, she is still here so we can tell her we love her.
Today, our Due family of five is intact, an unbroken chain.
Today, Mom still has her voice.
Tananarive Due is an American Book Award-winning author based in Atlanta. Learn more about her work at tananarivedue.com.
FOLLOW THIS TOPIC