STORY HIGHLIGHTS
Training to becoming a doctor takes seven to 11 years of school and residency
9% of medical school applicants are over age 29
Some older adults decide to become a doctor later in life
(CNN) -- By the time Mike Moore finishes school and starts his career as a doctor, he'll be in his 50s.
As a second-year medical student at Pacific Northwest University of Health Sciences, Moore listens to lectures from younger professors and sits with classmates who are old enough to be his kids.
"I kinda stick out a little bit," the 48-year-old Army major said.
Stories about midlife career transitions are mostly about how a stressed out professional quits to pursue a passion like baking cupcakes or opening a cafe.
Seldom do they involve a more rigorous route -- like becoming a doctor in your 40s and 50s.
Medicine is a pressure-packed field that requires between seven and 11 years of training, including post-medical school residencies with 80-hour workweeks.
Future doctors like Moore who make unlikely career choices are called nontraditional students, and they are increasingly attractive candidates for medical schools.
"Some of them have become the most desirable applicants," said David Muller, dean for medical education at Mount Sinai School of Medicine.
Last year, 9% of the medical school applicants were over age 29, according to the Association of American Medical Colleges. Those statistics have held steady in the last five years. While 29 isn't exactly midlife, it means by the time students are done with their training, they'll be inching toward their 40s.
Nontraditional applicants are on a mission, said Dr. Suzanne Miller, a medical school admissions consultant.
"They've left lucrative jobs," she said. "Most people who come to me are in tears."
They think they're insane for even thinking about investing the next 10 years to become a doctor, she said. But Miller encourages them.
Medical schools are accepting nontraditional students because "emotional intelligence is just as or more important than IQ," she said.
Wanted: Fewer science nerds, more 'culturally competent' doctors
Nontraditional students are more likely to have real life experiences like balancing their checkbook, taking care of sick people or dealing with death. They might be better able to relate with patients, because they've already worked outside the academic setting, said Miller, author of "The Medical School Admissions Guide: A Harvard MD's Week by Week Admissions Handbook."
Moore, who attends school in Yakima, Washington, put a lot at stake to go to medical school. His family depends on his wife as the sole breadwinner until he finishes school. They have two children.
It meant, "I'm going to give up everything and become a physician," Moore said.
His wife, a pediatrician, supported his decision.
Moore studied for his medical admissions test in Iraq between missions. He flew to Qatar to take the exam and slept the night before in a cot at a U.S. military hospital.
Having already worked as a military physician assistant, he decided to pursue a D.O. -- doctor of osteopathic medicine.
"I know I love this," Moore said. "I can't see myself doing anything else."
The appeal of older medical students is that they generally seem accomplished, mature, grounded and disciplined, said Muller, a medical school educator.
"They didn't churn out of high school and college," he said. "They had time to think about it, process it and arrived at the position to be physicians or scientists."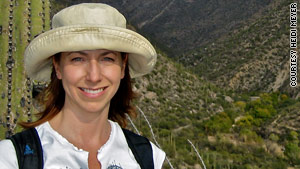 Heidi Meyer left her Broadway career to go to medical school and is completing her residency training.
Heidi Meyer had always wanted to pursue medicine, but pursued musical theater instead.
So her decision to quit her role in Broadway's "Miss Saigon" for medical school drew puzzled stares.
"I wasn't going to grow and be the person I wanted to be," Meyer said about her theater career.
She decided it was time.
"Life is weird that way," she said. "I would be 40 by the time I was done with training and going into debt. I was already in debt being an actor in New York. The thinking was: Leap and it will appear."
Meyer, 40, is now finishing her family medicine residency at the University of Arizona in Tucson.
Meyer lost her income when she became a full-time student for two years at a post-baccalaureate premedical program to fulfill medical school requirements and then four more years at medical school. To support herself and pay rent, she found part-time work at the California Adventures amusement park singing in an a cappella group.
Dr. Jessica Freedman, a medical admissions consultant, said there are two aspects about midcareer medical students.
"From the admissions standpoint, you're concerned when you meet nontraditional applicants, because they bring great experience, diversity and a fresh outlook, but some are going to be set in their ways and difficult to teach," she said.
There are also questions whether it's wise to give competitive medical school spots to older students who may not be able to practice as many years as the younger ones.
"I may only practice for 20 or maybe 30 years, but those are going to be high-quality years," Moore said.
"I feel like I can contribute something very unique and special to health care that other people can't. I can also be a great example. You don't have to hang it up when you're 50.
"I have a whole lifetime ahead of me."
FOLLOW THIS TOPIC