STORY HIGHLIGHTS
Melissa Arnold was told her miscarriages were just "nature's way"
Obstetrician group rescinded guidelines on managing pregnancy loss
Doctor: Before 6 weeks, 70% of miscarriages are tied to random chromosomal abnormalities
(CNN) -- As part of the Catholic wedding vows they took four years ago, Melissa and Jacob Arnold promised to be "open to children."
Choosing not to use birth control, the couple dreamed of having a large family. Six months later, Arnold's period was late.
"One day at work, a friend came up to me and said, 'I've got a bun in the oven!' " Arnold says. "I thought, 'Maybe I do too!' So I ran home at lunch to take a pregnancy test. My husband read it and said to me, 'You're going to be a mommy!' We were so thrilled. I ran back to work and said, 'Guess what, I'm pregnant, too!' "
But Arnold, who was 23 at the time, wasn't going to be a mother, at least not yet. When she was eight weeks pregnant, she miscarried. A few months later she was pregnant again, and again she miscarried, this time at 10 weeks.
Finally, she had a healthy baby girl, but then she miscarried twice more, including one pregnancy with twins. In all, Arnold had four miscarriages, losing five babies in less than three years.
"I read a lot of books, and I learned there are tests you can do to see if there's a reason you're having a lot of miscarriages," she says. "But my doctor said the miscarriages were just nature's way, and we didn't need to do any testing."

2010: Rancics talk about miscarriage
Her doctor told her it was inappropriate to do testing until she'd had three consecutive miscarriages without a live birth. By this time, Arnold was feeling defeated, and her marriage was strained.
"I was so bitter and angry, I couldn't even cry after I lost the twins," she says.
"This can be very frustrating for patients"
There's no consensus among doctors about when miscarriages go from being a fluke that most likely won't happen again to being a pattern that needs investigating. This can leave many patients like Arnold at a loss for what to do.
In 2001, the American College of Obstetricians and Gynecologists devised guidelines for doctors on how to manage recurrent pregnancy loss, but the group rescinded those guidelines last year and has not replaced them, according to Greg Phillips, a spokesman for ACOG.
"This can be very frustrating for patients," says Dr. Elwyn Grimes, professor of obstetrics and gynecology at the University of North Texas Health Science Center in Fort Worth. "There's no easy answer. I tell patients to go on the Internet and do their own research and lay it all on the table for the doctor, and to just persevere finding a doctor who can help them."
Melissa's story
Dissatisfied with her obstetrician's response, Arnold set out to find a doctor to do testing to find a cause for her miscarriages. She says doctor after doctor refused, citing the same three-consecutive-miscarriage "rule."
"This theory about three consecutive miscarriages was promulgated back in the 1930s, based on no evidence and no research," Grimes says, adding that even so, there are still doctors who believe it.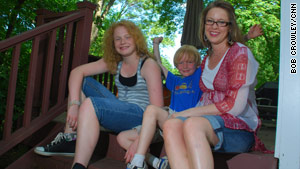 Author Darci Klein encouraged Arnold with her book "To Full Term."
After asking her family to pray for her, Arnold contacted Darci Klein, another woman who suffered recurrent miscarriages and wrote the book "To Full Term." Klein encouraged her to keep looking for a doctor who would do testing.
It was especially urgent, as Arnold had just found out she was pregnant again.
Finally, her phone calls worked: She found a doctor who would do the testing in Houston, not far from her home in Spring, Texas.
"The nurse told me to come in, and I said, 'You mean, you're going to accept me as a patient?' and she said, 'Yes, sweetheart. Something's wrong. It's not normal to have four miscarriages, especially at your age,' " Arnold remembers. "I cried out of relief and happiness and hope for this baby I was carrying."
That doctor found that Arnold carried a genetic mutation that some researchers say is linked to miscarriages. She was prescribed baby aspirin to prevent clotting.
On Monday, Anthony Arnold was born full term, weighing 6 pounds, 12 ounces.
"I was very grateful that Darci encouraged me to fight," Arnold says.
Miscarriages often a random event
Many times when a woman has a miscarriage, it truly is a roll of the dice -- an unfortunate event due to a chromosomal abnormality that's random and not caused by any defect in the mom or dad. There's no treatment for such events, and patients are encouraged to try to get pregnant again.
In fact, before six weeks, 70% of all miscarriages are associated with random chromosomal abnormalities, according to Dr. Mary Stephenson, director of the Recurrent Pregnancy Loss Program at the University of Chicago.
That number goes down to 50% of miscarriages between six and 10 weeks, and 5% of miscarriages after 10 weeks.
Tests after a miscarriage
Not only is there controversy about when to test, but also what testing should be done on women who've had miscarriages, and what treatment, if any, should be given based on the results of those tests.
After a woman miscarries, some doctors suggest that a chromosomal analysis be done on the fetal tissue to check for abnormalities.
Here are diseases that can be checked for in the mother, and sometimes the father, too. The American Society for Reproductive Medicine has a good overview.
Clotting disorders
Some clotting disorders, such as factor V Leiden and antiphospholipid antibodies, can put women at a higher risk for pregnancy loss. For a list, see Clot Connect, run by Dr. Stephan Moll, a hematologist at the University of North Carolina School of Medicine.
Hyperthyroidism
It may be harder for women with hyperthyroidism to become pregnant. The Columbia University Medical Center has more information.
Uterine abnormalities
Fibroids and other problems with the uterus or cervix can cause miscarriage, according to the March of Dimes.
Hormone imbalance
If progesterone levels are too low early in pregnancy, miscarriage can occur. The American College of Obstetricians and Gynecologists has more information.
Other medical conditions
Women with conditions such as kidney disease, diabetes and lupus may have a higher chance of miscarriage, according to ACOG.
CNN's Sabriya Rice and John Bonifield contributed to this report.