STORY HIGHLIGHTS
30 years of HIV/AIDS has raised the stakes of unprotected sex
Woman finds out her husband has AIDS, and takes care of him
More African-American and Hispanic women affected by HIV/AIDS
On June 5, 1981, the virus that would become known as HIV was mentioned for the first time in a medical publication. As we approach that anniversary, CNNHealth takes a look at 30 years of the epidemic that changed the world, through the eyes of people who have lived it.
(CNN) -- Tonya Rasberry dialed her husband's number, her composure shaken and her nerves numb.
She dreaded the call, but her husband picked up immediately.
"I got my test results back," she told him.
For a brief moment, silence hung in the air.
"What'd the doctor say?" he asked.
For the first time, the words fell out of her mouth: "I'm positive, too."
Rasberry heard his telephone drop -- it clattered against the hospital's tiled floor. She could hear his muffled cry -- the painful, gut wrenching cry that shakes a person so hard they can't make a sound.
"I ruined your life," he would tell her later. "I killed my family."
Her husband had AIDS. And now, she had HIV.
Rasberry could have thrown him out of their home, gathered their three kids and left him. Instead, she chose a different route.
She forgave him.
The modern epidemic
In the 30 years of HIV/AIDS, the virus has changed the way people think about sex and has raised the stakes of unprotected intimacy.
Since the virus was first reported on June 5, 1981, the disease has killed more than 25 million people worldwide. Today, about 33 million are living with HIV/AIDS -- more than a million in the United States.
In the United States, the demographic of the HIV/AIDS epidemic has spread from gay men in the 1980s to heterosexual minority women in the 1990s and 2000s. It disproportionately affects people of color: African-Americans and Hispanics.
"Although the numbers in the decades have been stable, the rates of the disease are unacceptably high," said Dr. Kevin Fenton, director of the CDC's National Center for HIV/AIDS, Viral Hepatitis, STD, and TB Prevention, about the toll on African-American and Hispanic women. "New diagnoses are 19-22 times of white women in the U.S. That's a startling statistic."
Rasberry, 36, embodies another challenge of a modern day epidemic. She knew about HIV/AIDS from public health campaigns, but never imagined it would touch her -- after all, she was married.
Many women believe they are in monogamous relationships and later find out they got HIV from their partners, said Ingrid Floyd, executive director of Iris House Inc., a program for HIV-positive women in Harlem.
"How do you deal with that," Floyd said, "that your partner lives with the disease and never disclosed to you?"
The virus attacks immune systems but also leaves patients with the sting of betrayal. Could they trust another person again?
There's an even more difficult question.
"For many of them, there's a fear of rejection," Floyd said. "If you're HIV-positive, there's the whole disclosure part. Is someone going to accept your HIV status?"
Young love
They met on a hot May night in 1994.
A 19-year-old Rasberry had finished a day of busing tables at a Seattle seafood restaurant. She and her girlfriends had planned a night in the city. Dolled up in miniskirt and heels, they were crossing a street when a man called out to Rasberry.
It was important that he talk to her, he said. He was with his friends and they bet that he couldn't talk to a gorgeous girl like her.
Rasberry eyed the older man. She stood an inch taller. At 5 feet 5, he had a stocky build and broad shoulders, the structure of a former football player. But what he lacked in stature, he made up for in charisma.
His name was Eric.
Right away, she noticed he was nothing like other boys she had dated. He was a gentleman, always opening doors for her. And it was easy to get swept away at 19.
He brought her to the nicest restaurants, surprised her with balloons and champagne.
"He was a sweet guy," Rasberry said. "He took me everywhere -- vacations, shopping. I thought he was the best thing since sliced bread."
A year later, Rasberry was pregnant with their first child, a boy, Seaduan. Two years later, they welcomed a girl, Erykah, and a year later, another daughter, Tionne.
In 2000, the couple married in a simple garden ceremony in California. They raised the kids and a Labrador mix named Smokey in an apartment in Kent, near Seattle.
Her husband traveled frequently. He told her he worked in construction. She suspected this wasn't the case. Later, she would learn he had a house in Ohio and a music studio in California.
She warned him promiscuous behavior would hurt her and their kids. She wanted a regular family life or she would leave.
"I felt like he was willing to make those changes," Rasberry said. "I felt like I could stick in there longer. Then, he got sick shortly after that."
Paralysis
On a summer night in 2002, Eric wasn't feeling well. After picking up pizza for dinner, he arrived home and crumpled to the floor.
Maybe it was his diabetes. Maybe he just had too much sugar.
By the time he arrived at the hospital, he couldn't move his right side. Half his face drooped and his right hand curled and froze in place.
At 32, he had a brain infection called toxoplasmosis that had caused a stroke. Doctors were perplexed about how he had gotten it.
After a slew of tests, his doctor told him: "You have AIDS."
HIV/AIDS medications, while lifesaving, aren't as effective when the disease has advanced.
In most cases, the patients who don't recover "weren't aware of their status, have co-morbid status, substance abuse, or other chronic illness that make it harder to take HIV medication," said Dr. Judith Currier, chief of the division of infectious diseases at the David Geffen School of Medicine at UCLA.
When patients like Eric are diagnosed in later stages, they are more vulnerable to infections.
For patients like Rasberry, who start treatment in the earliest stage of the disease, life expectancy is close to people without HIV.
A loss
"I didn't have enough time to be sad for myself," Rasberry said about her diagnosis. "There was no time for that."
Overnight, she became the breadwinner with four dependents: her paralyzed husband and her kids, all under 10.
There was no time for anger. But Rasberry wondered, how had she become infected when she had tested negative for HIV for each of her pregnancies, in 1995, 1997 and 1999? Her children do not have HIV.
Her gaze fell to her husband.
The businessman who took pride in caring for his family had become bedridden. He was constantly fighting new infections.
"I had to dress him and bathe him," Rasberry said. "From that moment, I was doing everything for him."
A throat infection obstructed his ability to swallow, so a feeding tube was inserted. Every day, Rasberry pulverized his pills and cleaned his feeding tube.
"There was nobody else I'd do that for," she said.
Once 300 pounds, he shrank to a third that size.
"Every time I changed him or fed him, he would apologize," Rasberry said. "He was sorry about the HIV -- that I had to do this. He just looked so sad."
She told the kids their father was sick with diabetes.
She took her HIV medication, then she went to work at a collection agency. At night, she'd get dinner for the family and try to help her husband through the night.
She was wearing out.
As his health faded, Eric went into hospice care in the Seattle area, then to a facility near his family in California. He died on October 6, 2004, from complications of AIDS related to pneumonia. He was 34.
"I loved him," Rasberry said. "We have three gorgeous children. I had more good times in the relationship. I like to remember it for those things."
A new bond
Following her doctor's suggestion, Rasberry went to a woman's group called BABES Network-YWCA. There, she found a sisterhood of women who have been through the betrayals, the grief and the physical toll of HIV/AIDS.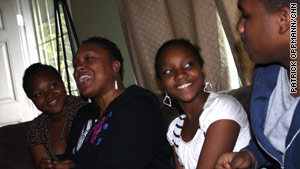 Tonya Rasberry sits with her children, from left, Erykah, 13, Tionne, 12, and Seaduan, 15.
"A lot of these women and mothers were in relationships, trusting somebody," Rasberry said about the patients she met. "Now their whole life is different."
She was paired with a counselor, Nicole Price, who had contracted HIV through a boyfriend.
Even though HIV was no laughing matter, "Tonya has a great sense of humor and she's always making us laugh," Price said.
Rasberry had a natural openness that put others at ease, even in difficult times, Price observed. It wasn't long before Rasberry became a peer counselor at BABES, guiding Seattle women through the health care and medication maze and the emotional minefield of HIV/AIDS disclosure.
This year, the program lost its federal funding, so several staff members, including Rasberry, may lose their jobs in July. Even with the prospect of another loss, Rasberry continues to share her personal story at health events, women's shelters and juvenile detention centers.
"HIV is not who I am," Rasberry says during her talks. "It's something I have."
Rasberry tells others about her kids, ages 15, 13 and 12, who understand what Rasberry does. They hug her and tell her they're proud of Mom for making a difference. She sticks to her medication and has had no major health problems.
Being so open about her HIV-status, Rasberry thought, would turn away love prospects. After all, her face has been plastered on Seattle buses urging residents to get tested for HIV.
But last year, Rasberry met a woman at a bar. They struck up a conversation and exchanged phone numbers. Days later, Rasberry mustered her nerve to call her.
They chatted pleasantly, until the woman asked what Rasberry did for a living.
"I work as an HIV counselor, because I am HIV-positive," Rasberry answered.
"Really?" the woman asked.
Then, Rasberry braced for the rejection. It never came.
The couple has been together nine months now.
Rasberry's girlfriend said it's true HIV does not define her, her honesty does. And it only makes her more attractive.