STORY HIGHLIGHTS
Linda Scruggs is the director of programs at the AIDS Alliance for Children, Youth and Families
She found out she had HIV in 1990, when she was 13-weeks pregnant
At that time, AIDS had claimed 100,000 lives in the United States
On June 5, 1981, the virus that would become known as HIV was mentioned for the first time in a medical publication. As we approach that anniversary, CNNHealth takes a look at 30 years of the epidemic that changed the world, through the eyes of people who've lived it.
Washington (CNN) -- She sat in a small exam room, down a hallway that gets even longer when she remembers it. That was where doctors told Linda Scruggs, 13 weeks pregnant, that she had tested positive for HIV.
"They told me that I had the option of terminating the pregnancy to prolong my health, and they offered me, with the termination, five years to live," recalls Scruggs. "If I did not terminate this baby, probably me and the baby both would be dead within three years."
That year, 1990, marked Scruggs' 25th birthday and her status as one of an estimated 1 million people in the United States infected with HIV.
"I was pregnant. I was making real crazy decisions. I think my hormones were probably crazy."
And she faced the cruelest of choices: Should she bring a baby into the world who might die in childhood? Or have an abortion, to prolong her own life?
That year, more than 31,000 American lives were lost to AIDS, according to Centers for Disease Control and Prevention reports from that time. Most were 25 to 44 years old, with blacks and Hispanics having the highest death rates.
HIV in the '80s: 'People didn't want to kiss you on the cheek'
Two decades later, Scruggs sits in an office above a busy street in Washington, coordinating programs to spread awareness of AIDS and fight the stigma that lingers. She's 46, tall and full of energy; a space between her front teeth adds to her youthful smile.
A sign on the wall reads "God answers knee mail." Thick white binders on her bookshelf are remnants of the National Train-the-Trainer initiative, which gave more than 200 men and women with HIV the skills to become educators in their own communities. Scruggs wipes a tear as she describes it; the program just lost its funding.
How Scruggs went from a bewildered young woman with a deadly prognosis to a passionate leader in the HIV advocacy world is a story of courage, dedication and faith. She persevered not only with her own illness, but in helping countless others live their lives in the face of impending death.
On her office wall is evidence of another choice she made: a photograph of her son, Isaiah, who is now 20.
Timeline: 30 years of AIDS moments to remember
Coping with diagnosis
Two years before her diagnosis, Scruggs had tackled her own drug addiction. She didn't enter a formal program but willed herself to quit snorting cocaine, smoking marijuana and drinking.
People in the drug world called her an "alley cat." She didn't come from an impoverished background. She was the daughter of a retired military officer, from a fairly well-to-do middle class African-American family -- but still she ended up in a lifestyle of addiction.
"I found myself constantly around and with people who were not good for me," she said. "Life had been really, really hard."
She'd also had unprotected sex with several men, sometimes against her will, who probably had multiple partners themselves. She has no idea exactly when she got HIV.
"I don't know where it happened or who that person was," she said. "Unfortunately I've been raped twice before my diagnosis. I'm kind of imagining that it wasn't even one of those, because that would be sad and depressing. But I'm just really imagining it was one of those times I was high on the ecstasies of life."
All of that was in the past when she moved to Baltimore, Maryland, to be with the father of her child, and to start a new life there. But the day before Thanksgiving of 1990, she got the news that made her want to give up.
"It's hard to describe the desperation of just really having no self-worth, no self-value. Life just wasn't loving me."
Instead of going home to her boyfriend after the clinic, Scruggs joined the pre-Thanksgiving traffic and drove to the Delaware Memorial Bridge. She felt tired, tired of living through all the bad things that had happened to her that she'd kept secret. She got out of the car and stood by the edge as cars honked their horns behind her. And then, a voice from within seemed to speak.
"I believe that was a moment that God spoke to me," she remembers.
"'Where is your faith?'" the voice said. '''I'll take care of this.' "
At home, she told her boyfriend about her diagnosis. He held her, cried with her, and told her everything would be OK. "Just don't tell anybody. We'll figure it out."
Scruggs didn't want to resume their physical relationship, but after a break from sex the couple started using condoms. They got married, and her husband promised to love her as long as she never talked about being HIV-positive.
"I was still hurting and crying on the inside," she said.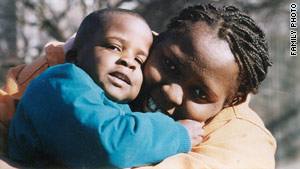 Linda Scruggs had feared her son Isaiah, seen here in 1993, would also have HIV; he is negative.
After their son Isaiah was born, post-partum depression set in. Scruggs agonized over whether he had HIV too, and her husband refused to get tested himself. Finally, when Isaiah was 18 months old, Scruggs found out the good news: Her son was negative.
Doctors may not have known it at the time, but that wasn't too unusual. Dr. John Bartlett, professor of medicine at Johns Hopkins University School of Medicine, says only about 15% of babies were actually getting HIV from their mothers. Transmission happened during passage through the birth canal.
Although her son was safe, Scruggs needed support for her own condition, and felt like she needed to be able to talk about her disease. But her husband wouldn't allow it.
"He said I couldn't be married to him any longer. I packed up my bags, I took my little boy and I started a new life."
She learned more about HIV through the American Red Cross, and ended up getting certified in HIV education. She started working at Johns Hopkins University's peer program, and became a women's health advocate there.
"Suddenly, I couldn't stop talking about it. Absolutely I knew that if I was going to die, I wasn't going to die miserably."
In the underworld
Scruggs devoted herself to helping others better understand the disease.
She started several support groups, and worked with a nurse practitioner at Johns Hopkins to go to schools and talk to nurses and principals about HIV.
At that time, some mothers of HIV-positive children thought they couldn't go to school.
"They weren't going to live forever, but for a 6-year-old to tell you all she really wanted to do was go to school, a 7-year-old to say I've never been to school and I just want to go to school and Mom won't let me go ... there was no reason for (that)," she said.
Crack cocaine was a huge problem, and a norm, among Scruggs' clients in Baltimore. Multiple generations in a given family might be HIV-positive, drug-addicted and welfare dependent. Scruggs became a certified substance abuse counselor so that she could better help these people.
Once, Scruggs went looking for one woman she'd been helping who had been in recovery, but had relapsed. Asking around, she found out that the woman had been seen at a "shooting gallery," where addicts go to inject themselves with recreational drugs.
"It almost felt like the den of death, what hell would have felt like to me. There were people laying around, with needles in their arms shooting dope. There was a gentleman in the corner, I'll never forget, he was laying on the floor and somebody was shooting dope in his neck and it was bleeding," she said.
Scruggs called out her client's name. She wasn't there. But Scruggs' journey to the underworld gave her new insight.
"What I came out of that space with, though, is that part of what's wrong with these women that I'm trying reach is: They don't have vision."
"I remember saying, 'Wow, God, that's why I'm here. That's why you pulled out this little middle-class suburban girl: To teach these ladies that there's some vision.'"
Speaking out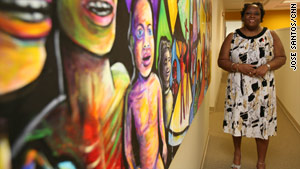 Linda Scruggs works at a national non-profit organization called AIDS Alliance for Children, Youth & Families.
A turning point in Scruggs' mission to reduce HIV stigma came in 1993 when a speaker canceled at a conference for physicians and Scruggs was asked to fill in. Until then, she had only spoken to individuals and small groups about HIV, and had not revealed her own HIV status. But the conference would pay $500, and Scruggs' rent was due. So she went home and put on a suit.
When she entered the hotel conference room and saw 700 people waiting for her to speak, the money didn't seem worth it. But Scruggs pushed her fears aside and started talking. As she shared what she'd been through, she felt unexpected release.
"When I got up there and I began to talk and I began to tell my story, I literally could hear the key turning in the lock," she said. "I'm crying, they're crying, but at the same time I wasn't crying 'cause I was sad. This was like, wow, I just unlocked a part of me that I didn't know I had a shackle on it."
Ever since, she has relished opportunities to talk about what happened to her and about the importance of HIV education. She wants others to know that ecstatic feeling of freedom that comes with being open about trauma.
"This is me learning, wow, if I just tell it, it doesn't have to hurt. If I tell it, I don't have to hold my head down. If I tell it, I take ownership."
Still, Scruggs was weighed down by the fear that her son would be left alone. She wrote letters and made audiotapes containing the messages she wanted him to have in the future. She took him on vacations twice a year, so he'd have memories and pictures to last the rest of his life.
"I would just pray to God, let me just live until he was 10. If I could live until he was 10, I would have taught him enough lessons, I would have hugged him enough, I would have kissed him enough," she said.
But miraculously, Scruggs never had actual symptoms of HIV beyond fatigue, which could have been associated with something else. She feels especially lucky because for 14 years, she never took medication for the disease.
At first, no drugs for Scruggs
Dr. Angelike Liappis knows many women with serious illnesses who take care of everyone else before they get help themselves. Scruggs, who came to see her in the early 2000s when Liappis worked at George Washington University, seemed to be no exception.
The physician and her former patient both recall their relationship as a "partnership." Scruggs had made the decision to seek a new doctor and explore treatment options, and Liappis wanted to help with that process.
Scruggs had dismissed the idea of taking HIV medications during the first decade after diagnosis because she didn't want to depend on dozens of pills every day, and feared drug resistance if she used them improperly. The first medication, AZT, had to be taken every four hours, including throughout the night, and only extended life about four to six months. "Triple cocktail" drugs in 1996 were a breakthrough for combatting the virus, but were still hard to take in terms of daily quantity and side effects, Bartlett said. To this day, HIV patients must be on medication for life, so it's crucial to have a daily regimen that's easy and as painless as possible.
By 2004, treatments were available that had fewer side effects and an easier-to-manage daily schedule than ever before. Liappis reviewed all the possibilities with Scruggs, and together they forged a plan that involved three or four pills a day.
"Starting the treatment was the way that she took care of herself," said Liappis, who is now at the Washington VA Hospital but did not treat Scruggs there.
Scruggs tolerated the drugs well; her system responded, and they helped her eventually get to undetectable levels of the virus, Scruggs said.
Liappis also saw Scruggs' passion and strength outside the examination room. Together, they ran a women's support group in which Scruggs spoke candidly about her personal experiences.
"She really is able to communicate at a basic level with everyone and really connect with them. She's very inspiring in that way," Liappis said.
"She's probably one of the most courageous women I've ever met."
Toward a better future
For a long time, Scruggs didn't want a romantic relationship with anyone who was HIV-positive because she didn't want to fall in love with a man, take care of him and then lose him to the disease. And she was generally open about her status, revealing it on the first or second date.
So when she met Nathaniel eight years ago, she wasn't interested in dating. But one of Scruggs' friends introduced them in an e-mail, and the two met in person at a pharmaceutical company meeting. Nathaniel was HIV-positive, had two kids of his own, and also came from a background of strong faith. He prodded her to consider treatment, which she had avoided to that point.
The two married in 2005. HIV isn't a secret in their life, and it doesn't come between them.
"He'll say 'Did you take your medicine?' in the morning. In the evening, I'll say "Did you take your medicine?"
These days, people still tell Scruggs that she doesn't look like she has AIDS. Others seem awed that she got HIV considering that she's not from a poor family -- a myth that overlooks the reality that AIDS can strike anyone, regardless of socio-economic class.
"After 30 years of this disease, there's only a small part of the country that understands both that HIV is real and that it's here," she said.
Scruggs is the director of programs at the AIDS Alliance for Children, Youth and Families in Washington, D.C., and a minister at her church. She and Nathaniel have a blended family that includes her son Isaiah, Nathaniel's two children and another son, Lawrence, whom Scruggs adopted in 1997, when he was 9. The boy's father had died, possibly from AIDS-related complications.
Lawrence was a student in Scruggs' sister's second-grade class when his own mother decided she couldn't care for him any longer. Scruggs had wanted another child, but didn't want to risk passing on HIV to a baby of her own.
Lawrence is 25 now -- five years older than Isaiah, whom Scruggs was pregnant with at the time of her diagnosis.
Isaiah remembers feeling caught off guard when his mother brought up her illness when he was about 8. To this day, he fears getting HIV himself, based on his mother's experience.
"I see what she has to go through sometimes, and I see the pain that it causes her sometimes," he says. "Not as far as physically hurting her, but mentally."
Scruggs' fear that she would leave Isaiah alone never came true. He now has an extended family, including his big brother Lawrence, who coincidentally looks like him.
"I don't look at him as an adopted son," Scruggs said. "It was divined that he came into our lives."
To learn more about the HIV/AIDS programs that Linda Scruggs coordinates, and for additional information about the disease, visit aids-alliance.org.