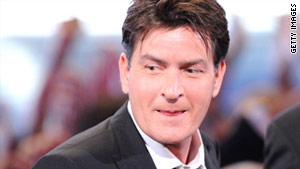 Actor Charlie Sheen must realize that his problem is of the mind, body and spirit, experts say.
STORY HIGHLIGHTS
The brain needs at least a year to recover from heavy alcohol or cocaine use
Relapsed addicts need to first realize that what they were doing before isn't working
Group environment for rehab has been shown to be effective
(CNN) -- Actor Charlie Sheen has begun at least his fourth stint in rehab after he was taken from his home to a hospital by ambulance last week.
He was "very, very intoxicated, also apparently in a lot of pain" on Thursday, according to a 911 call from a doctor who had just talked to the actor.
Given that addiction is a chronic disorder, it's not unexpected that someone like Sheen would relapse multiple times, said Kathryn Cunningham, director of Center for Addiction Research at the University of Texas Medical Branch in Galveston, Texas.
And while rehab programs might last a few months, brain imaging studies have shown that among cocaine and alcohol addicts, the function of neurons in the brain doesn't return to normal for a year or even longer, Cunningham said.
"It's really difficult to be a family member or a loved one and have to deal with someone who seems like they're never going to get better," Cunningham said. "But they can, and it does."
It takes a number of strategies to get a person to stay clean for a long period of time, she said.
Experts say relapsed addicts need to first realize that what they were doing before isn't working.
It's really difficult to be a family member or a loved one and have to deal with someone who seems like they're never going to get better. But they can, and it does.
--Kathryn Cunningham, addiction expert
"What he should be doing is taking very seriously his problem, not trying to compartmentalize it or minimize it or trivialize it, but really to recognize that his is probably a problem of the mind, the body and the spirit," said William Moyers, vice president of foundation relations at the Hazelden Foundation, who worked for CNN as a journalist in the early 1990s.
At Hazelden, the primary treatment program for an alcoholic or drug addict lasts about 30 days. But if this is the second time or more, a longer treatment program of about two to five months is recommended, including intensive after-care treatment.
That longer regimen includes a lot of one-on-one counseling, group therapy and perhaps psychiatric and psychological options if there is a co-occurring mental disorder, Moyers said. Medication is used in some cases.
Group therapy is crucial to put a patient in an environment of people who are both empathetic and examples of recovery, Moyers said. Hearing the experiences of other people often gives hope and helps the healing process.
"At the end of the day, (Sheen's) ability to recover depends on his willingness to be part of a larger experience, and that larger experience will include group therapy and recovery meetings," Moyers said.
The group environment "provides an opportunity for caring confrontation from peers and the knowledge that others can understand what they are going through rather than experiencing the shame of isolation," said Lynn McKnight, manager of clinical services at Crossroads Centre, a rehab facility in Antigua started by musician Eric Clapton, who himself struggled with drugs.
"Research shows that ongoing recovery is most successful with long-term connections to community, self-help groups and appropriate medical management," she said.
She has seen people who've repeatedly gone through the revolving door of detox and rehab, with seemingly no hope. But some turn over a new leaf after multiple tries.

Charlie Sheen in private rehab

Behind the scenes of Sheen 911 call
"What makes the difference?" McKnight asked. "I think it is about surrender and release. Surrendering to the concept of powerlessness over their chronic disease and realizing that they cannot do it alone."
Some patients realize that they've been living in denial or minimizing their problems.
"Whether that means relying on a higher power, 12-step program or the group process, or help from a professional -- not trying to do it by will power alone is key," she said. "This is actually empowering in a paradoxical sort of way."
She said people who get to "the point of being willing to do whatever it takes to get and stay clean" usually get involved in self-help meetings.
Recovery is a lifelong experience and must be done in conjunction with others, Moyers said.
Sheen was court-ordered to enter rehab in 1998 and again in 2010. He also voluntarily checked into a rehab facility in February 2010 "as a preventive measure," his publicist said at that time.
For Sheen's treatment, he is reportedly doing his rehab privately, according to People magazine. His publicist Stan Rosenfield did not confirm or deny this in a statement:
"In compliance with the national health privacy laws (HIPAA), no further information relating to Charlie Sheen's health or his rehab experience will be released without his written permission. I can say that all of us who know Charlie care about him very much. We will support him in any we can in this journey, beginning by respecting his privacy."
It's sad that when someone relapses, "they're automatically considered damned and failed," but when someone who is obese and diabetic eats a gallon of ice cream, the expectation is that he or she can try again, Cunningham said. The addict and the chronic overeater should be viewed the same, and they both have potential to change their harmful habits, she said.
Having supportive people around you is essential to recovery, Cunningham said.
"The bottom line is that Charlie Sheen can recover, whether he gets help at home or in a hospital, but he'll only recover if he realizes that he doesn't have to do it by himself," Moyers said.
CNN's Madison Park contributed to this report.
FOLLOW THIS TOPIC